Cruising the Rio Yelcho enroute to some prime big-trout holding water.
Anglers in Pennsylvania will get the chance to catch larger trout in six new waters that are a part of the Pennsylvania Fish and Boat Comission. How big? The Keystone Select Stocked Trout Program will have a total of 14 streams throughout the state that will receive stocked trout in the 14- to 20-inch range in 2017. The program is quite popular—as you might imagine—among anglers who savor the chance to catch trophy-size trout in the commonwealth's many trout waters. While these fish aren't wild, and they won't be stocked over wild trout, they do enhance angling opportunities all over the area. According to PFBC Executive Director John Arway, the program is making some of the selected rivers and streams destination fisheries in Pennsylvania, providing an economic shot in the arm for nearby communities.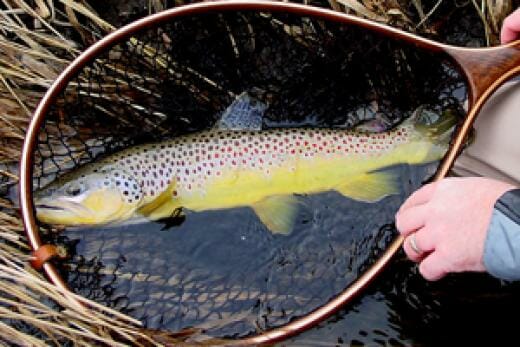 alt="" title="" />
And speaking of big fish, it might the best time of year to tackle some of the renowned tailwater fisheries in Arkansas and Oklahoma. Winter temperatures are often pretty tolerable, and since rivers like Arkansas' fabled White are sourced by water pulled from deepwater reservoirs, they remain plenty cold for trout miles downstream. If the trout itch is pretty intense, this may be the best region to visit in order to scratch it.
Of course, if you're planning to travel, this time of year, it's wise to consider the method of transport. Here the Intermountain West, we're in the midst of a monster winter, so travel has been pretty interesting, to say the least. I did get the chance to visit Chilean Patagonia earlier in the month, and the visit was bookended by some pretty intense traveling, including middle seats on nine-hour flights, cab rides across Puerto Monnt where the only way to communicate with the driver was via Google Translate, and an hour-long flight across a Pacific Ocean bay to a tiny, outpost airport. That, of course, doesn't include the bumpy boat rides across Lago Yelcho or the rainy cruises through the canyons of the Futaleufu.
Dave Karczynksi takes a unique, photographic look at "getting there" in this photo essay. It's a reminder that the journey is, at least a little bit, part of the destination.
Until next time…
— Chris Hunt