John Day Dam on the Columbia River.
A new Yale University study provides some daunting news for water and dam managers across the country: fish ladders aren't the "fix-it" solution to fish migration over irrigation or hydroelectric dams.
The study, which took place on three East Coast rivers—the Connecticut, the Susquehanna and the Merrimack—showed that only 3 percent of American shad using the fish ladders were able to migrate past three dams to reach spawning waters. For other species, like Atlantic salmon, the news was nearly as bad.
According to researchers, this study revealed some depressing news on the long-term recovery of anadromous fish populations in the Northeast. "While investigating fish passage on the Merrimack River in New Hampshire, our project's lead researcher, Jed Brown of the U.S. Fish & Wildlife Service, was struck by the long-term lack of recovery of the targeted fish populations — at some fish restoration meetings there were more people in the room than salmon in the river," wrote study author John Waldman.
What's clear is this: Dams, in their traditional form, are bad for fish, even when fish ladders are installed to allow for migration. And more dams are proposed around the world, from the Mekong in Vietnam to the upper Nile in Africa to the Amazon, where 20 dams are proposed for power generation and could have an impact on a giant catfish that migrates from the Andes to the mouth of the river every year to spawn. This, of course, comes on the heels of the federal comment period on salmon and steelhead recovery in the Columbia River drainage in the Northwest, where dam removal might once again be on the table in order to restore ocean-going fish in Washington, Oregon and Idaho.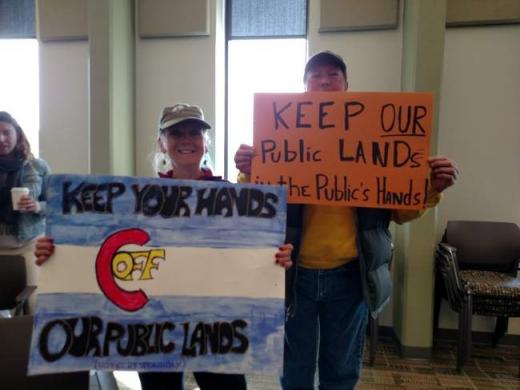 alt="" title="" />
Photo Durango Herald
Some good news from southwest Colorado, where dozens of citizens packed the La Plata County Commission meeting and demanded that the county reject any state or federal proposals to transfer or sell public lands. The bi-partisan board of commissioner did just that and were rewarded by applause and a standing ovation. The saying "all politics is local" is proving true, as many communities across the West that are supposedly "burdened" by the large percentage of public lands surrounding their homes are reaffirming their desire to see public lands left in public hands.
It's kind of a bad-news Wednesday, I'm afraid. Officials north of the border have confirmed whirling disease is now present in the Bow River in Alberta. The the parasite is carried by aquatic worms that fish eat, and it can impact young trout, causing deformities. It's often spread by migrating birds that eat the worms and the deposit them in new waters via feces. The Bow, of course, is a trophy trout river that runs east out of the Canadian Rockies and flows right through downtown Calgary.
Here's hoping for better news in the days to come …
— Chris Hunt