A Mossy Creek brown trout. Photo courtesy Mossy Creek Fly Fishing.
Not everyone is lucky enough to live next to a naturally reproducing trout stream, even in a state like Pennsylvania, where wild trout waters are generally quite plentiful, and designations of new wild trout waters are growing. For instance, many anglers around Potstown are dependent on hatchery fish in order to scratch that trout itch, and groups like the Coventry Trout Club help subsidize local waters with catchable—and sometimes trophy-size—trout.
But, last fall, Coventry Trout Club lost 3,000 of its trout due to warm temperatures and low flows at the nursery where they get their trout. Since then, things have improved, but it doesn't make up for the lost fish. I got a note this week from Cody Frinkel, a Coventry member, noting that the club is trying to raise money to replace the trout, and that the club's upcoming kids fishing derby and senior citizens trout rodeo both depend on having fish planted in French Creek in Chester County. Cody asked for a bit of help, and I'm asking you for the same. To help the club replace it's lost fish, consider making an online donation to the Coventry Trout Club and help the club members with their annual events that gets and seniors on the water. If you have a few bucks to spare, helping plant trout and give folks a chance to catch big fish is always a worthy cause.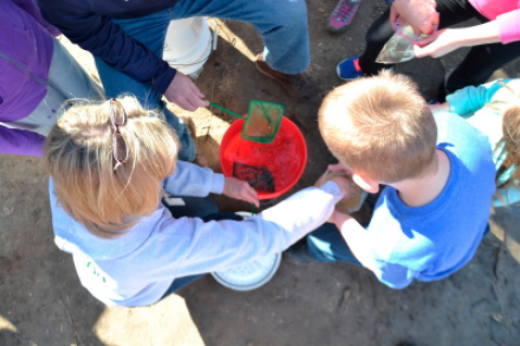 alt="" title="" />Another group doing good work for kids is the Leon P. Martuch chapter of Trout Unlimited, which is sponsoing it's annual Salmon in the Classroom program in schools around Midland, Mich. Students raise thousands of young chinook salmon that will one day be released in Lake Huron watershed and contribute to the Great Lakes salmon fishery. Students also learn about the salmon's life history, the ecological niche the salmon fill in the Great Lakes and, of course, the biology associated with coldwater fish. SIC is very similar to Trout in the Classroom, which is under way in classrooms all across America.
In the Shenandoah Valley of Virginia, the emphasis these days is more on catching than it is on stocking. The wild trout of the fabled Mossy Creek are starting to perk up, and for mid-Atlantic anglers, there might not be a better big-fish destination this time of year. TU business member Mossy Creek Fly Fishing provides guided trips on the famous spring creek, and there are some great public-access waters, too. Something to think about when the weather shows signs of getting a bit warmer, right?
Until next time…
— Chris Hunt