Photo courtesy of Mike Kirkpatrick
Imagine hiking for hours through dense brush, over ridges and bluffs among a Jurassic setting, your fly rod tucked into your backpack, along with a day's provisions—maybe even a tent for an overnighter—just to get to your favorite fishing hole. You arrive, string up your fly rod and start walking to the water only to be disturbed by the racket of a helicopter descending from the heavens and landing a short distance away.
Moments later, you realize your hard-earned hike was about to be spoiled because the chopper was delivering a fly-fishing guide and a pair of paying clients to your favorite stretch of river. I know I'd be a little cheesed.
Apparently, this is what's happening in New Zealand, and Kiwi anglers are pushing back against the influx of tourists who are traveling from around the globe to experience some of the best fly fishing on earth. And, in the meantime, the locals say, they're spoiling the experience for those who live there.
This, of course, is an age-old dilemma. Great fly fishing is generally accompanied by flocks of fly fishers—it's to be expected. A couple of years back, when I first visited British Columbia to fish near the town of Fernie, I encountered the same general disdain for visiting anglers, and the provincial government has reacted by selling daily permits to foreign anglers, rather than letting them fish wherever they want whenever they want. I was a bit perturbed at the notion that, just because I was an American—an American spending money on a hotel room, a fishing license, gas, food and tackle—that I was somehow less important. But viewing it from the lens of a local, I get the frustration.
Maybe it's time we traveling anglers seek out the next great trout destination and leave New Zealand to the Kiwis.
Here's what else is happening in the fishing world:
And, finally, your moment of fly-fishing Zen: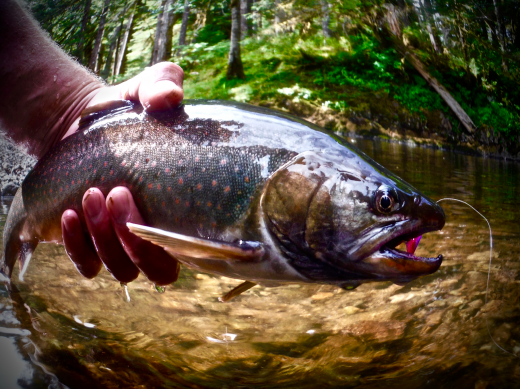 Photo by Chris Hunt