Buy a beer, help TU.
Several years back, I got the chance to tour the Upslope Brewing Co. in Boulder, Colo., just as we were negotiating an agreement with the company's top officer, Henry Wood. Upslope, at the time, was on the verge of a big growth spurt, but Wood and his team wanted to make sure, as the brewery grew, it was helping protect the water it needed to make the great brews it offered. Of course, that's where Trout Unlimited comes in.
Thanks to Upslope and Wood, we worked out a deal where TU chapters in the state where the beer was purchased would receive 1 percent of the profits from the sale of Upslope brands. So, every time Upslope expands and adds a new brew, it's an opportunity for TU chapters in states where Upslope is available to get a bit of cash for on-the-ground conservation and restoration work. Just this week, Upslope announced the release of its new Citra Pale Ale, a beer that features a " distinct juicy hop character." If you live in a state that sells Upslope, and you're a beer lover, give this new brew a shot, and know that you're helping a local TU chapter make your fishing better in the process.
And, since we're talking about local chapters, don't forget your chapters annual fundraising event, which is likely happening this spring, before fishing season gets under way. As pointed out by The Morning Call in Pennsylvania, local chapters of hunting and fishing conservation groups depend heavily on annual fundraising events to raise money for important conservation work in their commiunities. For instance, the Monocacy Chapter of TU is hosting the Fly Fishing Film tour as a fundraising event March 27-28 in the Lehigh Valley, with proceeds going to help local conservation work. Other chapters, like the Ernie Nester Chapter of TU in Charleston, WV, host the more traditional "banquet," that includes the popular live and silent auctions and the guest speaker. This year's guest at the Charleston event? TU's President and CEO Chris Wood.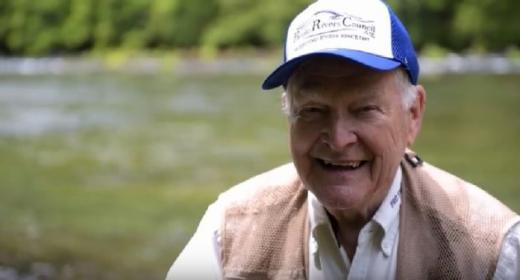 alt="" title="" />
Frank Moore, 94, is still a stalwart steelhead advocate.
Finally, local chapters wouldn't be nearly as effective without the volunteers who, often over the course of a lifetime, shape their cultures, recruit new advocates for trout and salmon protection and work tirelessly, investing their time, their money and their soul into their local waters. Here's to one great angler who, at 94, is still putting everything he has into his local waters. Thank you, Frank Moore. Your work and your message has likely saved more steelhead in the Northwest than we can possibly count. You are very much appreciated.
— Chris Hunt