Major League Baseball's first pitches will start flying in less than a week.
In generations past, another spring opener generated even more excitement among certain folks. The annual trout season opener was a major event.
Trout openers have gradually faded away. Some states still have them — such as Missouri, pictured above — but many have gone to year-round seasons, in part because those opening day crowds were so huge that they created problems, litter, traffic jams and trampled streambanks among them.
I believe that for plenty of participants the trout opener had about as much to do with trout fishing as the Kentucky Derby has to do with horse racing. They were there (and are there) for the carnival like atmosphere (again, see above photo).
I am not a fan of crowds. But I do get the appeal. So does Charles Boothe, a writer with the Bluefield (W.Va.) Daily Telegraph, who has a pretty funny column on the trout opener in the latest issue.
No doubt the chance to tipped back a cold ones (or stiff ones) has some appeal for plenty of opening day partygoers.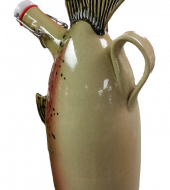 alt="" title="" />And, hey, we all know that fishing and beer — post-fishing beer for those of us whose reflexes are already a bit slow to begin with — go pretty well together.
TU's Taylor Ridderbusch put that philosophy to work one day last fall when on a work trip to Northern Michigan to tour streams where TU volunteers are restoring degraded streams.
After his work-related tours, Ridderbusch camped on the South Branch of the Au Sable, along the hallowed Mason Tract.
"I fished a 4-mile section with little success but was happy to have finally dipped my waders in the Au Sable," he said. "That evening I headed to the local brewery, Paddle Hard Brewing, which was part of a bustling little part of town that showcased a number of restaurants and shops."
Beer and fishing also come together in the Growler magazine, a cool publication out of Minneapolis. This is the mag's mission: "Cultivating the craft lifestyle through storytelling that inspires progress in the communities of food, drink, arts and the outdoors."
Ridderbusch has an opinion piece in the new online issue of the magazine, urging outdoors enthusiasts to fight to save conservation funding, such as the Great Lakes Restoration Initiative, a program critical to TU's efforts in the Great Lakes region and funding that would be eliminated by the Trump Administration's proposed cuts to the EPA budget.
That work is making fishing better, which is making fishing communities stronger. It's investment that we can't afford not to make.