Photo courtesy of the Idaho Statesman
'Tis the season for big fish, it seems.
On Idaho's Boise River—a fantastic urban fishery—Jason Waidelich latched into a massive rainbow trout that tipped the scales over 19 pounds, a highly unusual catch for the Boise. At first, Waidelich's wife, was sure the fish was one of several steelhead planted in the river each fall by Idaho Power as mitigation for dams on the lower Snake River. But this was no steelhead—at first glance, the trout looked like a lake fish, with a deep body and a smaller head, and that's certainly possible, as the Boise where this fish was caught is a tailwater. But either way, this fish is incredible, especially given that Jason caught the behemoth on spinning tackle using 4-pound Spiderwire.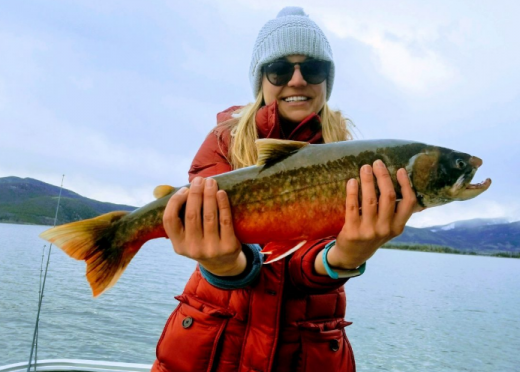 It wasn't the only fish that turned heads of late. In Colorado, a vacationing Virginia physician caught a new state-record Arctic char, a species only available to anglers in two Lower 48 fisheries. The fish, which weighed 4.15 pounds and stretched the tap longer than 23 inches, sure put a smile on the face of Lindsay Regali of Charlottesville. She was fishing Dillon Reservoir (the other fishery consists of a rare native population in a lake in Maine) in Summit County when she boated the big exotic fish that's native to Arctic lakes. The char were first stocked in the reservoir several years ago to help control a burgeoning population of mysis shrimp that swim deep and out of reach of the lake's rainbows and brown trout (also non-native).
Here's what else is happening in the fishing world today:
John Juracek notes in a great piece in Hatch Magazine that two flies might conceivably double your odds, you still have to cast well.
Paul Bruun of the Jackson Hole News and Guide offers an excellent homage to Lefty Kreh.
The controversy over fly fishing the Bahamian flats never seems to die. The economic and conservation benefits of fly fishing in The Bahamas is undeniable, yet a short-sighted few continue to try and make it harder for anglers to get to the fish.
And finally, your moment of fly fishing Zen, courtey of John Juracek and Hatch: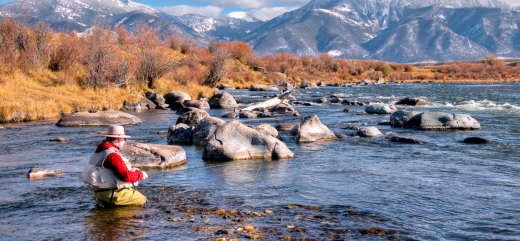 Is there a morey idylic scene than the fabled Madison in the fall?