By Tom Kloehn
It was the first day of Sierra Trout Camp 2018, and even though the kids weren't fishing yet, it was hard to miss their enthusiasm for any chance to get near a river.
The kids were bouncing around the creek, splashing in and out of the water, completely oblivious to rocks and soaked sneakers. They were hunting aquatic bugs with a fervor that most older anglers reserve for bigger prey.
The fact that many aquatic insects in their nymph stage look like miniature prehistoric monsters certainly contributed to the campers' keen interest in this activity. But their eagerness was about more than just bugs — it was about exploring the fascinating, often strange, but always entertaining world of fly fishing.
The Sierra Trout Camp weekend began with a casting lesson beside the trout ponds at the Resort at Squaw Creek, in the middle of Squaw Valley, one of the Lake Tahoe area's most famous settings. For the participants (10-12 year-old kids from California and western Nevada), this was the beginning of a crash course in the skills required to become a proficient fly angler — including the roll cast and false cast, and tying the improved clinch knot and surgeon's knot.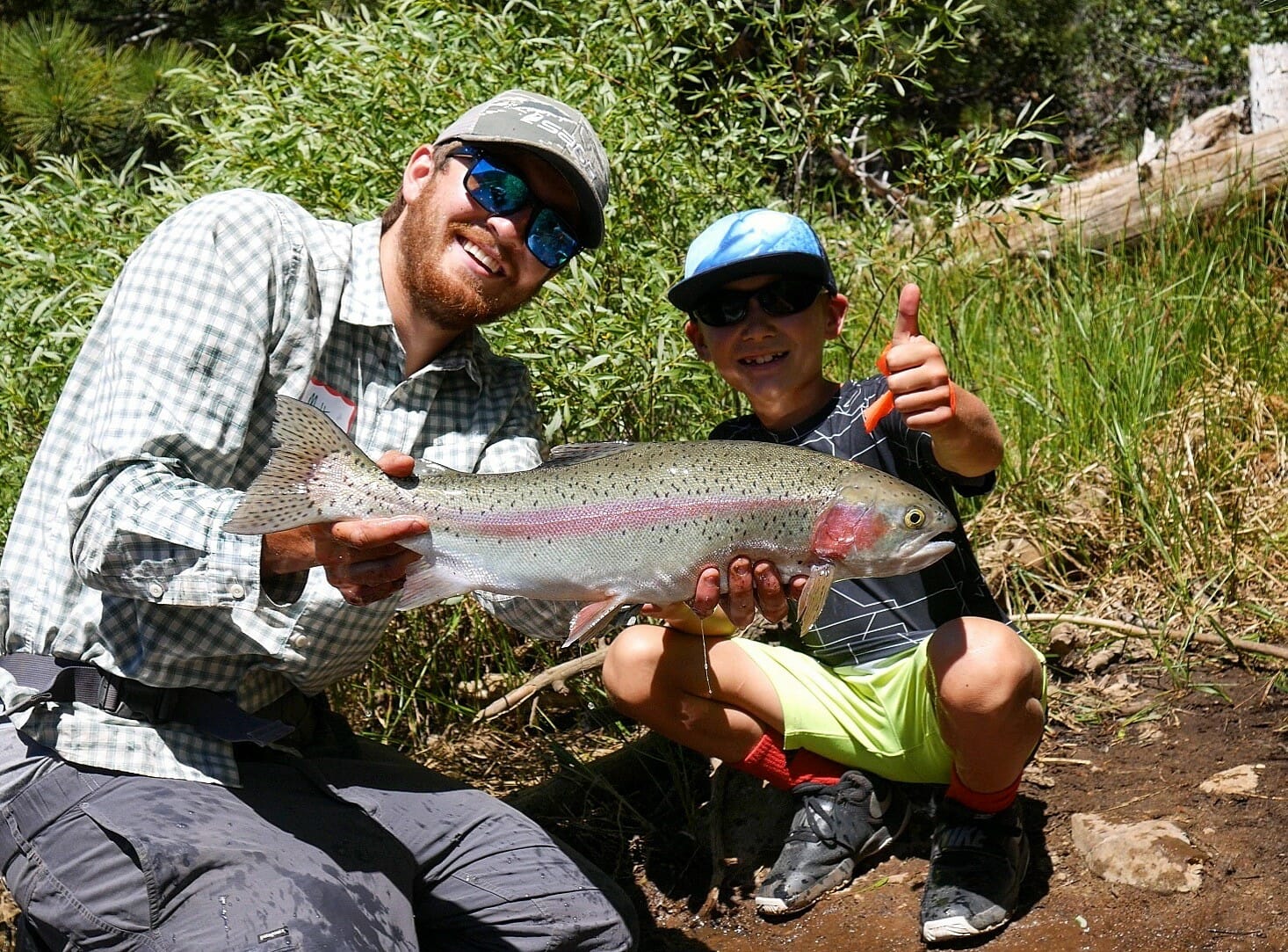 The pay-off.
Thanks to the curriculum for the 2018 Sierra Trout Camp, and the exceptional volunteers who taught it, the kids who attended this year's camp came away understanding that fly fishing isn't just a sport — it's an opportunity to engage with and protect the natural world. That means paying attention to big conservation issues, like keeping the water in our rivers clean and cold, and practicing smaller actions, like handling fish properly.
Who better to safeguard our trout and salmon streams than the next generation of anglers? With kids like the 2018 Trout Camp graduates out on the rivers, the future of fly fishing and coldwater conservation looks bright.
Inspiring the next generation of anglers and conservationists doesn't happen without significant support from the fly fishing community. Many people, businesses and organizations contributed time and resources to the 2018 Sierra Trout Camp, including the volunteer instructors and guides, the folks who provided access to the fishing spots (Matt Heron Fly Fishing, the Resort at Squaw Creek, and Tahoe Fly Fishing Outfitters), and other generous sponsors including Far Bank Enterprises, Loon Outdoors, Lamson Waterworks, Mountain Hardware and Sports, the Montana Fly Company, Tahoe Sports Hub, and the Granite Bay Flycasters, Truckee River Fly Fishers, Tahoe Truckee Fly Fishers, and TU's Truckee River chapter.