Most of trout country is in the grips of winter, but that doesn't mean trout fishing has to stop. Fly fishing for winter trout can be just as productive as spring, summer or fall fishing if anglers take care to adjust to the changes in trout behavior, habitat and, of course, cold temperatures that might make fish a bit more tight-lipped than they might otherwise be.
Here are six great winter trout fishing destinations that fly rodders the country over might consider if the itch to fish is just a bit stronger than the desire to remain warm and cozy this time of year:
The Trinity River, California
The Trinity River of northern California is a great winter fishery, both for migratory steelhead and, closer to the Trinity Dam near Lewiston, sizeable brown trout. This river is basically a long tailwater, and above the confluence with the North Fort Trinity rarely blows out for long. Steelhead run into the Trinity via the Klamath River, and, during years with productive runs, can offer stellar action, both for mature fish and early-return steelhead affectionately known as "half-pounders." Browns in the Trinity are prized fish, and generally mild winters make the river accessible all year long. While the Trinity is renowned for its steelhead action from September through Thanksgiving (when Chinook salmon are in the river), the true winter months actually might be the best time of year to fish this fabled river, especially with nymphs.
The Henry's Fork, Idaho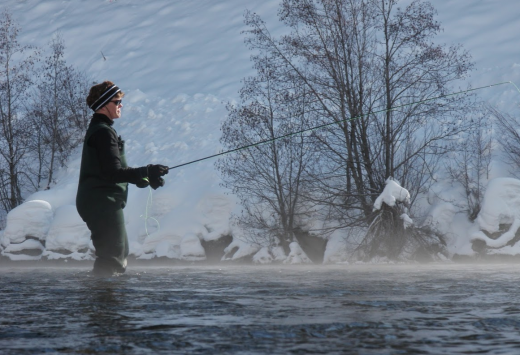 The Henry's Fork, throughout its course through the Island Park Caldera and down onto the upper Snake River Plain, get some serious winter. But on warmer days–say, 30 degrees or better—the river pops with midge activity, and Blue-winged Olives will hatch all winter long, making this river a great dry-fly destination, even in January and February. Fishing both above and below Ashton Dam can be very productive for rainbows, browns and mountain whitefish. High-stick nymphing with big stonefly nymphs (size 10 or so) trailed by smaller nymphs in size 16-20 is a great way to search for feeding fish. When bugs are popping, you'll have no trouble locating pods of fish feeding on top.
The Big Thompson River, Colorado
This fabled river runs east off the Rockies through the town of Estes Park and offers decent public access along U.S. Highway 34. In winter, the river is fairly low, revealing likely holding water for browns and rainbows in the 14- to 16-inch range. There are places in Colorado where anglers can certainly catch bigger trout during the cold winter months, like the South Platte closer to Denver (and closer to hundreds of thousands more anglers) or the Taylor River near Gunnison. But the Big Thompson's less-heralded reputation also translates into fewer wintertime anglers. It's a pocket-water river making for good nymphing. It's browns will hit streamers in the deeper runs. It doesn't have a great reputation as a dry-fly stream, but winter midges will bring fish to the top.
Oak Creek, Arizona
This little gem is home to some surprisingly big brown trout, particularly in its upper reaches where holdover stockers have produced a viable wild trout fishery. Located near Sedona, most of Oak Creek flows through the Coconino National Forest, and while winter is a real season in this part of Arizona, it's generally pretty mild when compared to winter elsewhere in the Rockies. Oak Creek is a productive stream, and dry-fly fishing is actually pretty good in the winter, with Blue-winged Olives hatching on warmer days, and midge action happening just about all winter long.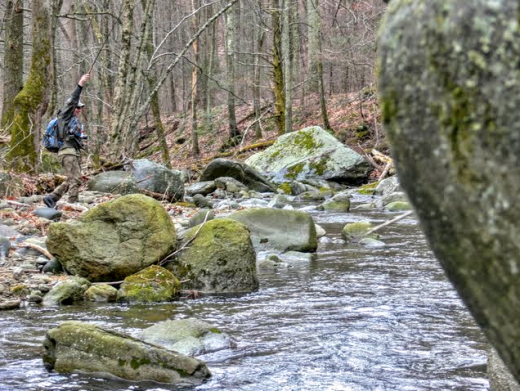 The Rapidan River, Virginia
This is a great destination winter fishery for native brook trout in the mid-Atlantic region. The river starts in Shenandoah National Park and flows off the shoulder of the Appalachians. Most, if not all, of the trout found in the national park are native brookies, but there are browns in the lower reaches. Milder winters on the fringes of the South make the Rapidan a great winter fishery, particularly in late winter (late February and early March), where brookies are actively feeding both on nymphs and dry flies.
Tennesee tailwaters
Nestled among the rolling hills of Northeast Tennessee are handful of tailwaters that offer excellent fishing year-round, including during the chilly winter months. The Clinch, South Holston and Watauga rivers are the best known of the Tennessee trout tailwaters, all supporting robust brown and rainbows fisheries that include a mix of stream-bred fish supplemented with generous stockings of fingerlings that grow quickly in the fertile waters. Fishing can often be technical, especially during low flows, and long leaders, light tippets and midges are pretty much a requirement. When the current is cranking, such as during power generation, it's time to get in a drift boat or raft and rip big, meaty streamers. It's not easy fishing, but it's a good way to connect with trout best measured in pounds, not inches.
— TU staff