By Dave Atcheson
I have to smile to myself as I watch a line of buddies negotiating the trail in front of me. There's nothing beautiful about it, just a tangle of legs and arms sticking out from brightly colored rings, bobbing from side to side between the trees in an absurd and uncoordinated display.
This cartoonish image, however, is quickly displaced by the scene into which we emerge. Out of the forest and into a land dominated by snow-capped peaks casting a mirror image of themselves across the stillness of an alpine lake, the early morning sunlight just beginning to grace its surface, highlighting the occasional dimple of rainbow trout on the rise.
We quickly wrestle out from under the burden of our packs, and begin to gear up, donning waders, adding swim fins, and preparing for the often humbling task of climbing into our float tubes. It's difficult not to be self conscious, nor to chuckle watching your buddy perform the most ungainly pirouette, two-stepping along the lake shore before plopping himself unceremoniously into the shallows. There is definitely nothing pretty about it.
No, the beauty of the float tube, or belly boat, is its portability, the access it allows to lakes you'd never think of hauling a boat to. While there are anglers who simply refuse to suffer the indignities of the belly boat, there are others of us who find it completely relaxing, relish its luxury, reminiscent of a pool toy—the only thing missing is one of those fancy, umbrella-ed drinks.
We also love the unique intimacy with the environment that the float tube provides. Being so near the lake, it enables us to experience each ripple of water, every breath of wind. And, for the fly fisher, it allows us an up-close and personal look at the organisms swimming around us—food for the fish and food for thought as we try to match the hatch.
Float Tube Basics
As with all types of gear, float tubes have seen many innovations over the years. The modern tube is a far cry from those early versions that cropped up shortly after World War II and consisted of little more than a rubber inner tube with a canvas seat. Today's belly boats are streamlined, often U-shaped, and are much easier to climb into and much more maneuverable on the water. They also come with an array of pockets for storing gear. Many of the more advanced models even have add-ons that allow the angler to carry a fish finder, an anchor, and even trolling motors. There are many variations.
A company called Outdoor Adventure Products even makes something called the Pow-RTube, a highbred boat/tube that has a motorized rear portion that can be removed when a more conventional float tube is required. For those of us who regularly head into the alpine country in search of new fishing opportunities, the belly boat is the perfect answer. On trails that are wide enough, many of us prefer to hike with our tubes inflated. Though a bit bulky, atta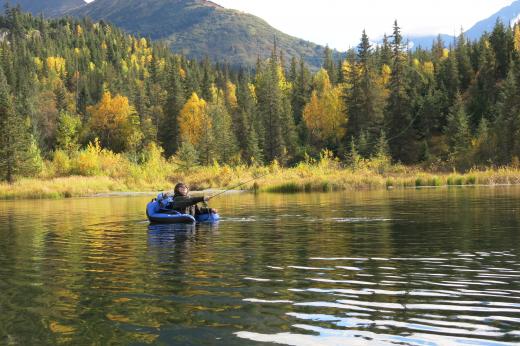 ching them to the outside of packs allows ample room for required gear, such as waders, fins, and tackle. There is also the option today of lightweight backpacking tubes, designed to fold up extremely small and that come with a compact pump.
For safety's sake, it is wise to keep to smaller lakes due to the limited mobility one has in a float tube. If there is a prevailing breeze, start from that direction and allow it to propel you down the lake. Trolling in this manner is a good way, especially on new water, to scope out the inlets, weed beds, and submerged debris where fish normally seek cover.
The options can seem endless when choosing a float tube, with prices ranging up from just under $100 (without fins and waders) to over $500 for the most sophisticated models. One thing is certain, the belly boat or float tube will open up a world of possibilities for anglers, especially those who like to head to the alpine country and who like to explore beyond the shore.
Dave Atcheson is the author of the guidebook Fishing Alaska's Kenai Peninsula, and National Geographic's Hidden Alaska, Bristol Bay and Beyond. His latest book is Dead Reckoning, Navigating a Life on the Last Frontier, Courting Tragedy on its High Seas. For more info: www.daveatcheson.com.