By Kirk Deeter
I've been receiving a lot of pitches lately, which is great. I love to mix things up, am always looking for new talent, and enjoy giving people a shot (because it doesn't seem all that long ago when a few editors gave me my first story assignments). That said, there are hints and guidelines that, when followed, will up your odds considerably, and I'm happy to share them.
First, know that the space in the magazine is really tight. We're very proud to have John Gierach, Chris Camuto, Tom Reed and Paul Bruun anchoring the magazine with regular pieces, and they are our appointed "story tellers." We do dedicate our "Voices from the River" section to personal essays, so if you have a story in mind about a close friend, or a fishing experience, or you want to wax poetic about a certain place, that could go in there. Just know that we get a lot of those stories and they can stack up like airplanes on the tarmac at O'Hare, so it might literally take a couple years to run. It has to be really special, and really well-written if we're going to insert your story in the same lineup with Gierach, Camuto, Reed and Bruun.
Please, please don't send us cakes that are already baked. Those are easy to lose track of (we're sorry when that happens) and more importantly, they force us to try to shift the magazine around to accommodate the author, rather than having the author fill a need that we have. I'd rather have you build a story that fits a 1,200-word space I have in mind, than have the editors spend a lot of time trying to chop a piece down to fit, which is usually frustrating for everyone involved.
So please send us a query letter, via e-mail to kdeeter@tu.org. Keep it to a couple paragraphs and hit us with the big idea, right up front. If you can hook us in a few sentences, we know you'll be able to do the same with the story. Don't be afraid to follow up.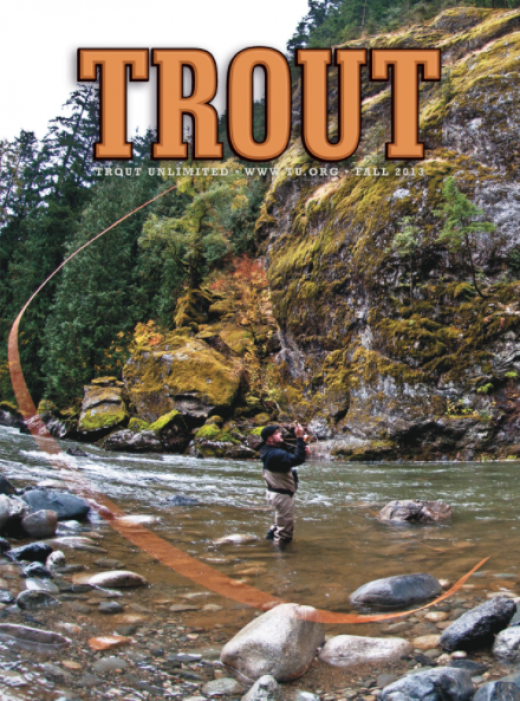 Please try to stick to AP style as much as possible, and know that when we see things like "my peace is about the Madison river and the trout that people catch their," well, the odds get pretty long. But sure, everyone makes mistakes.
We try to organize around quarterly themes, and themes for the next several issues will be: Advocacy, Innovation, Diversity, Art and Angling, Great Waters, Icons, Community, etc. If you have a hook that might match with a theme, that's a plus, though not a requirement.
Be thinking short. It's easier to break in with a newsy story that's 700 words or less to run in the Pocket Water section up front than it is to break in with a full feature. But swing for the fences if you have a great idea (for scale, please understand that a long feature, to us is about 1,500 words). If you have specific TU/chapter/council news, we are thirsty for as much of that as we can get, and we run those stories in the Actionline section. Do try to cap those around 500 words, if possible.
Perhaps the best way to break into the TROUT universe is to pitch a piece to our digital editor, Chris Hunt, who manages our blog and our website content. We're always looking for good digital content, and space isn't as much of a consideration. That said, it has to be good to compete with TU's stable of communications staffers around the country who provide us with digital content. Like in the magazine, we run "Voices from the River," but we run an essay almost daily. If you have a good piece and might enjoy tens of thousands of online readers taking a look at your stuff, drop Chris a line. If it's good, it'll go. Simple as that. And, appearing in the blog a few times will "grease the wheels" for future magazine work that pays.
As for TROUT, be familiar with the magazine, and know what we have run recently. We sometimes do backtrack and hit important topics from different angles. That said, we appreciate fresh ideas.
We love narratives that are woven around people. We especially love family stories. We are proud to involve many women authors and editors in the production of TROUT magazine and the Trout Unlimited website.
Photographers, feel free to send us a link to your portfolio. Poets… well, sure, we're open minded, but we run poetry very rarely.
At the end of the day, TROUT is a conservation magazine, so we like issues-related pieces that enlighten and motivate. We also like stories that are simply easy to read and entertaining.
A really good rule of thumb any writer should remember: A reported story should only have to be read once. An entertaining story should demand being read over and over.
"Literature is the art of writing something that will be read twice; journalism what will be read once." — Cyril Connolly.
Good luck. Thank you. "By the people, for the people" is key to making TROUT what it is, so don't be shy about reaching out to us.
Kirk Deeter is the vice president of Trout Media and the editor of TROUT Magazine. He lives and works in the mountains west of Denver.