Cascade-Siskiyou National Monument, on the Oregon-California border.
American sportsmen have long been advocates for strong habitat conservation policies and designations on public lands. This stems from the fundamental principle that every seasoned outdoorsperson understands: good fishing and hunting opportunity requires productive habitat—and for habitat to remain productive it must be kept largely undeveloped.
This advocacy has extended, particularly over the past decade, to the creation and expansion of national monuments. During that time the hook-and-bullet community helped get unique, deserving complexes of public lands such as Rio Grande del Norte in New Mexico, Browns Canyon in Colorado, and Berryessa Snow Mountain in California designated as national monuments.
Monuments matter to sportsmen because they protect and provide good habitat, fishing and hunting opportunities, and public access in many places around the country. As the Trump administration has moved to weaken or eliminate habitat protections in several national monuments over the past year, TU and other sportsmen's groups have generated numerous public expressions of support for monuments.
In one example, in November of last year 56 sportsmen's businesses and organizations in California and Oregon submitted a letter
CA-OR sportsmen's letter re Cascade Siskiyou NM_11-14-2017.pdf to President Trump and Secretary Zinke urging them to keep the current size and habitat protections of Cascade-Siskiyou National Monument, on the California-Oregon border, intact.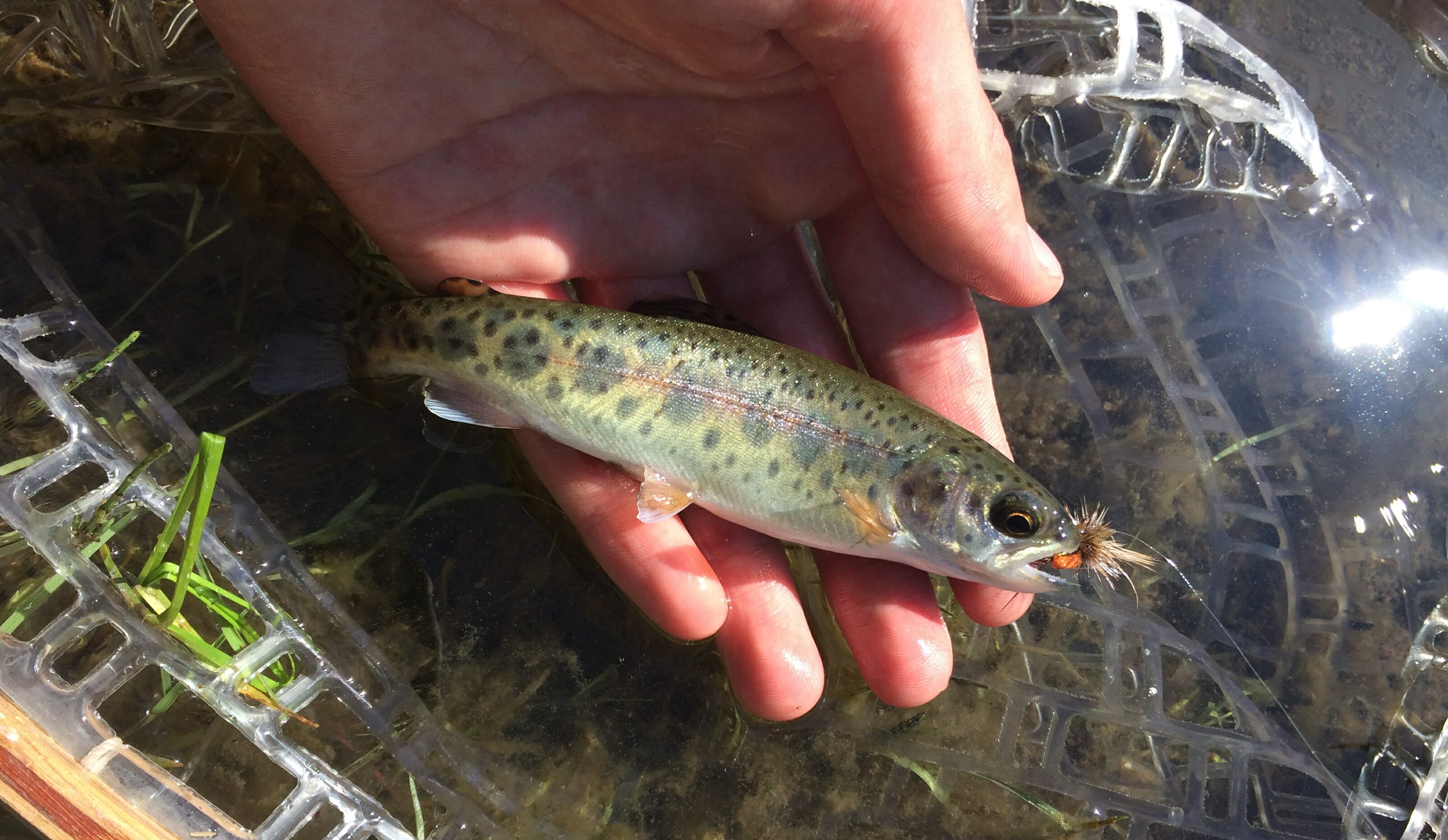 Native redband trout, Jenny Creek, Cascade-Siskiyou National Monument (photo: Kaden Swart)
This letter was a response to a report from Secretary of the Interior Ryan Zinke after a "review" of 27 national monuments designated since 1996, ostensibly to determine if their designation had been an example of executive overreach or had ignored local sentiment. Cascade-Siskiyou was one of the four land monuments recommended for an unspecified reduction in size in the Zinke monuments report.
The president acted on this report in December by stripping monument designation from more than 2 million acres in Bears Ears and Grand Staircase-Escalante national monuments in Utah.
TU has worked hard over the past year to better inform sportsmen and women about the value of monuments and what's at stake if the Trump administration takes additional actions to weaken habitat protections in places with high sporting values, such as Cascade-Siskiyou and Katahdin Woods and Water national monuments.
Local sportsman leaders such as Michelle Titus, owner of the Clearwater Lodge on the Pit River in northern California, have also spoken out in support of Cascade-Siskiyou and public lands generally.
Jack Williams, recently retired as TU's Senior Scientist and former Forest Supervisor for the Rogue River-Siskiyou National Forest, has been one of the leading voices from both the scientific and sporting communities urging monument designation for the Cascade-Siskiyou region—both for the initial designation in 2000 and for an expansion of the monument's boundaries in early 2017 (in part to better protect a rare subspecies of native redband trout in Jenny Creek).
Since his retirement Williams has continued to work with local sportsmen in southern Oregon to defend Cascade-Siskiyou National Monument. In recent weeks Williams and other conservation leaders visited with the editorial boards of the Statesman-Journal in Salem and the Register-Guard in Eugene to highlight the scientific and sporting rationales for the monument's current boundaries.
Ultimately these two media outlets published editorials calling on President Trump to leave the present boundaries of the monument intact and pointing out that the Zinke report's analysis of Cascade-Siskiyou National Monument contained numerous errors and inaccuracies.
For more than a century American hunters and anglers have taken the initiative to conserve our best remaining habitat and to ensure that wildlife populations are managed sustainably. The Antiquities Act, and the national monuments that have been established through its use by sixteen presidents since 1906, has directly helped advance these goals. Cascade-Siskiyou and other national monuments help conserve vital habitat and ensure public access and sporting opportunity. We should keep it that way.
–Sam Davidson