By Tara Granke
Trout Unlimited is ready to shatter stereotypes and break boundaries. In early September, TU's Headwaters Youth Program partnered with the Girl Scouts of Western Washington to hold the first-ever Train-the-Trainer for an outdoor STEM education experience designed for middle-school aged Scouts called STREAM Girls. At this training, TU's Youth Education and Diversity/Women's Initiative volunteers joined forces to bring this new program to life in the Pacific Northwest and beyond.
It's easy to get lost in all the acronyms, so let me back up a second…
Girl Scouts USA (GSUSA) prioritizes outdoor journeys and STEM education in their programs designed by girls, for girls. STEM stands for "Science, Technology, Engineering, and Math" and is widely used by educators as a foundation for planning curriculum. There is a lot of focus on getting young people excited about these subjects to prepare them for the jobs of the future. Here's where Trout Unlimited's trained volunteers come in.
STREAM Girls is a TU youth program that brings these subjects to life through an exploration of a stream and an introduction to the art of fly fishing. STREAM education is TU's take on STEM adding arts and recreation to the mix. Through this program, TU volunteers share their love of conservation and fly fishing with Girl Scouts who in turn make a connection to a community stream as a scientist, artist and an angler. This connection emboldens young women in two male-dominated arenas: STEM subjects and fly fishing.
Our training at Girl Scouts Camp St. Albans was not only incredibly fun (and beautiful!) but largely successful thanks to an enthusiastic group of volunteers eager to get their feet wet. Volunteer leaders from TU's Diversity and Youth Initiatives of Washington, Arizona, and Montana; Girl Scouts staff; plus an Oregonian watershed council staffer all showed up to get a crash course in facilitating the watershed journey.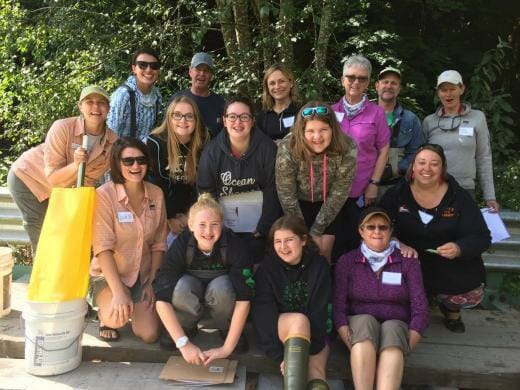 Trout Unlimited volunteers and the Girl Scout troop from Allyn, Washington during the STREAM Girls training.
Two days were spent experiencing hands-on training with the program's Eight Core Activities and on the last day we had the privilege to work with a local Girl Scouts troop to do a STREAM walk and macroinvertebrate sampling.
As a result, the first STREAM Girls program will be held in Washington on October 20-22 at Camp River Ranch in Carnation, where up to 20 Scouts will spend a weekend learning and growing with TU. The Scouts will leave the event empowered stewards of their environment thanks to volunteers who care about getting the next generation of young women involved in TU's mission.
Programs in Montana, Arizona, Pennsylvania and Oregon are on the horizon. If you are interested in helping at the October event in Washington or want to learn more about bringing STREAM Girls to your region, contact Headwaters staff Tara Granke or Franklin Tate.
Visit www.tu.org/streamgirls for more information. This train-the-trainer was supported by the GRTU Tomorrow Fund.
Tara Granke is the Headwaters Yourth Program Coordinator for Trout Unlimited.