By Mark Taylor
Scott Jenson had some words of wisdom for a crowd gathered recently for a celebration at the Orvis distribution center in Roanoke.
"We at SweetWater Brewing Company and Trout Unlimited have a lot in common," he said, smilling. "There are two things that get us out of bed in the morning: fishing and beer, but not necessarily in that order."
Jenson (above left) is the brand marketing manager for Atlanta-based SweetWater, and was in Roanoke to present Trout Unlimited with a ceremonial check as part of SweetWater's Save Our Waters campaign.
This is the second year Trout Unlimited and SweetWater have teamed up for the program, in which SweetWater pledges a matching donation of up to $20,000 to five participating nonprofits. TU uses the funds to support its Embrace-A-Stream program, which provides grants to chapters.
TU donors stepped up in a big way, donating $30,126.36 during the campaign, which ran from June through August.
Counting SweetWater's generous $20,000 donation, the campaign raised more than $50,000 for the Embrace A Stream program.
"The Embrace-A-Stream program is a great way to boost local chapters' on-the-ground work in their local communities and to improve water quality," Jenson said. "You can't have good beer or good trout fishing without clean water, so the SweetWater/TU partnership makes great sense."
Jenson presented TU President and CEO Chris Wood (above right) with the trout-themed ceremonial check on Sept. 28 at a celebration at that also served as an informal kickoff to TU's annual meeting, which was held in Roanoke. SweetWater also happened to be the meeting's official beer sponsor!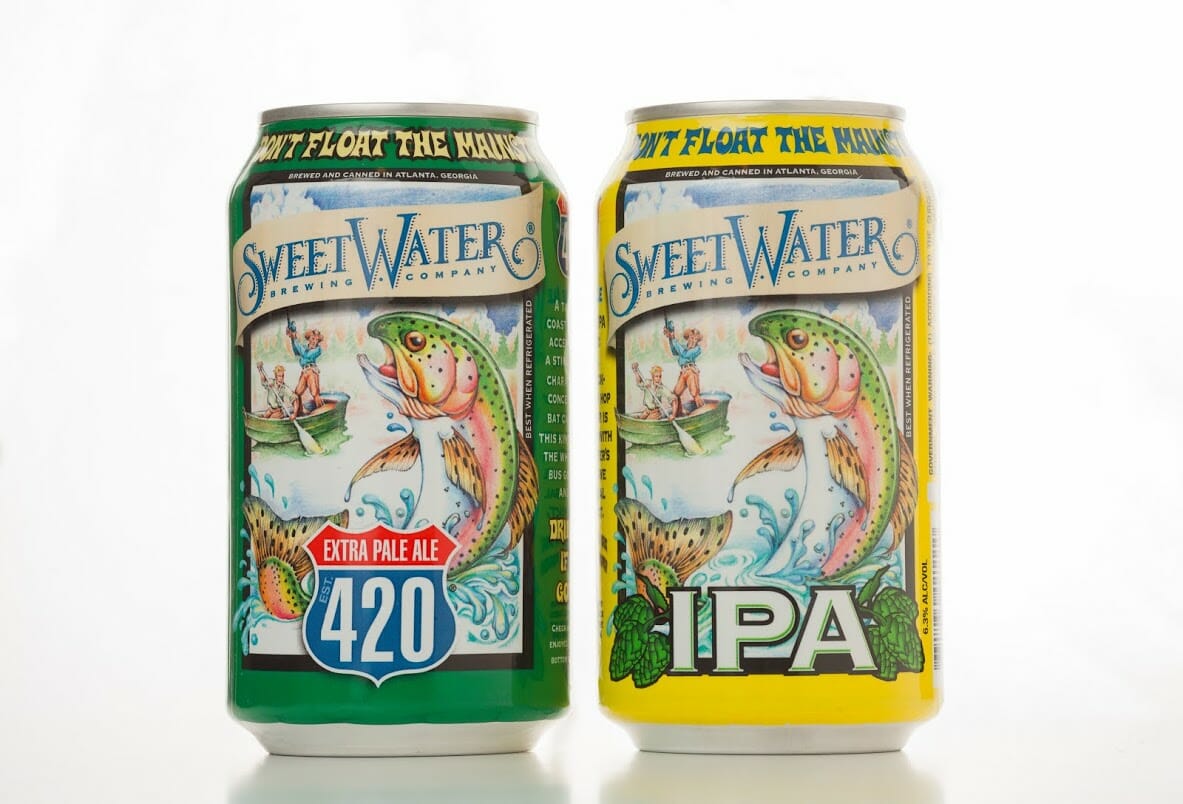 The celebration at the expansive Orvis facility also provided an opportunity for TU and Orvis to announce the new Embrace A Stream Challenge, a collaborative initiative to increase financial support for the program, which provides grants to TU chapters to fund conservation projects.
Since its inception in 1975, EAS has funded more than 1,050 individual projects for a total of $4.6 million in direct cash grants. Local TU chapters and councils contributed an additional $13 million in cash and in-kind services to EAS-funded projects, for a total investment of more than $17 million.
This year, the Embrace A Stream committee awarded a total of $214,010 in grants supporting 47 chapter projects in 22 states.
In addition to sponsoring its Save Our Waters fundraising match program, SweetWater also invited the five participating nonprofit groups to go head-to-head in an Instagram contest. The organization that generated the most specially tagged photos will get an opportunity to collaborate with SweetWater on a limited release brew.
The SweetWater Instagram contest was a great way to engage TU members and supporters in advocating for cold, clean, fishable water and in supporting the Embrace A Stream grant program. A total of 207 Instagram users posted nearly 1,500 pictures and messages in support of the campaign!
Building Conservation Trust, an arm of the Coastal Conservation Association, edged TU to win the contest.
TU helped to encourage participation in the contest by holding a raffle for a TU logo-adorned YETI cooler and other prizes.
The YETI winner, chosen by random drawing, went to @brookiebumwv, who helped his odds by being the single most prolific poster.
Prizes of hats and other swag went to @ncctroutunlimited, @flyfishthedelaware, @adammiller, @deer_valley_farm and @chrissyfishes.
Trout Unlimited extends sincere appreciation to the team at SweetWater for their support of TU and its mission and looks forward to continuing the relationship for many years to come.
Mark Taylor is the eastern communications director for Trout Unlimited. He lives and works in Roanoke, Va.