Six years ago, I felt accomplished if I was able to cast a fly past my feet without snagging the brush behind me or creating an impressively complicated bird's nest. With practice, time, an observing eye, and a tip or two, my cast has come a long way—though I know it still has a way to go.
Thus far I have limited the measure of my cast to the rising fish I hope to entice that I've deemed within casting distance, or the far side of the stream bank where I aim to place my streamer while avoiding potential snags. I've never actually seen how far I can cast or explored the limitations of my accuracy, or lack thereof, so when FisheWear and Women's Fly Fishing Alaska went out on a limb and put together a casting course in Anchorage I was curious to discover whether my cast was up to the challenge.
Enter: Taku Tight Lines and Hula Hoops, where nine hula hoops circled an Anchorage lake and a neighboring creek, complete with starting points for casters of various abilities. It's deceptively challenging—like nine holes of golf, only water is more of a friend than a hazard.
The goal of the event was not only to present a fun and unique challenge to fly anglers, but to continue to grow the Anchorage fly-fishing community, specifically the women's fly-fishing community. On a wet day, even by Alaskan standards, the event was a clear success. The organizers already have plans to host it again with new holes and fresh ideas.
As a volunteer for the event, most of my time went to helping participants navigate the course and providing casting suggestions when needed, but I still found some time to take my shot at each of the targets. I impressed myself while accurately applying the different casts that each hole called for, spent some time on Hole 4 bombing loops as far as my double haul could send them, and found a favorite challenge at Hole 9 (mostly because I love dishing out backhanded casts).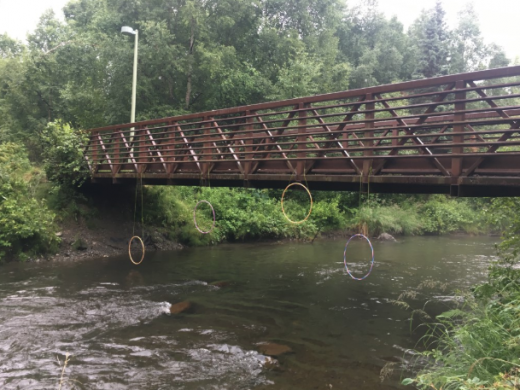 I share the story about this fun, fishy event because from my experience as a board member of my local Trout Unlimited Chapter, chapters are always looking for fresh events to host in their communities to engage current and potential new members. Hosting a casting course challenge is a winning option in my opinion. If your chapter is interested in hosting a casting course here are some things to consider:
Review the Orvis Casting Course Guide Make sure you have plenty of casting room
Create challenges for all abilities, being especially friendly to newer casters so they have fun and stay engaged
Make it family friendly and stroller accessible
Create a scorecard so that participants can easily keep track of their score (A map of the course on the scorecard is also a great idea)
Dial up some sunshine (if possible)
Ensure there are very visible trail markings between each hole
— Eric Booton