A fisherman's concern about a stream was the impetus for a recently completed project on a small creek in State College, Pa.
In November 2015, John Ford contacted Trout Unlimited stream habitat coordinator Phil Thomas and The Delta Program with the State College Area School District about an erosion and sedimentation problem (below) he had noticed on Thompson Run.Thompsonrun before.JPG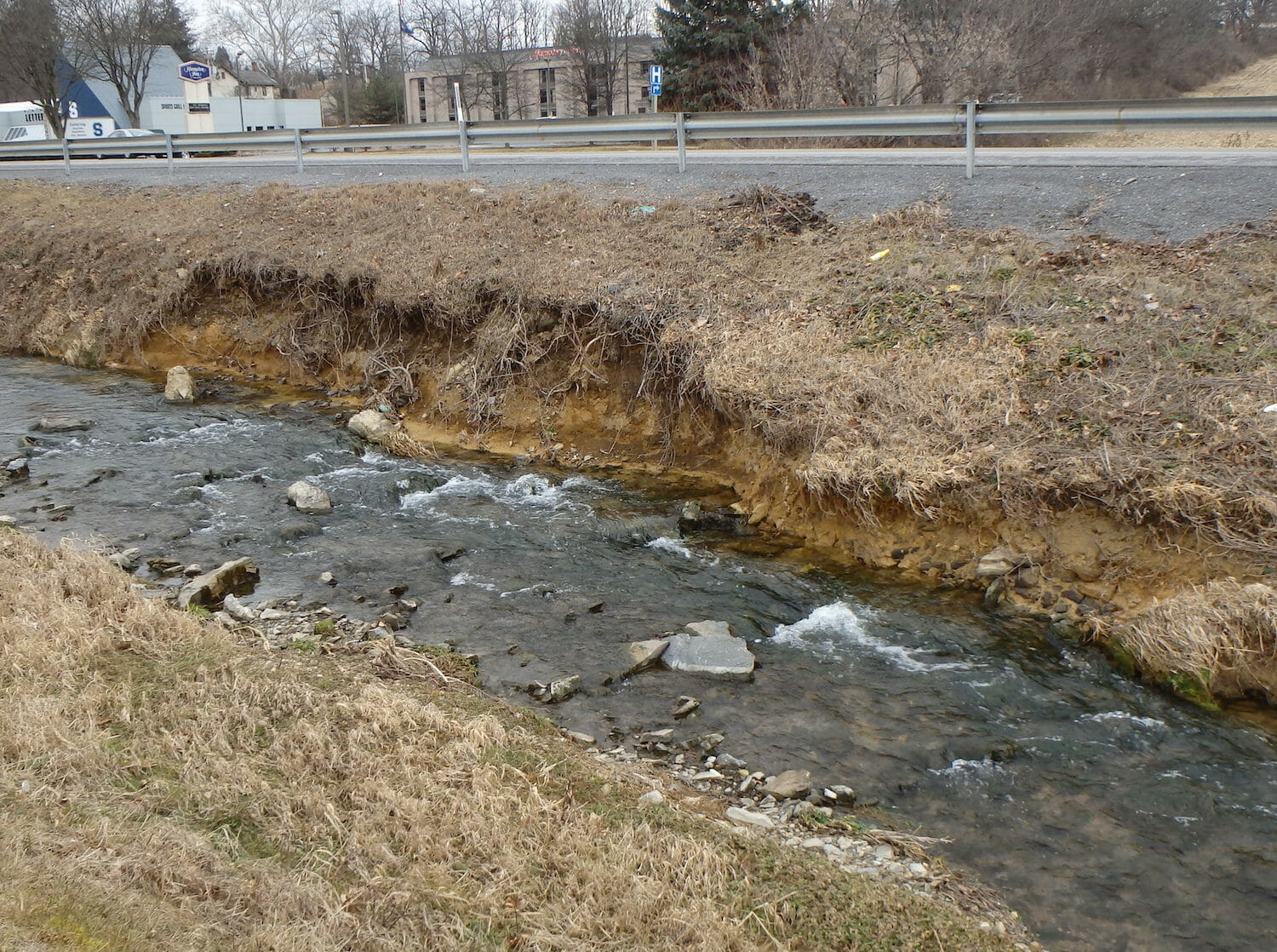 Thompson Run is a small stream in the State College area that joins with Slab Cabin Run, forming a tributary to Spring Creek, a renowned fly-fishing stream. Spring Creek is reported to have more trout per acre of water than any other body of water east of the Mississippi. Thompson Run is designated as having the second-highest quality of water in the state of Pennsylvania. However, maintaining healthy trout populations in these streams is impacted by excess sediment pollution caused eroding streambanks, lack of streamside vegetation buffers, and other land use issues.
Ford, who is the president of the U.S. Youth Fly Fishing Team, briefed officials about his habitat enhancement plan for Thompson Run and Slab Cabin Run and the wheels were in motion.thompsonrunwork.jpg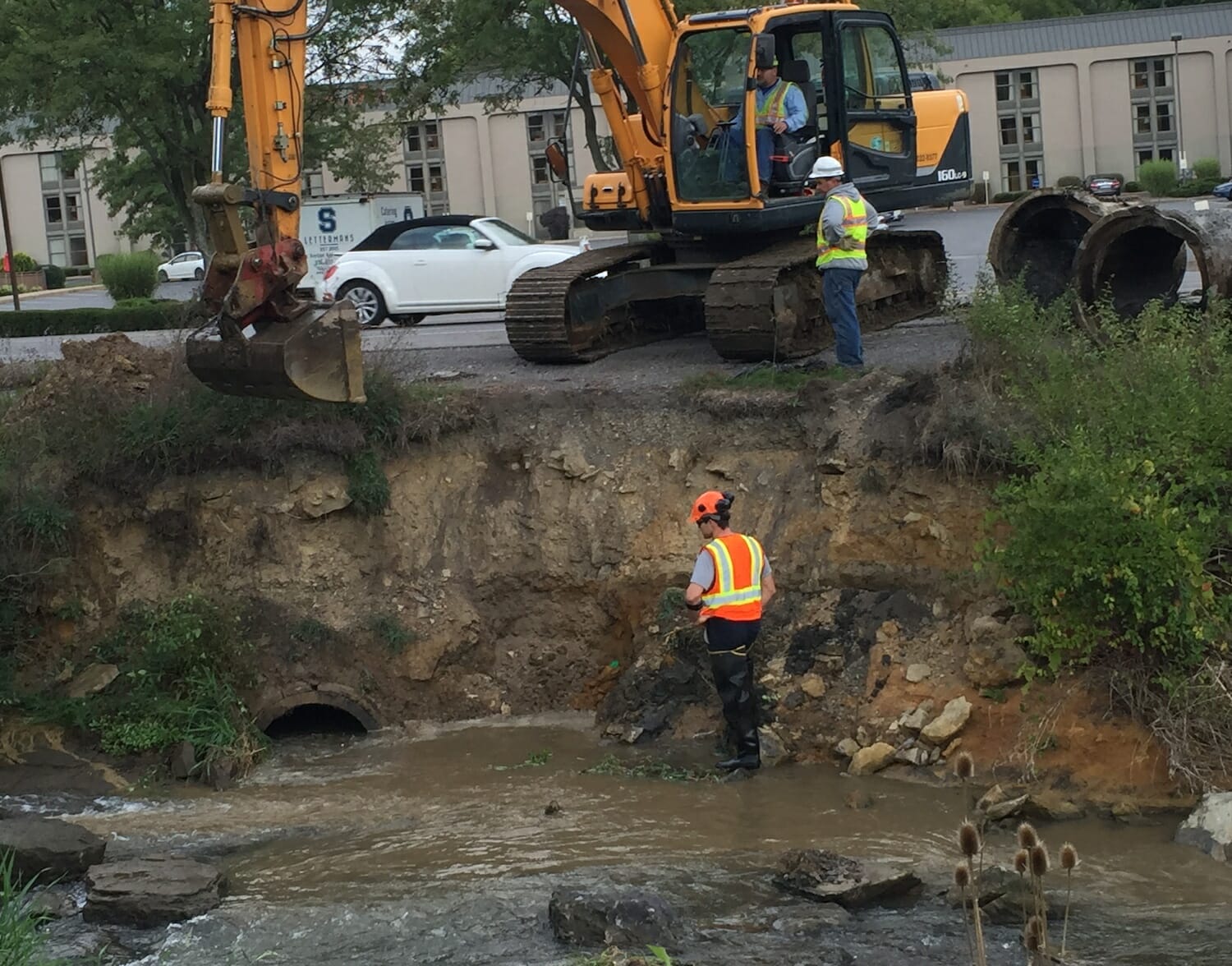 Trout Unlimited, at both the national staff level and the Pennsylvania Council level, was among the project's many partners. TU habitat coordinator Phil Thomas assisted with oversight of instream structures and helped the Centre County Maintenance Department with the placement of log structures to redirect water away from the bank during high flows and to provide trout habitat.
The restoration team also removed an abandoned 24-inch storm sewer outfall, backfilled the area with stone and topsoil, and placed an erosion control blanket over the material to keep it in place.
Other agencies and business that participated in the project were: Pennsylvania Fish and Boat Commission; Pennsylvania Department of Environmental Protection, The Pennsylvania State University; Centre County Conservation District, College Township, The Coldwater Heritage Partnership, Pennsylvania Department of Conservation and Natural Resources Rothrock State Forest , Glenn O. Hawbaker, Inc., Blaise Alexander Family Dealerships, and Pinnacle Erosion Control under Scott's Landscaping.Route 26 Restoration Group[7].jpg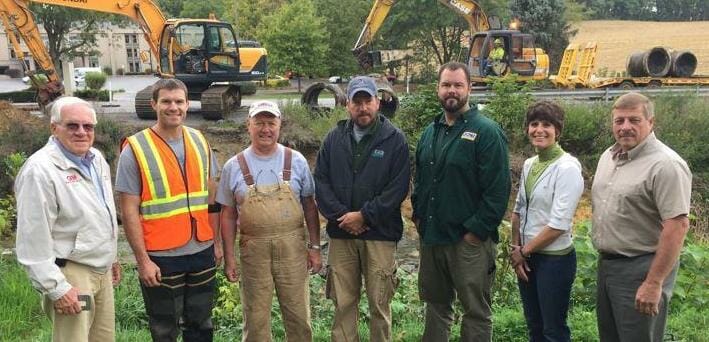 Among those involved in the Thompson Run restoration project were (left to right) Dan Hawbaker, Phil Thomas (Trout Unlimited national), John Ford of U.S. Youth Fly Fishing Team, Mark Potter (district forester from Rothrock Forest), Dave Yeager (assistant district forest for Rothrock Forest), Tali MacArthur (Pennsylania TU) and Troy Franks (Glen O. Hawbaker, Inc.)