By Eliza Perreault
If you have ever faced a wall of several varieties of invasive plants you know help and thick gloves will be needed.
On a bright, sunny, summer day in Burke, Vt., a group of volunteers dove head first into just that kind of task and, with hand tools, bags, and perseverance, the group tackled one invasive plant after another.
Before the day was over the crew had built a new wall consisting of bags of invasive plants and a new refreshing view of the river at a site near popular bike trails in town.
The invasive plant removal site is part of a stream connectivity project that includes stream bank reclamation leading to the removal of a small dam (privately owned by the Passumpsic Valley Land Trust) this fall on the East Branch of the Passumpsic River, opening several miles of river.
Volunteers came from Trout Unlimited's Mad Dog Chapter, TU's Upper Connecticut Home Rivers Initiative, Northwoods Stewardship Center, Beck Pond LLC, the PVLT, Milone and MacBroom, and the Burke Conservation Commission. The host for the day's event was the Connecticut River Conservancy.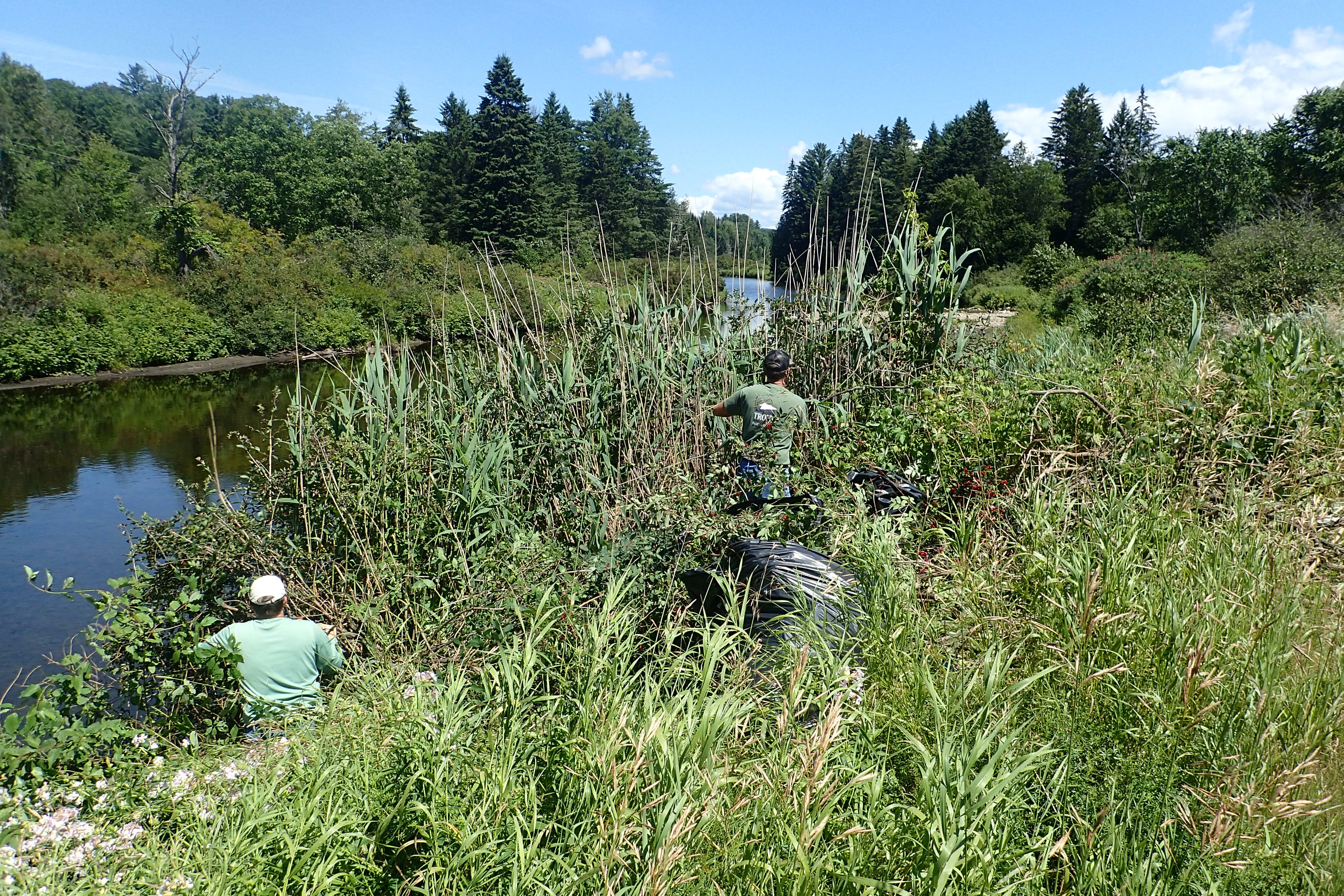 The crew focused on the manual removal of buckthorn, honeysuckle and Japanese knotweed, filling more than 24 construction bags with invasive plant material that had been removed from a 300-foot-long section of the riverbank.
As the day wore on, the volunteers grew energized by the volume of material pulled from the project area.
The day also turned into a surprise outreach opportunity, drawing the attention of several curious mountain bikers and local business owners that stopped to ask questions about the project and to thank the volunteers for their work.
The message was clear: People are happy to see the invaders go!
In addition to appreciation for all the volunteers, a big thanks also goes to Lauren at RubyLee's for the donation of ice cream and lemonade!
Work will continue post dam removal with monitoring and riparian restoration, thanks to the Mad Dog chapter's application for an Embrace-A-Stream grant.
Eliza Perrault is a conservation technician for Trout Unlimited's Upper Connecticut Home Rivers Initiative.