A heavy sediment flush has turned the Shoshone River near Cody into a cholocate-covered death swim for trout and other aquatic invertebrates. Photo by Dave Sweet.
By Tommy Thompson
CODY, Wyoming – A recent mud flow in one of our local rivers has devastated not only a productive fishery, but also the hearts of our local Trout Unlimited membership. In an attempt to flush sediment that has been building up for decades in front of their dilapidated structure, the operators of the Willwood Irrigation District dam recently released a slug of silt that smothered trout and other aquatic species for at least 20 miles of the Shoshone River near Cody.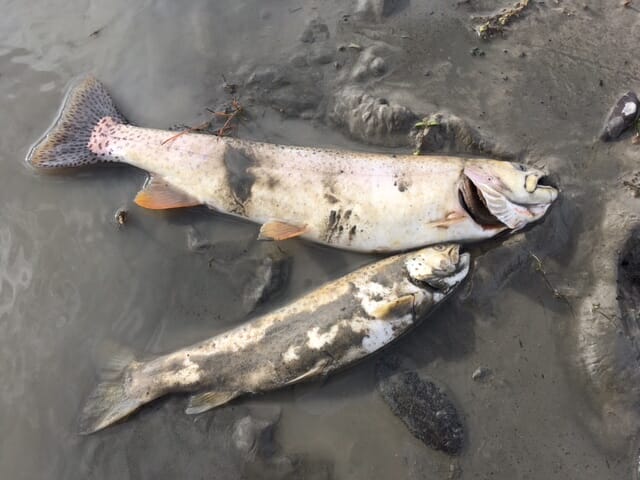 Trout fell victim to the heavy sediment load released during work on a dam on the Shoshone River. Photo courtesy Wyoming Game and Fish.

The regulatory agencies investigating the incident, in this case the Wyoming Department of Environmental Quality and the Wyoming Game and Fish Department, are attempting to quantify the extent of the fish loss and loss of other aquatic organisms that reside in this stretch of river and will soon determine any necessary fines. In the meantime, the rest of us can only speculate and wait. This is an unfortunate situation to say the least.
However, this is not the first time this has happened at the Willwood Dam. Nearly 10 years ago, a similar event resulted in the loss of fish and prompted discussions with agencies, conservation groups and the irrigation district to find a solution to the ongoing operational issue caused by the accumulation of sediment behind the Willwood Dam. Unfortunately, these discussions did not develop a long term plan to address the issue and the fishery will remain at risk until a solution is implemented.
It is extremely disappointing this has happened for a second time in the heart of the Big Horn basin. TU continues to monitor the extent of the damage and how this disaster could have been avoided. However, we hope this will prompt efforts from the irrigation district, state agencies and others to identify a permanent solution, one in which TU fully intends to participate, so this destruction does not happen again.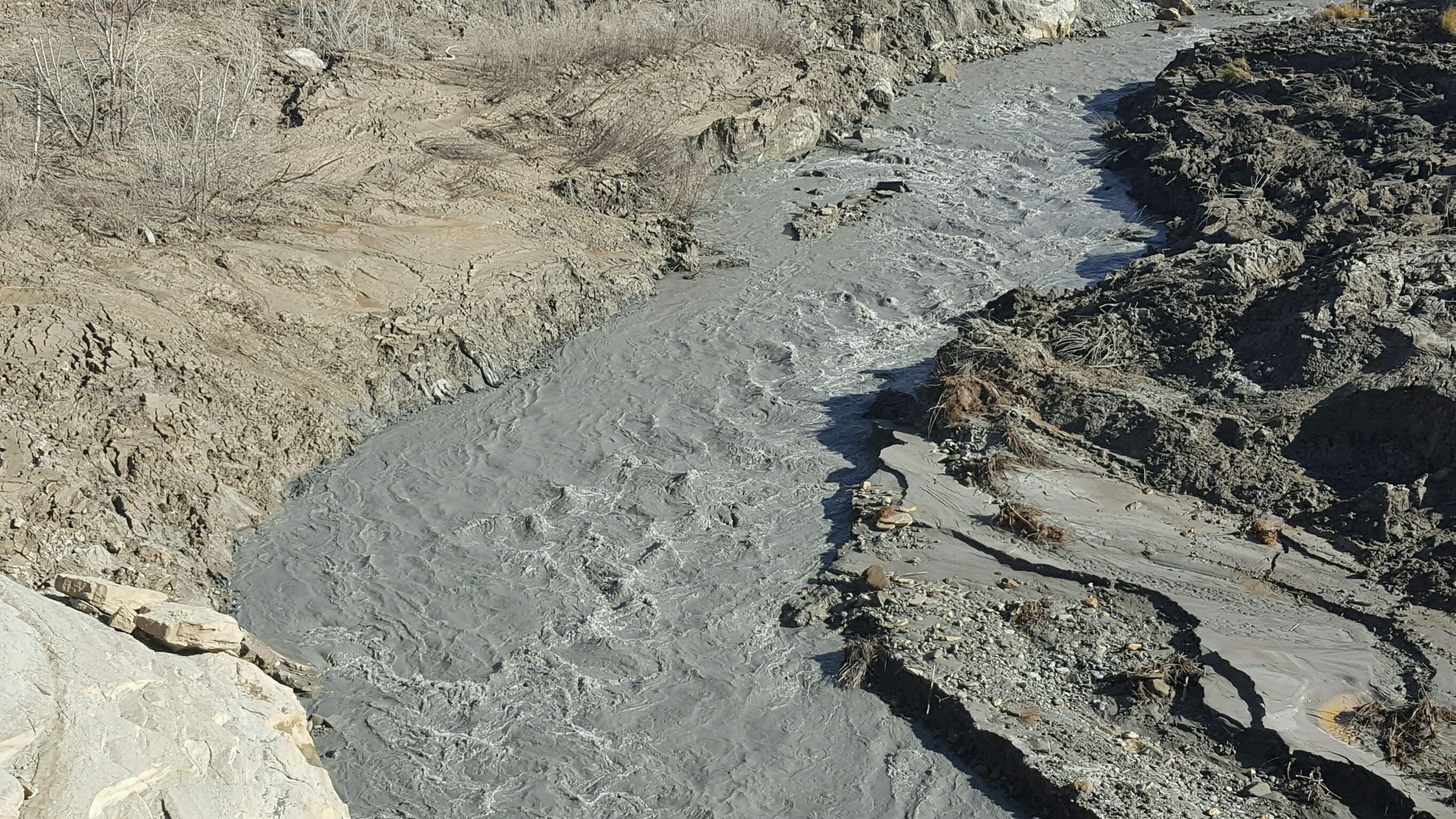 This is not how the Shoshone River typically looks. Photo by Dave Sweet.

One of TU s greatest strengths has always been our genetic make-up. We are equal parts optimist and pragmatist. We see potential in degraded streams and work hard to find practical solutions to return them to their former glory. But we don't do it alone. We do it in conjunction with many partners – from governmental agencies to other non-profit organizations. Most important, though, is the necessity for a willing landowner to join the effort. In Wyoming, this approach will often lead us to partnerships with large irrigation districts similar to Willwood. TU not only understands the need for farmers and ranchers to operate efficiently, we also appreciate it. These folks grow food for our families. They are our friends and neighbors. They have proven time and again to be great partners in conservation when given opportunity and a seat at the table.
Water users in this state (irrigation districts, private landowners, and others) have worked alongside TU to protect, reconnect, and restore thousands of miles of rivers and streams with many various types of projects. These endeavors are never easy or simple, though. It takes open, friendly dialogue among all of our groups to develop a plan that will work for everyone involved. This is never perfectly duplicated, either.
The solutions are always different because the needs and concerns of so many stakeholders are always different. This requires us to listen more than we speak and do our best to empathize with each other. Is it always easy to work like this? No way. Is it doable? Yep, we do it all the time. Not only is this the best way to work with our neighbors, it's the way our country's democracy was designed to function. I'd say that's a pretty good model.
Today, TU and the Willwood Irrigation District have a common problem. Together we can find a solution to a private irrigation concern that will also benefit the public resources in the river. All we have to do is seize the opportunity.

Tommy Thompson is the Bighorn River Basin Project Manager in Wyoming for Trout Unlimited. His email is Tommy.Thompson@tu.org