TU Teen Devin Brandes, pictured above in blue, shares his story of how he successfully began a day camp for kids called the Rocky Point Fly Fishing Camp. Inspired by this experience, he built upon his success to start a volunteer program called You Can Fly that recruits young people from the Boys and Girls Club and Big Brothers, Big Sisters.
By Devin Brandes
I was 12 years old when my father bought me my first fly rod. It was a 6-weight, Orvis Encounter rod setup, with bright high visibility, yellow line. I began watching Youtube videos on casting and retrieval techniques and educated myself about the art of fly fishing. I am from a town where many kids my age fished with bait and lures, but close to none fly fished or even knew what it was.
When I got the rod, I almost immediately dropped bait fishing and solely focused on fly fishing. In my opinion, it's the purest form of any kind of fishing. When I would fish with my friends they would use spinning rods and I would use my fly rod. When entering 8th grade, my father found out about Trout Unlimited and I became a member with my local chapter and fell in love with the organization.
I was really impressed with the leadership of TU, and got to know Jeff Yates, TU national's director of volunteer operations, and Tony Hill, Mianus Chapter pPresident. They taught me about the importance of conservation and that without fly fishers, our fisheries would not be as pristine as they are today. I learned that fly fishing is more than catching 25-inch rainbow rrout on a size 24 Green Drake, it's about sustaining our warm and cold water fisheries so that future generations will have the opportunity for superb fly fishing in excellent conditions.
As I got more involved, I learned about a TU intern, Ben Wood, who devoted his time and energy to many of the important conservation projects for the Mianus TU chapter. There was a whole story about him in the TU newsletter that caught my eye. But then, I learned he passed away at the age of 23. There was a fund set up in his name that would support the work he started in conservation to restore our local rivers. It's called the Bennet Wood Stewardship Fund. Ben inspired me to carry on his efforts and I immediately signed up for my first TU river clean up.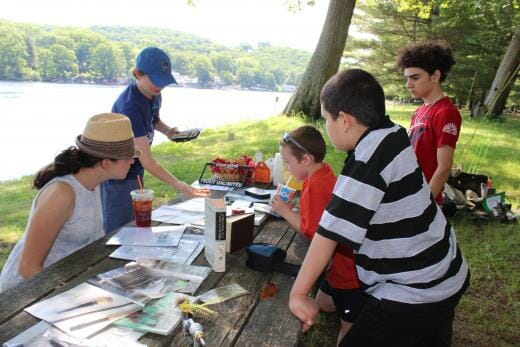 After expanding my knowledge of fly fishing through TU, I wanted to share my passion with others. I decided to create a camp and teach other kids about fly fishing as well as about the importance of conservation. We called it the Rocky Point Fly Fishing Camp. I held my first camp with a handful of kids from my area a couple of summers ago, and taught them how to cast, tie flies, all about the gear and equipment, where to fly fish locally, and everything else they needed to know in order to succeed while out on the water. With the money I made from these camp sessions, I donated 50 percent to the Bennet Wood Stewardship, and the other 50 percent to Save the Sound.
A second camp session left me with the feeling that I wanted to do more. I wanted to make a deeper impact on my community and decided to reach out to organizations that don't typically get the chance to fly fish. My idea was to use the previous camp's proceeds to purchase four Orvis Practicasters to use at the Boys and Girls club for casting lessons and tot each them all about fly fishing. I partnered with the Stamford Boys and Girls Club, Big Brothers and Big Sisters of Westchester, and Big Brothers and Big Sisters of Southern Connecticut. I visited these chapters and presented Fly Fishing 101—an overview of what fly fishing is, the gear, the casts, showed some cool fly fishing videos. I also did a fly tying demonstration.
Then, I followed up by taking the group out for a day of instruction out on the water so they could first try casting with a practicaster and then, the chance to try with a real fly rod. It was called You Can Fly.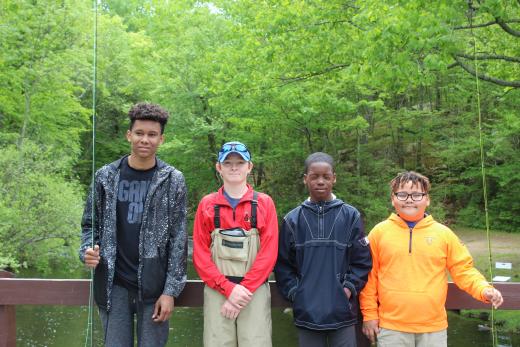 I loved seeing their enjoyment of being out on the water. People were curious about the equipment and were interested in everything from different casting techniques to fly tying demonstrations. It was great to teach both the Big Brother and the Little Brother an activity they could do together on the weekends. One of the best moments was when one of the Little Brothers, named Junior, actually caught his first fish on a fly rod! He was really proud of himself and I'll never forget how it made me feel to see how excited he was.
I am grateful to all the directors at these organizations who have allowed me to share my passion for fly fishing with others. Even if they don't go fly fishing again soon, they now have the basic skills and knowledge to be successful while fly fishing. I am also very grateful to Orvis for donating rods and tippet to my You Can Fly program which made it easier to take larger groups out on the water. Thanks to the Trout Unlimited Teen Summit for the opportunity to expand my knowledge in conservation and become a better leader. Lastly, I am grateful to Mianus TU, for giving me the inspiration everyday to share my passion with kids who someday may become the fly fishers we need taking care of our waters. Together, we can teach others to fly!