Bob Saile, former outdoor editor of the Denver Post. Photo courtesy of The Denver Post.
by Chris Hunt
As a displaced Colorado kid growing up in the Big Thicket of East Texas in the 1980s, I found my adventure in words.
I scrounged couch-cushion change and earned lawn-mowing cash, just to run down to the convenience store every few weeks to buy a fountain Coke and a handful of outdoors magazines—I might have been the perfect consumer for the likes of Sports Afield, Field & Stream and Outdoor Life, because I paid full newsstand price for those glossy pages and thought Patrick F. McManus was the ordained minister of the woods and waters of America (he still might be, even today, at 83). These magazines, for a kid limited to the pond I had to tresspass in order to fish, or the Sabine River within biking range, were my avenue to true adventure.
Even with the forests and the hills and slow, muddy rivers of the East Texas piney woods generally at my fingertips (it's amazing how far a 14-year-old kid can range with a second-hand road bike, a Shakespeare spinning rod and a nose for water), I remained a Colorado kid, and the words I loved the most were penned by the likes Ed Dentry of The Rocky Mountain News and Bob Saile of The Denver Post. Those words were made even more vivid by the writing of Charlie Meyers who took over when Saile retired in the late 1990s. My grandmother, God rest her soul, would box up weeks worth of Post and Rocky sports sections and mail them to me, keeping me in the loop with my beloved Broncos and, of course with the words from the Colorado high country crafted by Saile and Dentry. I had the distinct pleasure of getting to know Ed Dentry, and later Charlie Meyers—both proved to be true friends and staunch conservationists, as well as personal heroes. Ed retired when the Rocky closed up shop in 2009, and Charlie was taken from us by cancer not long after that.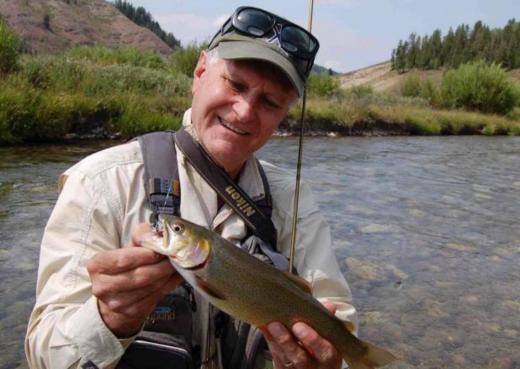 alt="" title="" />
Charlie Meyers. Photo courtesy of Field & Stream.
I never had the pleasure of meeting Saile, but I knew him through his words, through the adventure he instilled in me via ink and newsprint and his prose about fishing and hunting the Rockies. And, I remember, he was one of the first writers I ever noticed who wrote not just for a newspaper, but for magazines, too. His byline criss-crossed my childhood, and I was in awe of this man who could write deftly about fly fishing in Yellowstone, as well as what a horrible idea Two Forks Dam was on Colorado's Arkansas River. The dam was never built, and I'm convinced that writers like Saile, Dentry and Meyers were among the chief reasons it never happened. Words not only lead to adventure. They possess power and influence.
Sadly, the Post no longer employs an outdoors editor—the Great Newspaper Retraction of the last decade or so has resulted in some of the "less-vital" stuff simply going away. And with Rocky gone completely, one of the great outdoors cities is left at the whim of an editor and the occasional freelancer to inform Colorado and the West on the issues facing hunters and anglers.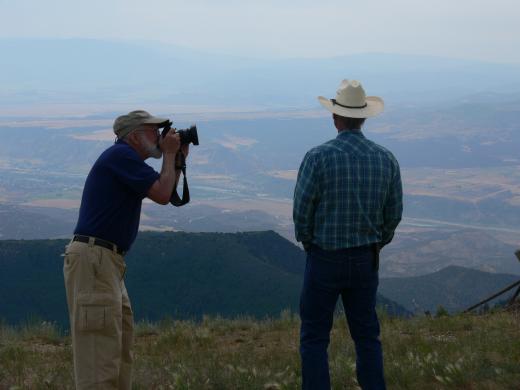 alt="" title="" />
Ed Dentry, left, hard at work on the Roan Plateau in 2007.
Saile died this week in Colorado at 78, putting a final period at the end of Colorado's outdoor writing story, and, sadly, to the remnants of my childhood. Today, I still read Field & Stream and Outdoor Life, but solely online. Same goes for the Denver Post—it's where I read about my Broncos. But the late nights spent reading by flashlight about fishing Montana or scoping that perfect buck in Utah, or chilly Saturdays spent spreading newspapers out on the floor in my little bedroom to read about Frying Pan River trout are over. It's been ages since I washed newsprint off my fingers.
I'm lucky to know many who still find a way to make a living writing and communicating about the outdoors, and my hope is that there are kids all over the country reading their words and disappearing into their computer screens to find inspiration, even for a time. The words of my heroes led me to a lifetime of adventure. Without the words of Meyers and Dentry and Saile, I likely wouldn't have been nearly as receptive when my grandfathers placed a fly rod in my hands, or as willing to pile a summer's worth of supplies in my truck and tow a camper to the Arctic later in my life. Hopping a flying tin can to a dirt airstrip in the middle of Reindeer Lake? No way.
Their words have shaped a lifetime of adventure. Rest in peace, Bob. And thank you all for the inspiration.
Chris Hunt is the national editorial director of Trout Media. He lives and works in Idaho Falls, Idaho.