By Sam Davidson
I read recently that the Millennial generation cares more about experiences than possessions. This was gratifying to me, as I have hewn to that credo myself since I was old enough to understand the choice—and my two children are the tail end of the Millennials.

alt="" title="" />It got me thinking about the kinds of experience that deliver greater value than "stuff." For me, it has everything to do with place. Some places whisper to us, shape and define us, their handiwork glacial or catalytic as lightning. Eventually our returns to them coalesce into habit, thence to tradition.
Without having to think hard about it, I can tell you the places which have exerted such influence on me that an annual visit became a "necessary embrace…beautiful as fire," as put forth by Robinson Jeffers in the poem The Excesses of God.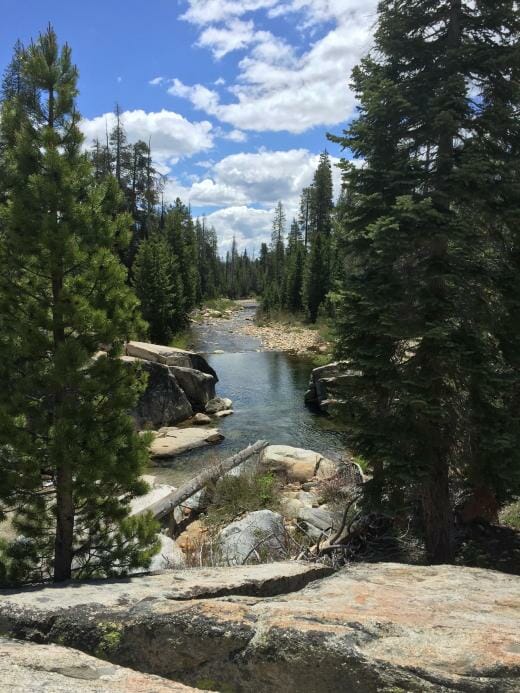 alt="" title="" />
One is the gravel bars of a stretch of the Little Wood River in Idaho, where my family camped for two weeks each summer during the years when my parents had an ownership stake in a working cattle ranch there. Until my early teens, my happiest days were spent there, riding the ranch horses, shooting cans with pistol and rifle—and fishing, mostly fishing. I was mostly a bait angler then, although I would tie on a rooster tail spinner if I ran out of the nightcrawlers we spaded out of the black floodplain soil each morning. My brother and I would wake at first light, grab our spinning rods and sneakers, and bring home stringers of 10"-12" brook and rainbow trout for breakfast. In those days, no one thought anything of allowing two young kids to go traipsing off down a river subject to unannounced flood control or irrigation releases, with no personal flotation device or adult supervision.
Another is the shell-littered beaches of Captiva Island on the Gulf Coast of Florida, where my grandparents on my mother's side retired. My grandfather—a stern, quiet man who had survived the loss of both parents and the Great Depression—was an avid sportsman and loved to take me and my brother fishing. To him, all sport fish were worthy but snook were the ultimate prize. From his small boat we cast to the fringes of the mangroves and drifted frozen shrimp tails in the currents off the bottom of the island. But mostly we walked the beaches in the grey of early morning, casting into the surf next to jetties and rips. We caught grouper, speckled sea trout, redfish, and plenty of jack crevalles, the pound-for-pound fighting champion on light tackle. My brother and I were young enough that my grandfather would grab the back of our life jackets when we hooked up, to keep us from getting pulled into the water. Even at that age we felt, somehow, that we had disappointed this colossal figure in our lives when we failed to bring home a snook.
The mountains and their rocky extremities have always called to me. In those years when I was climbing actively, a few places in particular drew me close. Their common theme was granite walls and glittering streams, where I would bathe and cast dry flies to lovely, skittish trout after a long day on the rocks. California's Sierra Nevada range is a paradise for climbers and anglers alike, and I found places high and low that became like old friends. A sandbar-fringed bend in the Merced River below The Rostrum in Yosemite Valley is one. Sections of the Tuolumne River in the Yosemite high country, weaving its way among glacier-scoured domes. A seductive stretch of the Kings River in Kings Canyon. It became a requirement that I visit these places in summer and fall, to sleep in the bed of my pickup and seek the company of black bears and wild trout.
California's second longest river, the San Joaquin, tumbles out of the Sierra crest near the Minarets, a ridgeline of striking volcanic peaks. The headwaters of this river, in the Sierra National Forest, offer some of the best and most beautiful backcountry hiking, climbing, and fishing imaginable. There is a primitive campground up in that high country, on a tributary creek named for the local geology, where for more than two decades I have gone to reclaim my faith at least once a year.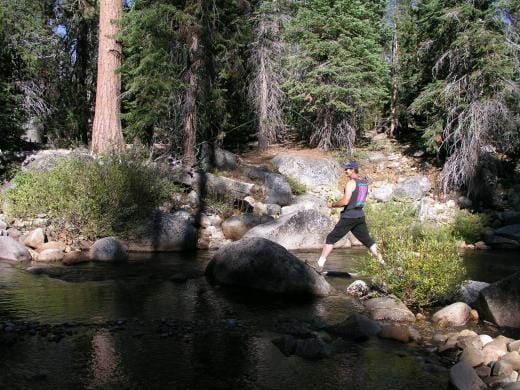 alt="" title="" />
I call this place the "Secret Spot." It's a poster child for the value of public lands as a source of beauty, refuge, and adventure.
This is the place where, edging
out on a log with my nine-year-old son to dap an elk hair caddis in an eddy, I lost my balance on the spray-slimed wood and slipped off, pulling my son with me. In the process he dropped the Orvis TLS 3-wt into the creek. It was early summer and the flow was high. It seems impossible now, but I searched for two hours for that rod, dredging the streambed with feet and fingers and wading staffs for a hundred yards downstream, and never found it.
This is the place where, shortly after I completed a first ascent which I named for my newborn daughter, a bigger-than-expected wild rainbow in a plunge pool at the base of the granite slab blasted a dead drifted PT and tore around the pool, causing a dozen other trout to flash frenetically—until a much bigger trout, a fish far too large for that water, emerged deliberately from the depths, followed the hooked trout for a couple of breathless moments, then sank back into the emerald recesses.
This is the place where my daughter caught her first trout, tracing with her fingertips the brilliant colors in its flanks, then waving goodbye as we released it. This is the place where I have come, often alone, to wade for hours in and out of the creek, finding wild rainbows and browns in every spot where they should be, until at last I have sat astride a boulder, closed my eyes, and listened.
Paying my respects to this sanctuary each summer assumed an almost religious importance. But this year, primarily due to family health issues, I did not do so, and now the access roads are closed for the winter.
It's more wrenching, as I think about it today, than it was in August and September, the window of season wherein I've found the most glory there. I've tried to console myself by remembering how skinny its streams had become in the past three years, eviscerated by the six-year drought which has paralyzed California, and how their trout would probably fare better for not being caught and released in such stressful conditions. But in the end there is only one way to repair such a rift in the fabric.
I'm not sure how many times or years one can neglect a tradition before it withers, becomes merely a phase—surely not a single year, I tell myself, and resolve that next summer, come hell or high water, I will return to the Secret Spot again.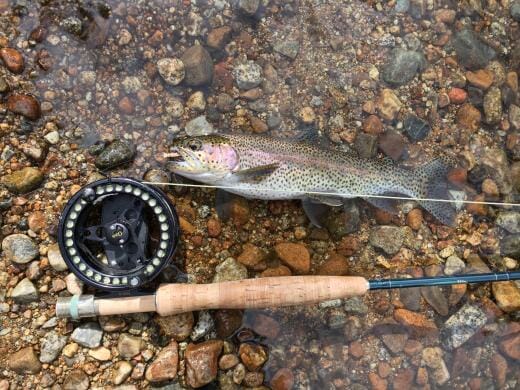 alt="" title="" />