Sen. Shelly Moore Capito (R-W.Va) recently met with Trout Unlimited's Dustin Wichterman (right) and West Virginia landowner Greg Hulver to discuss how federal funding, such as through the Chesapeake Bay Program and several Farm Bill programs, has contributed to West Virginia trout stream and farm restoration success. (Photo courtesy of Sen. Capito's office.)
By Mark Taylor
Congress recently approved its FY18 appropriations bill, and TU was pleased that it included full funding for the Chesapeake Bay Program.
Earlier this month TU was on Capitol Hill talking to members of congress about the importance of the Chesapeake Bay Program and other federal programs that support restoration work in the Chesapeake Bay's headwaters.
The work, taking place in Pennsylvania, Virginia and West Virginia, wouldn't be possible without funding from federal programs.
The efforts are clearly important for improving trout habitat, including helping native brook trout. The work also benefits local communities in other ways.
In Virginia, TU has completed extensive restoration work in the upper James River and Shenandoah River watersheds.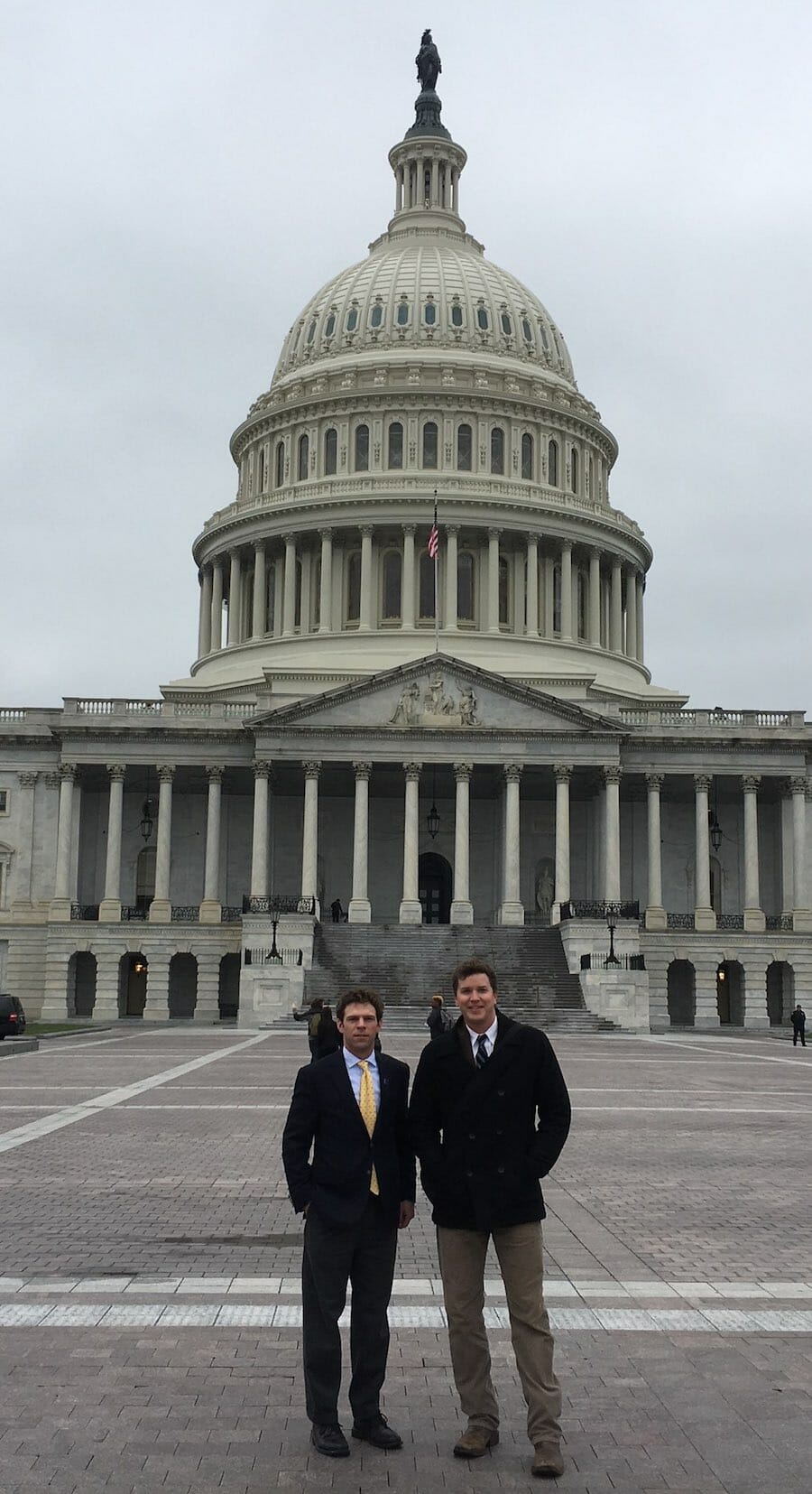 Virginians Seth Coffman and Brian Trow (above) traveled to Capitol Hill to visit with staffers of members of Congress from Virginia who represent citizens in the Bay watershed where TU works.
Coffman is a TU staff member who oversees the work in the watershed. Trow is a long-time TU member and active volunteer. He and his brother, Colby, own Mossy Creek Fly Fishing, a shop and guide service that is a TU Gold Level Business Member.
Coffman and Trow met with the staffs of representatives Bob Goodlatte and Tom Garrett, and staffs of senators Tim Kaine and Mark Warner. Together they made a good one-two punch explaining the benefits of the work TU does in Virginia.
The main message they delivered: Restoring coldwater streams and their watersheds is not only good for the environment, it is good for the local economy.
Trow was able to give first-hand knowledge of how restoring streams creates more fishable water and in turn more people traveling to the Shenandoah Valley to fish.
"Outdoor recreation is a growing industry and fishing is a large part of that," said Trow, noting that permits for fishing at Mossy Creek have increased 33 percent since a large-scale restoration project on the stream. "More fishable water means more tourism for our area and benefits our local economy."
Trow explained how local small businesses like his benefit from restoration work in the Valley, and how that restoration is made possible by funding through federal programs like the Chesapeake Bay Program, and Farm Bill programs like the Environmental Quality Incentives Program.
"TU has been successful at leveraging federal dollars against local, state, and private funds, and telling that story is important," Trow said. "Also, telling the story of how these federal programs are investments into local economies, towns, and communities is a message I'm happy to bring and share with our members of Congress."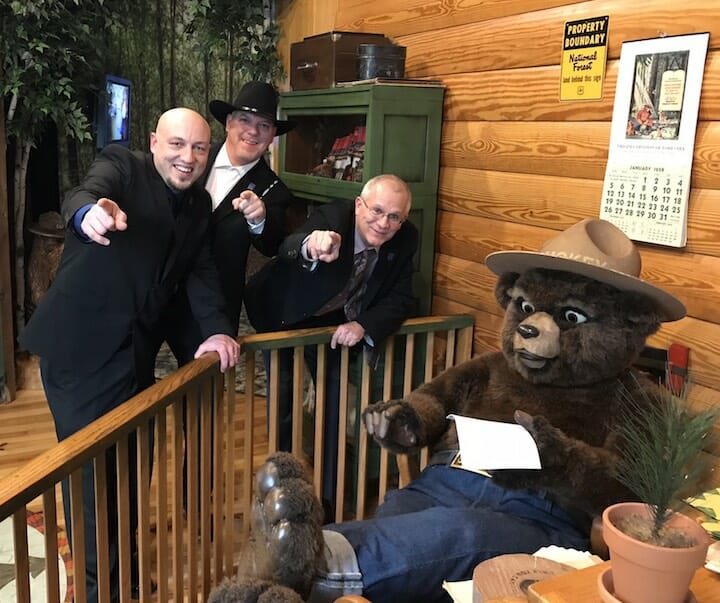 TU staffers Dustin Wichterman (left) and Steve Moyer (right), along with West Virginia partner landowner Greg Hulver, take a break for a photo with Smokey Bear during a visit to the U.S. Forest Service office. (TU/Kate Miller)
The pair also met with staff from the U.S. Forest Service, discussing how TU's partnerships with the George Washington and Jefferson National Forest have expanded brook trout habitat on the forest.
Dustin Wichterman, who heads Trout Unlimited's restoration work in the Potomac headwaters, made the trip to Washington DC with fellow West Virginian Greg Hulver.
Hulver has been working with TU to restore a section of a spring-fed mountain stream on the family's Hardy County property.
The two met with Sen. Shelley Moore Capito, and with staff from the offices of Sen. Joe Manchin and representatives Evan Jenkins, Alex Mooney and David McKinley. They also met with leadership staff from the U.S. Forest Service.
They spoke about the benefits of many programs, including the Chesapeake Bay Program, the U.S. Fish and Wildlife Service Fish Passage and Partners for Fish and Wildlife programs, the National Fish Habitat Partnership, and the Farm Bill and its Regional Conservation Partnership, Conservation Restoration Enhancement and Environmental Quality Incentives programs.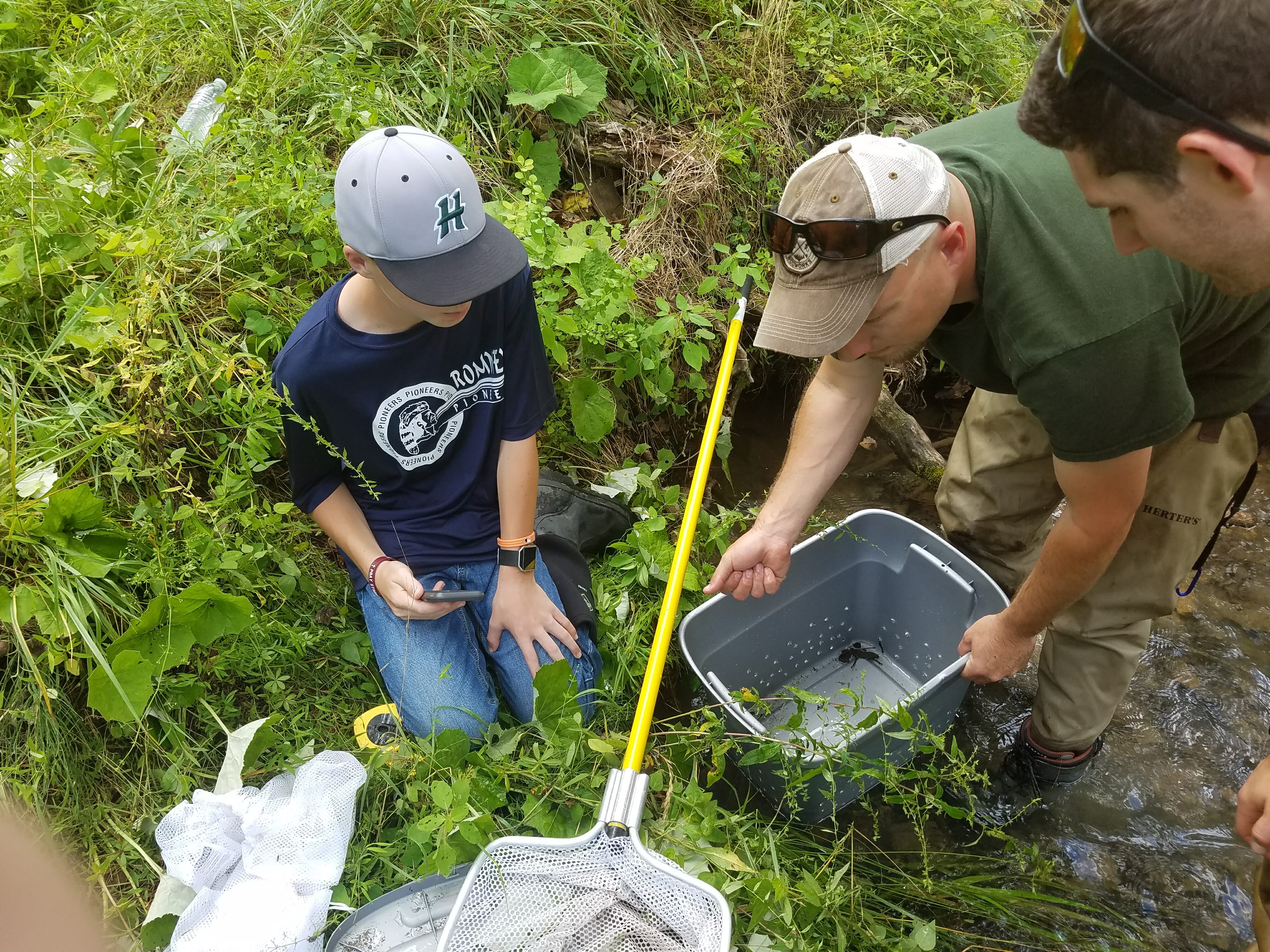 Using a modest amount of federal funds to leverage private and state dollars, these programs improve upon farm and stream crossing infrastructure, bolster flood resiliency, help farmers more intimately manage grazing operations, provide water quality and recreational fishing benefits, and put local folks to work while doing it.
"We appreciated the opportunity to thank all of the West Virginia congressional staff for their continued support of programs that go to work for hard working West Virginians every day," Wichterman said.
Amy Wolfe (center, below) and Erica Tomlinson, pictured with TU Vice President of Government Affairs Steve Moyer, traveled to Washington to discuss the importance and impact of restoration work in Pennsylvania.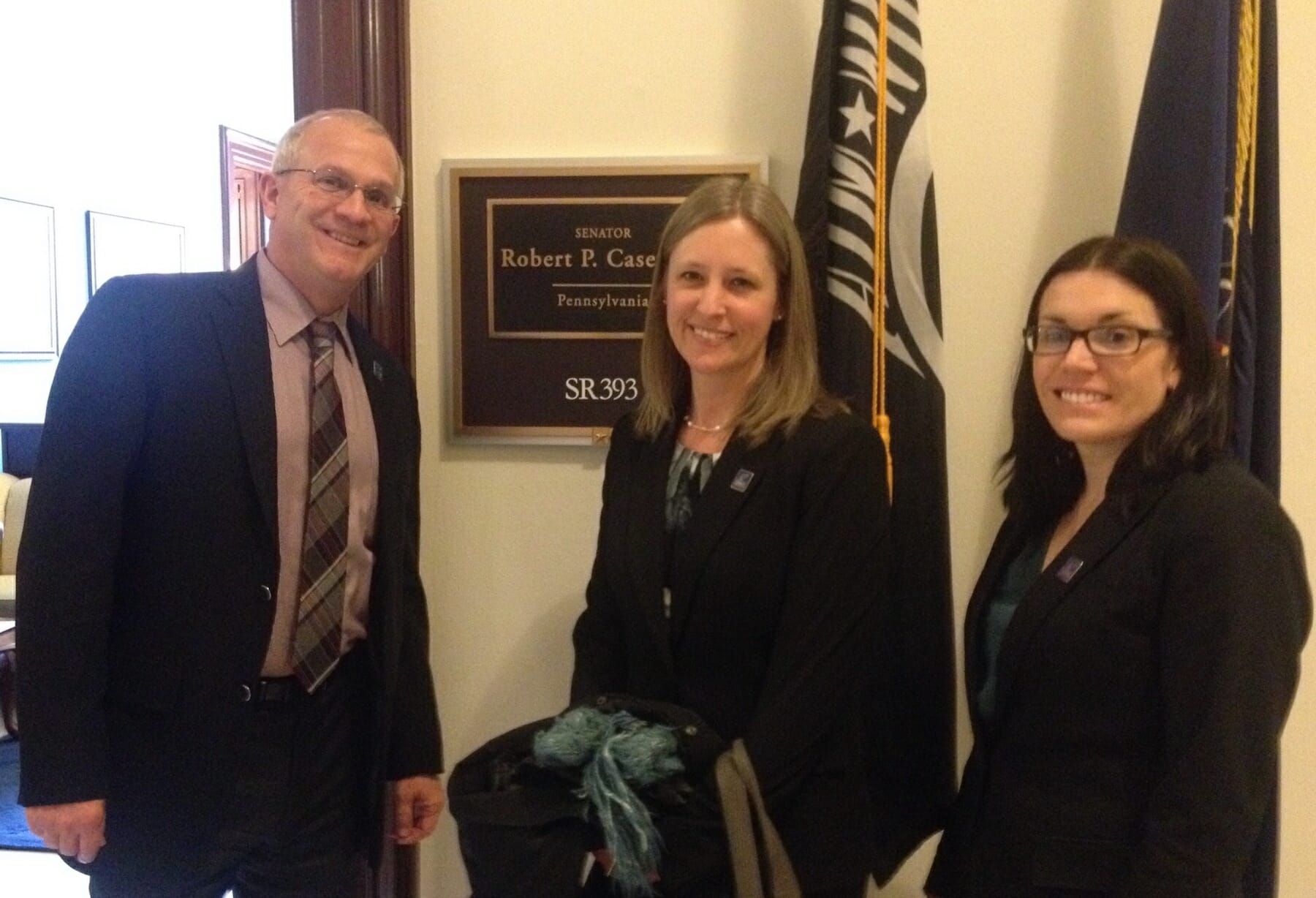 Wolfe oversees TU's restoration work in the Keystone State, while Tomlinson works the Tioga County Conservation District, a longtime TU partner.
They met with Congressman Tom Marino, as well as staffs from the offices of Congressman Glenn "GT" Thompson and Lou Barletta and senators Pat Toomey and Bob Casey.
Wolfe and Tomlinson highlighted how the Chesapeake Bay Program is helping to fund projects that stabilize eroding stream banks, improve sediment runoff from dirt and gravel roads, and replace culverts with structures that allow for fish passage and are no longer prone to blowing out during storm events.
"With TU's technical assistance and the Chesapeake funding, we are then able to work with private landowners to improve and protect their streamside property in a way that also benefits water quality and fish," remarked Tomlinson.
Over the past 20 years in Pennsylvania, TU has secured about $2.50 in local, state, and private investment for every $1 of Chesapeake Bay Program funding toward dozens of projects to improve water quality, restore riparian buffers, and increase the amount of coldwater habitat available for trout and other aquatic organisms. Additional federal programs that have been critical for TU's work in the state include the Office of Surface Mining's Watershed Cooperative Agreement Program and the U.S. Fish and Wildlife Service Fish Passage Program.