Members of TU's Deerfield Watershed chapter work on their redd survey on their home river.
The past year has seen TU staff and volunteers in Massachusetts engaged in a variety of efforts in the field.
The Deerfield Watershed chapter had a big year in 2018, particularly with their efforts with a sapwning study in the Deerfield River below Fife Brook dam in Rowe, Mass.
The chapter, winners of the prestigious Golden Trout award at the TU national meeting in September, have invested lots of time and resources — including grant funding through TU's Embrace a Stream program— in the work.
Western New England project manager Erin Rodgers was able to help the chapter continue to collect wild spawning data in the section.
Rodgers worked with chapter leadership Kevin Parsons and Mike Vito to train members on how to identify trout redds and on collecting data in the river. Rodgers is now assisting with analyzing the data for a report that will be presented to Massachusetts Fish and Wildlife, Massachusetts Department of Environmental Protection, and to other stakeholders.
This section of the Deerfield River has become an important area of interest during the Fife Brook Dam relicensing process. Collecting data on redd locations, abundance and survival helps make a strong case for reducing hydropeaking, especially during the winter and spring months when eggs and fry are most vulnerable to dewatering, displacement or freezing.
Increasing natural reproduction and survival is a key step towards a robust wild fishery, and better fishing for everyone.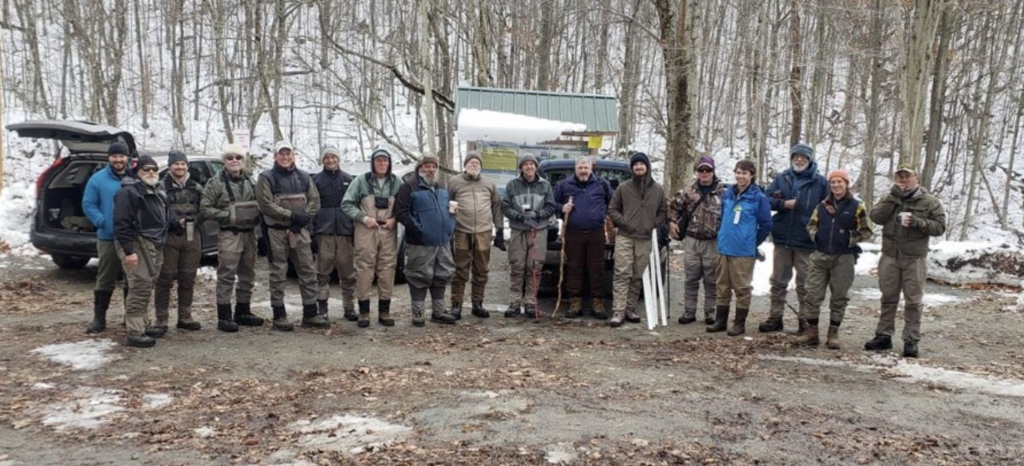 Also in Massachusetts, TU is coordinating with the University of Massachusetts and the Massachusetts Department of Ecological Restoration to evaluate environmental parameters at numerous dam sites studying the impacts dams have on our aquatic and terrestrial ecosystems.
TU is monitoring water quality and temperature at 15 dam removal sites and five additional sites where dams will be removed in the coming years. Initial results will be presented soon at a Society for Ecological Restoration regional meeting.