By Duke Welter
Near
ly 60 people participated in a recent bus tour to visit restored streams in the heart of Southeast Minnesota's Driftless Area.
In this 10th annual tour organized by the Trout Unlimited Driftless Area Restoration Effort, participants got to walk four streams and talk with project managers, biologists, designers and contractors.
Questions always fly freely as people test restoration theories, sharp-pencil project budgets, and hear about the biological impacts of the restoration projects.
All four of the projects (including Garvin Brook, below) benefited from funding from Minnesota's Lessard-Sams Outdoor Heritage program, which commits millions of dollars of sales tax money to conservation projects across the state.
All projects are done on areas with legal public access, and were organized by the Hiawatha and Win-Cres Chapters of Trout Unlimited and the Minnesota Department of Natural Resources.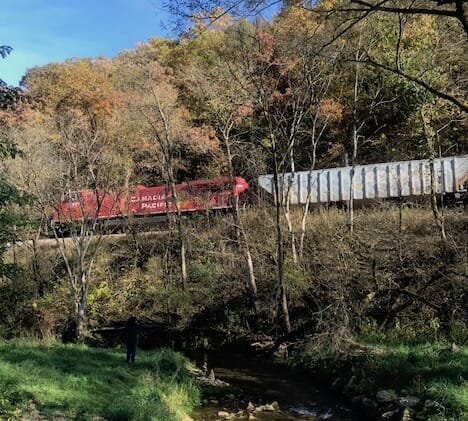 Minnesota TU and its chapters have received about $2 million annually from the Lessard program for habitat work, and carry out an average of five projects a season. They have encouraged designers and contractors to try new techniques, and as a result of the innovation a whole menu of new habitat approaches have been developed, and tested.
The tour planners pick out a different section of the 24,000 square miles unglaciated area each year in which to visit restoration projects. The tour is free. This year the event benefited from a generous sponsorship by the Forest City Gear Company of Roscoe, Illinois, with additional support from TU's Driftless Area Restoration Effort.
Duke Welter is the outreach coordinator for TU's Driftless Area Restoration Effort. He lives in Viroqua, Wisc., in the heart of the Driftless, and spends plenty of time exploring the region's trout streams with his fly rod in hand.