Squaw Creek restoration area, Truckee River watershed.
Recently Trout Unlimited's California Program received major grant awards for eight projects that improve fish passage or dry season streamflows in steelhead, Coho, and trout streams around the state.
The Fisheries Restoration Grant Program (FRGP), administered by the California Department of Fish and Wildlife), and the California Wildlife Conservation Board awarded the grants, which total some $2.472 million.
These grants will enhance habitat conditions and fish migration in important tributaries to the Russian, Navarro, Noyo, Carmel, and Truckee rivers and in the Big Sur River. TU's North Coast Coho Project, Coastal Streamflow Stewardship Project, and Truckee River program will administer these grants and oversee implementation of the work.
The projects receiving grant awards from the Wildlife Conservation Board are:
Navarro River Watershed Streamflow Enhancement. This project is a partnership between TU, the Mendocino County Resource Conservation District, The Nature Conservancy, and the National Fish and Wildlife Foundation to reduce summer diversions and improve dry season streamflows to benefit Coho salmon and steelhead. The Navarro River is one of the best wild steelhead streams on the California coast north of San Francisco.
Redwood Creek Enhancement Planning. This project will develop a water availability analyses and flow enhancement implementation plan within the South Fork Eel River sub-basin to prioritize future efforts to reduce dry season diversions and drybacks. The grant supports a cooperative partnership between TU, the Salmonid Restoration Federation, and Stillwater Sciences. The project is located within the Redwood Creek watershed, a tributary to the South Fork Eel.
Squaw Creek Streamflow Monitoring. This grant will enable TU to monitor streamflow in Squaw Creek before, during, and after an ongoing restoration project at Squaw Meadow. This project will quantify stream flow response to meadow restoration and document changes in surface-groundwater interaction and groundwater storage associated with restoration actions. The project will allow for comparison to unrestored meadow conditions. Squaw Creek is an important tributary to the Truckee River and the focus of native Lahontan cutthroat trout restoration efforts.
FRGP grant awards include:
Kidd Creek Fish Passage Design Project. This project will evaluate and design fish passage improvements at multiple concrete wet crossings on lower Kidd Creek, a tributary to Austin Creek (Russian River watershed). Kidd Creek has 1.25 miles of quality spawning and rearing habitat, which, even in extreme drought years, maintains connected streamflow and provides well-shaded habitat with deep pools, but access to this habitat is currently impaired by three concrete wet crossings. The most downstream (first) crossing is a full barrier at nearly all flows for all life stages. The upper two crossings may be barriers at very low flows. Ultimately the project will reconnect access to this spawning and rearing habitat and improve Coho salmon and steelhead survival in Austin Creek.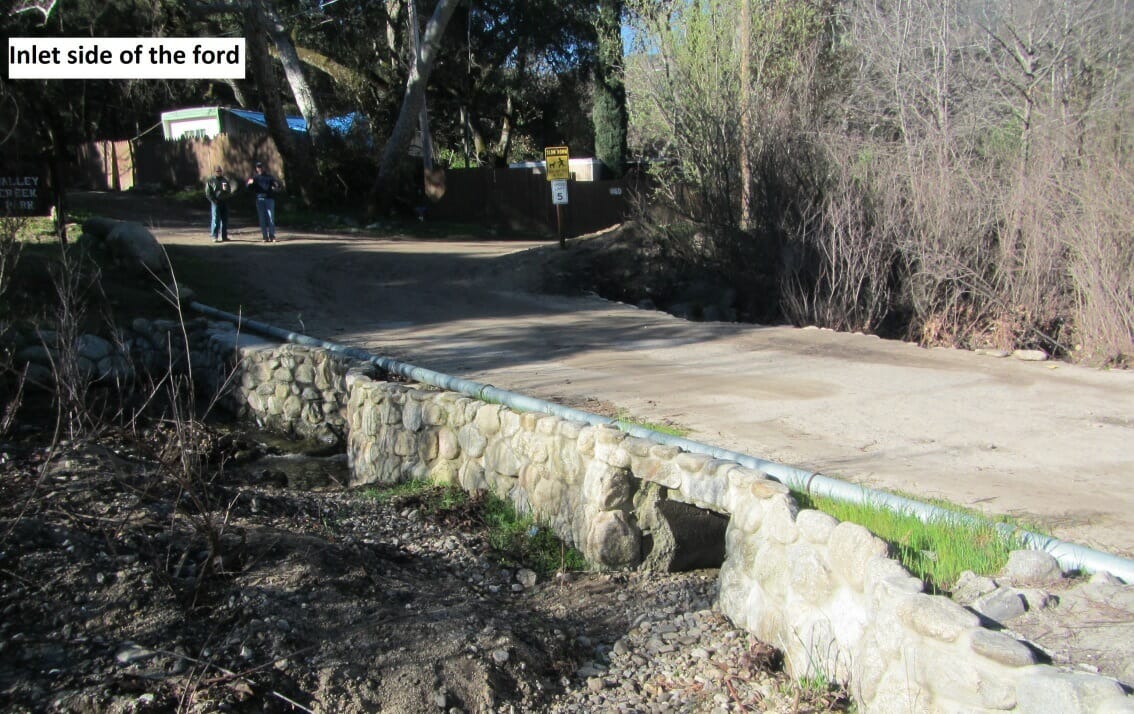 Cachagua Creek Fish Passage Project site.
Cachagua Creek Fish Passage Project – Valley Creek Park. Cachagua Creek is an important steelhead spawning and rearing tributary of the Carmel River. Now that San Clemente and Old Carmel dams have been removed, steelhead will be able to reach Cachagua Creek more easily when streamflows permit. However, there are four known concrete fords in the Cachagua Creek watershed that slow or halt migration in most flows. This project will remove the most downstream of those fords and replace it with a structure designed to provide full migratory access upstream and downstream for all life stages of steelhead and to provide safe access to a mobile home park facility.
Big Sur River Concrete Ford Alternative Design Project – Riverside Campground. The Big Sur River Concrete Ford Alternative Design – Riverside Campground Project is the Plan/Design phases of a project that will remove and replace the highest priority in-stream barrier in the Big Sur River, an important wild steelhead stream on the south-central coast. Ultimately, the project will provide safer, more reliable access to a major campground, while allowing unimpeded fish passage for all life history stages of native steelhead and better winter fishing and camping access for steelhead anglers.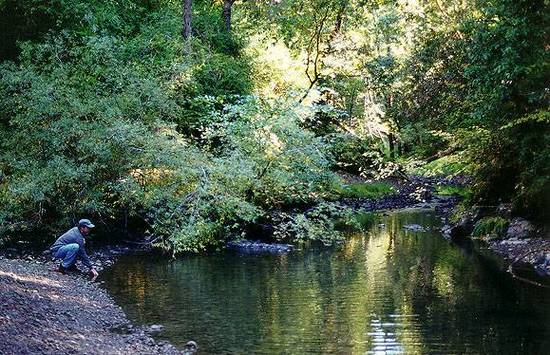 Confluence of the Little NF Noyo and the mainstem Noyo River.
Upper Little North Fork Noyo Coho Habitat Enhancement Project. This project will install some 30 large wood structures along 1.13 miles of high priority core recovery Coho habitat in the upper Little North Fork Noyo River watershed. This project will increase habitat complexity, pool frequency, and pool depth to benefit all life stages of native Coho and steelhead by addressing channel incision and simplified channel geometry. A primary partner in the project is the Lyme Redwood Forest Company, which owns and manages all the land within this drainage.
Little North Fork Noyo Sediment Reduction and Coho Recovery Project. In partnership with the Lyme Redwood Forest Company, this project will prevent approximately 9,745 cubic yards of sediment from entering Little North Fork Noyo River by treating 32 features and 1.20 miles of abandoned forest roads with permanent road decommissioning. Sedimentation from riparian road systems can adversely impact juvenile steelhead survival, as well as the quantity and quality of instream rearing habitats. The total amount of road proposed for decommissioning is 2.31 miles. The project will benefit native Coho and steelhead.
–Sam Davidson