Fighting fires is expensive and the U.S. Forest Service is responsible for the bulk of funding the growing number of fire events each year. Photo courtesy U.S. Forest Service
By Andy Rasmussen
Wildfires do more than consume forests and turn rivers black. Fighting fires is dangerous and expensive—amazingly expensive.
Wildfire suppression eats up a significantly larger share of the U.S. Forest Service budget each year, which reduces critical funding that supports federal, state and private forest management.
Compounding the issue is the practice known as "fire borrowing," which occurs when the agency runs out of appropriated funding in a given year. Fire borrowing—see a testmony from TU CEO Chris Wood – robs money from non-wildfire programs to pay for the current year's fire suppression needs; and represents one of the greatest threats to the sustainable health of our public lands and fisheries.
On March 17 Utah Governor Gary Herbert signed HCR 14 Concurrent Resolution on Wildfire Issues, previously passed in the Utah State Legislature during the 2017 General Session.
HCR 14 was a collaborative effort between Trout Unlimited, the Utah State Forester, and the bill's sponsor, Rep. Lee Perry (R-Brigham City). The resolution urges Utah's congressional delegation to develop or support legislation to improve the federal wildfire funding process and management of the nation's forests.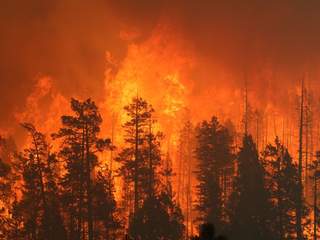 alt="" title="" />
Fighting wildfires is dangerous and expensive. Photo courtesy U.S. Forest Service
The bill addressed concern regarding the current broken federal funding process for wildfire issues and forest management. This issue has created an unsustainable fiscal problem where the portion of Forest Service's budget dedicated to fire has grown from under 20 percent 40 years ago to more than 50 percent.
The signing of HCR 14 is an exciting victory for TU and for America's public lands. Working collaboratively toward common solutions rather than getting lost in ideological battles of rhetoric has proven an effective method of engagement for TU and the Sportsman's Conservation Project in Utah.
Andy Rasmussen is the Utah Coordinator for Trout Unlimited's Sportsman's Conservation Project. He lives in Logan, Utah, and can be reached at srasmussen@tu.org