Southern West Virginia chapter volunteers gather after the 20th Annual Elkhorn Creek Cleanup on April 15 in the community of Northfork, in McDowell County, W.Va.
By Rob Shane
When I was young, maybe 6 or 7, I had a tendency to act like a total brat — usually upset about not getting some toy that I felt like I deserved.
After my mother had enough of that nonsense, she packed me in the car and we drove down to the Columbus, Ohio, Food Bank, where we served lunch to the homeless. She was hoping to teach me a thing or two about humility and entitlement. She certainly did. But, more than that, she planted a seed inside me that would eventually blossom into a devout passion for volunteering.
Fast-forward a couple decades and that love for volunteering has never left me. I am entering my third year as Volunteer Operations Coordinator at Trout Unlimited, and not a single day has gone by where I have not been inspired by the work of our volunteer army.
Whether you are picking up trash along a stream bank, teaching children to fish, stomping Capitol Hill advocating for wild trout and their habitat, or tearing down deadbeat dams, the work you all do each and every single day is what makes the volunteer force of this organization the most passionate and devout group of conservationists on this planet.
Sincerely, it is an honor to work alongside each and every one of you.
I want to give a special thanks to the Southern West Virginia Chapter for hosting fellow TU staffer Mark Taylor and me for the 20th Annual Elkhorn Creek Cleanup on April 15th. If you have not heard the story of Elkhorn Creek, then you are missing out on a unique success story in regards to the resiliency of wild (and sometimes very large) trout.
I also want to recognize the Tennessee Council and the Great Smoky Mountain Chapter for hosting more than 135 TU volunteers, staff and partners from 14 different states in Gatlinburg, Tenn., this past weekend at the Southeast Regional Rendezvous.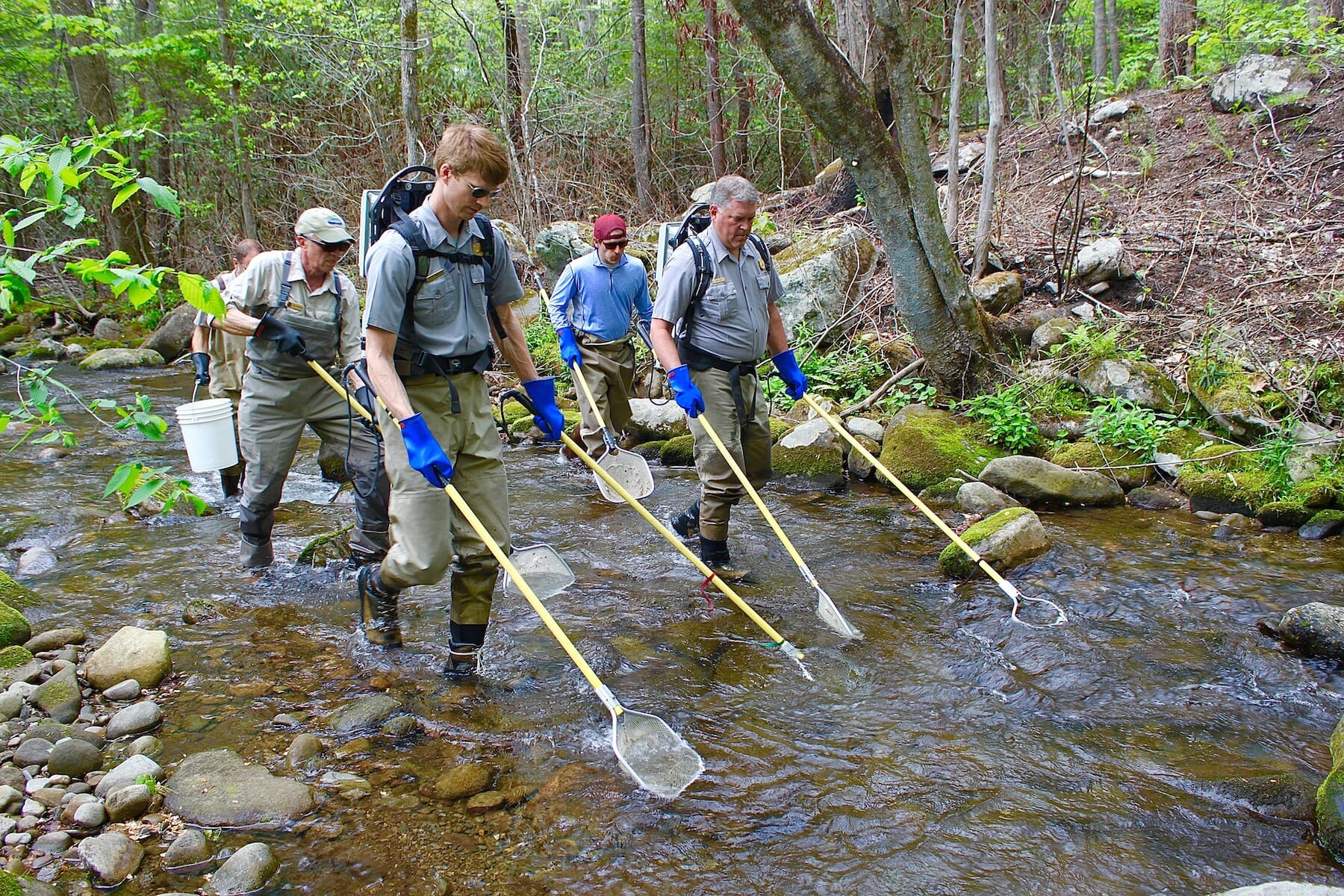 alt="" title="" />Matt Kulp (right), fisheries biolgoist for the Great Smoky Mountains National Park, led an electrofishing sampling trip on LeConte Creek near Gatlinburg, Tenn., for attendees of TU's Southeast Regional Rendezvous.
It was my second year organizing this event and I am still in awe of the dedication, time and effort you all give to this event. Words cannot do justice to the immense gratitude I feel for your patience and assistance over the past few months while planning this meeting.
It is also with a heavy heart we remember Jack Nelson, of the Gold Rush Chapter in Georgia, who passed away of natural causes while joining us at the event. We will carry on this tradition in Jack's honor as we look forward to the 2018 Rendezvous in West Virginia.
If I had to sum it up in one sentence, I #tuvolunteer because each and every one of you deserve the same from me as you give to the wild and native fish that need our help.
A good friend of mine says this: "If you fish more days this year than you spent picking up trash, you are working on a deficit."
In honor of National Volunteer Week, I encourage you to keep up the great work and don't let anyone ever tell you that it can't be done. Time and time again #TUVolunteers have proved the naysayers wrong.
Rob Shane has been the Volunteer Operations Coordinator for Trout Unlimited since 2015. When he's not in the mountains of Maryland, West Virginia and Virginia catching more fish than Mark Taylor, he's growing organic vegetables in his community garden or riding his bike around Washington, DC, playing politician paparazzi.