Bill Templin and wild trout, SF Kings River.
By Sam Davidson
Almost twenty years ago, a man who had carried on a long term love affair with what must be one of the most underappreciated trout streams in the Sierra Nevada decided he was in a generous mood, and would form a group to share in the delights of his passion.
This stream, mighty enough to cleave Kings Canyon, is the South Fork of the Kings River—one of California's finest wild trout waters.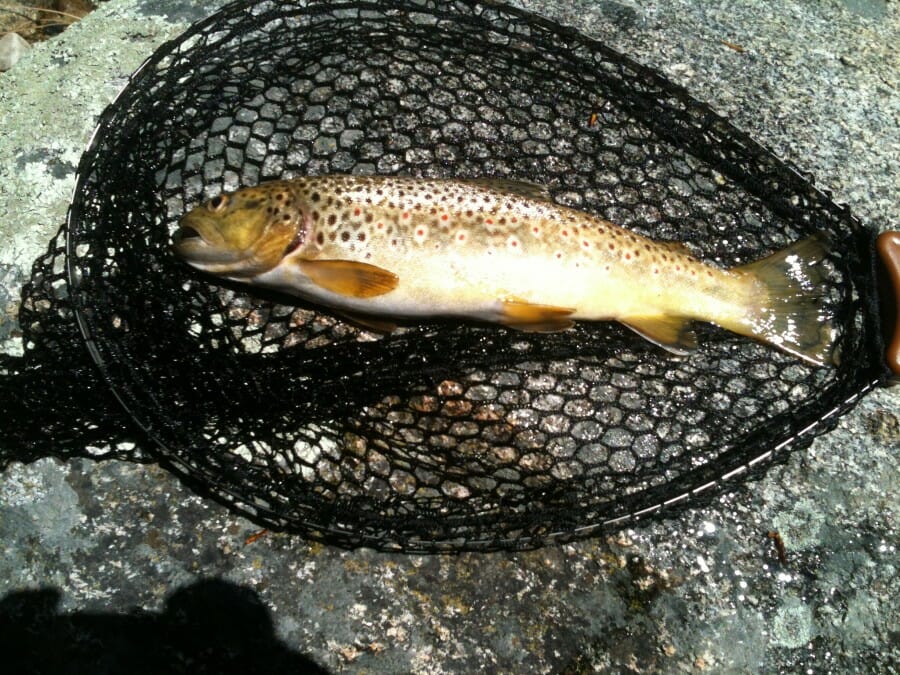 (L) Wild brown trout, SF Kings River
The man is Bill Templin, now president of TU's Sac-Sierra Chapter, and the group he brought together is Friends of the South Fork Kings River.
Templin wrote of his "lifelong love affair" with the SF Kings in 2015, and how the place where he "became an outdoorsman" inspired his many years of river stewardship. In this environment he learned from his father and other family members the secrets of "trout candy" (Pautzkee's Balls of Fire), resident aquatic insects and effective presentation of fly, lure and bait.
There are 21 miles of fishable wild trout water along the upper SF Kings. The lower 4.5 mile segment below the highway crossing at Boyden Cavern holds sizeable fish—rainbows and browns in the 20" class. This is managed as catch-and-release water. Upstream of Boyden Cavern, you can still find large wild trout, but 8-12" fish are more common, and you can keep a couple of these feisty for dinner.
Be forewarned: the scenery in the river reach that flows through the centerpiece of Kings Canyon National Park is a serious distraction and fishing here may become an afterthought.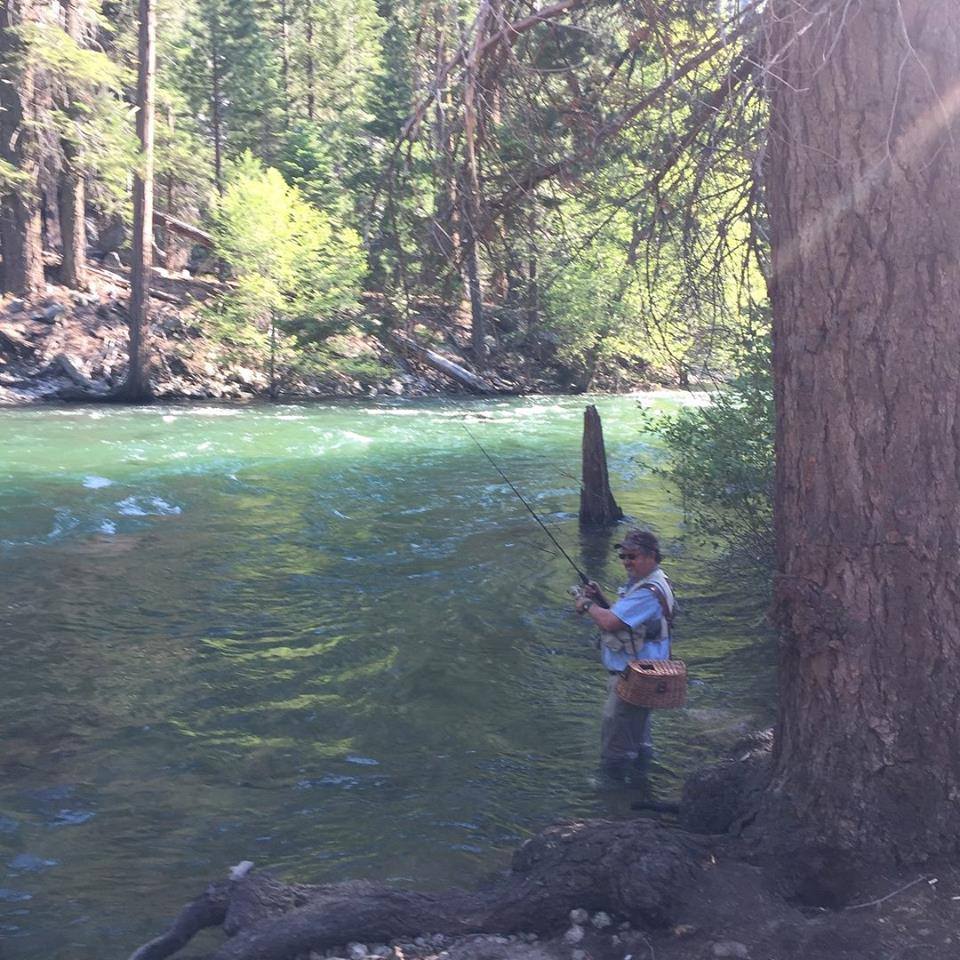 (R) Bill Templin on his home river, the state-designated Wild Trout Water of the SF Kings River. Photo David Singletary
No person can spend time in such a place and emerge unscathed. The joyous adventures of Templin's youth fired his imagination and his commitment to conservation. But how to ensure that he would have irreproachable justification for continuing to make multiple visits per year to his "home" river? Bingo! Start a collective stewardship initiative.
Thus FOSFK was born, and ever since its inception its founder and teams of volunteers make monthly pilgrimages each summer to the SF Kings, where they perform a variety of services, including water quality monitoring, habitat restoration, angler survey collection and refuse cleanups. FOSFK is entirely volunteer, and leverages the support of core partners—the National Park Service, the U.S. Forest Service, the California Department of Fish and Wildlife, and CalTrans—as well as that from other conservation groups (including various chapters and members of Trout Unlimited) to accomplish its mission.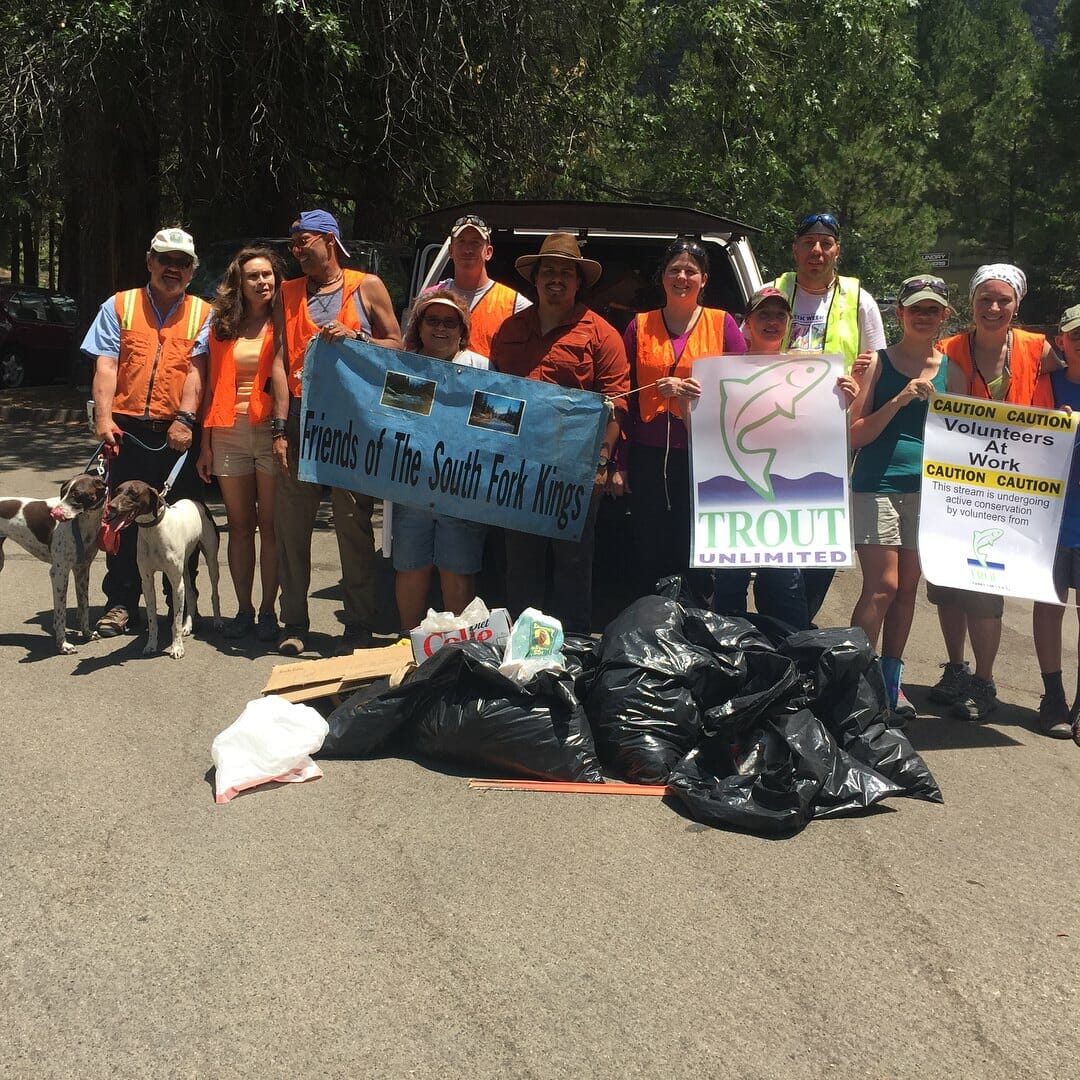 (L) Friends of the South Fork Kings River
FOSFK's first visit to the river this year was in early May, when the record winter snowpack was in full disgorge mode and streamflows on steroids made wading perilous. The second visit was in early June, followed by another visit over the July 4th weekend. Templin reports that, over the three outings, "Volunteers from the FOSFK, TU chapters and other interested people cleaned 48 miles of the South Fork of the Kings River from Boyden Cavern to Roads End. Altogether we had 29 volunteers who donated 325 hours of their time and collected 94 pounds of litter (including 17 pounds of recyclables)."
Talk about giving back to the resource. The only thing wrong with these outcomes is that people had left all that refuse in the first place. In a national park, no less.
Templin says the appeal of river stewardship activities is wide-ranging. "Three of our volunteers this summer came from New York," he says. "They were a mom with her son and daughter. They had been over in Lone Pine, on the east side of the Sierra, while their dad was leading a team of college students on a 'Natural Biodiversity Study of the John Muir Trail.' Dad happened to be a TU member so the mom and kids knew he would approve of their helping us!"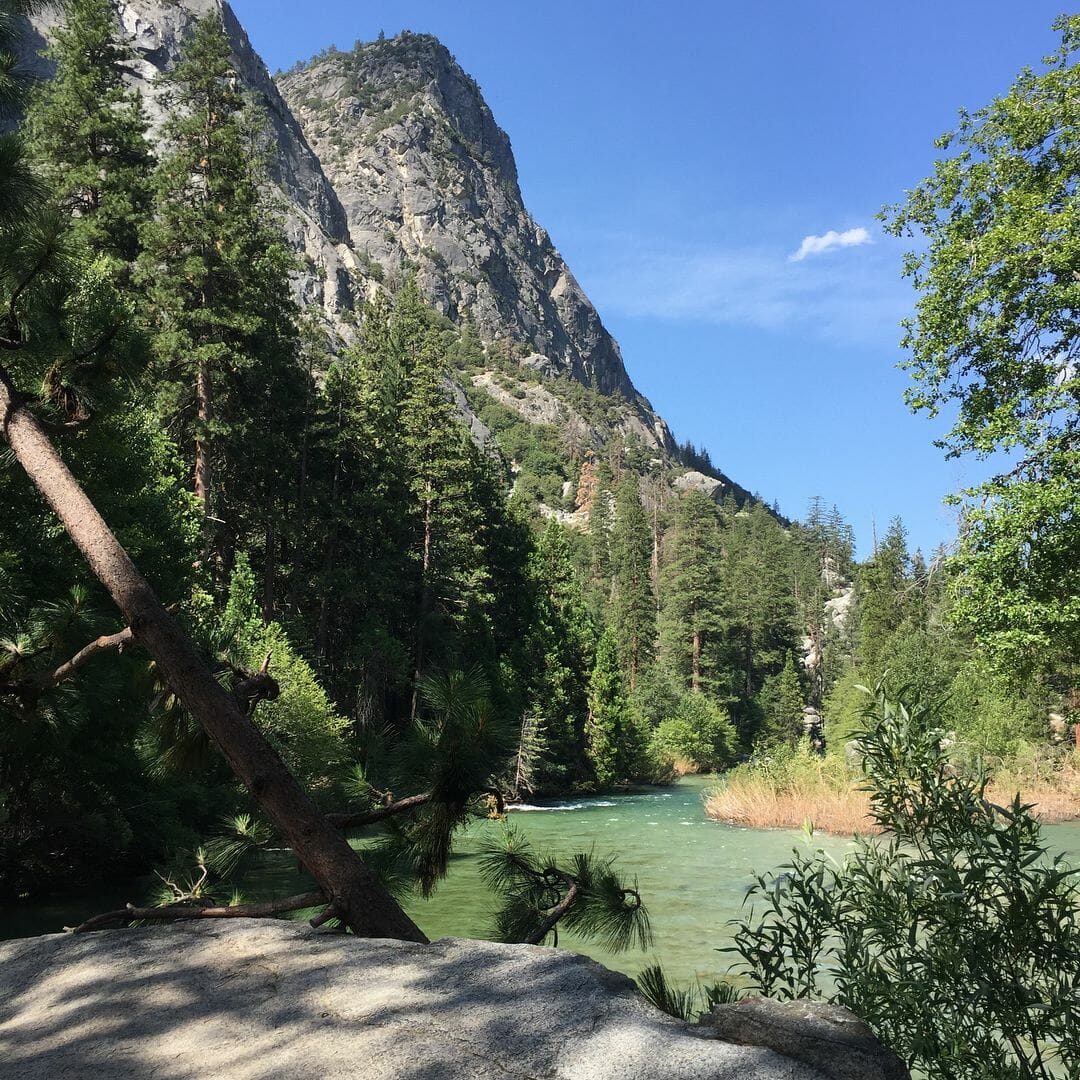 (R) The scenic SF Kings River
The FOSFK folks also collected about a dozen angler surveys from Angler Survey Boxes maintained by the California Department of Fish and Wildlife. When their labor was completed, they refused to concede defeat to the full-throttle streamflows, and bravely rigged up. And under the keen eye of a man whose character was etched by six decades spent in and around this water, some found success.
Sam Davidson is TU's Communications Director for California and the Klamath Basin. He lives and works next to the Carmel River on California's Central Coast.