By Liz Rose
It's not every day the governor visits your local public lands or your backyard trout streams, so last week was something special for community members and sporting/conservation organizations who have long known the value of the Greater Little Mountain Area in southwest Wyoming.
Gov. Mark Gordon, Natural Resource and Environment Advisor Beth Callaway, and Chief Energy Advisor Randall Luthi paid a visit to the Greater Little Mountain Area to meet with the many stakeholders who care about the future of this landscape and to see it for themselves.
After getting oriented on a 45-minute EcoFlight aerial tour first thing in the morning, the group embarked on a morning driving tour to see more of it close-up and to learn more from people who live, work and play there. Coalition partners showed the Gov. Gordon and his team important fish and wildlife habitat and project sites around the landscape and introduced them to local TU chapter President Sadie St. Clair-Valdez, TU Green River Project Manager Nick Walrath, local rancher Jackson Ramsay, Wyoming Game and Fish Habitat Biologist Kevin Spence, Dr. Kevin Monteith of the University of Wyoming's Haub School of Environment and Natural Resources, and local business owner Dan Stanton at various stops along the way.
"It was a pleasure to see the area and its wildlife, and to hear from local sportsmen, a local rancher, and others about their passion for this place," Gordon said. "Wyoming takes pride in the responsible stewardship of our land and resources and I expect to see the BLM honor the local input they received."
The Greater Little Mountain Area
The GLMA is a unique high-desert region regarded by biologists, resource managers and sportsmen and sportswomen to contain some of the most sensitive fish and wildlife habitat in Wyoming, as well as some of the best hunting and angling.
The Greater Little Mountain Coalition formed in 2008 to coordinate between local stakeholders, hunters and anglers, and state and federal agency personnel. The goal was to produce a balanced management proposal that would protect the area's hunting, fishing and recreational opportunities, while continuing to allow for grazing and responsible oil and gas development. The Greater Little Mountain Coalition's management proposal for the GLMA has the support of the Green River and Rock Springs mayors, the Sweetwater County Commission and many locals.
What's at stake?
At a coalition film premier in Rock Springs in January one panelist, Craig Thompson, shared his concern with the crowd that, "If we're not careful, we may end up having to drive three hours just to spend quality time outdoors." To locals and to Greater Little Mountain Coalition partners, this area is more than just a place to get away. It's also a place that builds community.
St. Clair-Valdez met her now-husband — a BLM wildlife biologist — on a steel-jack fencing project on Trout Creek.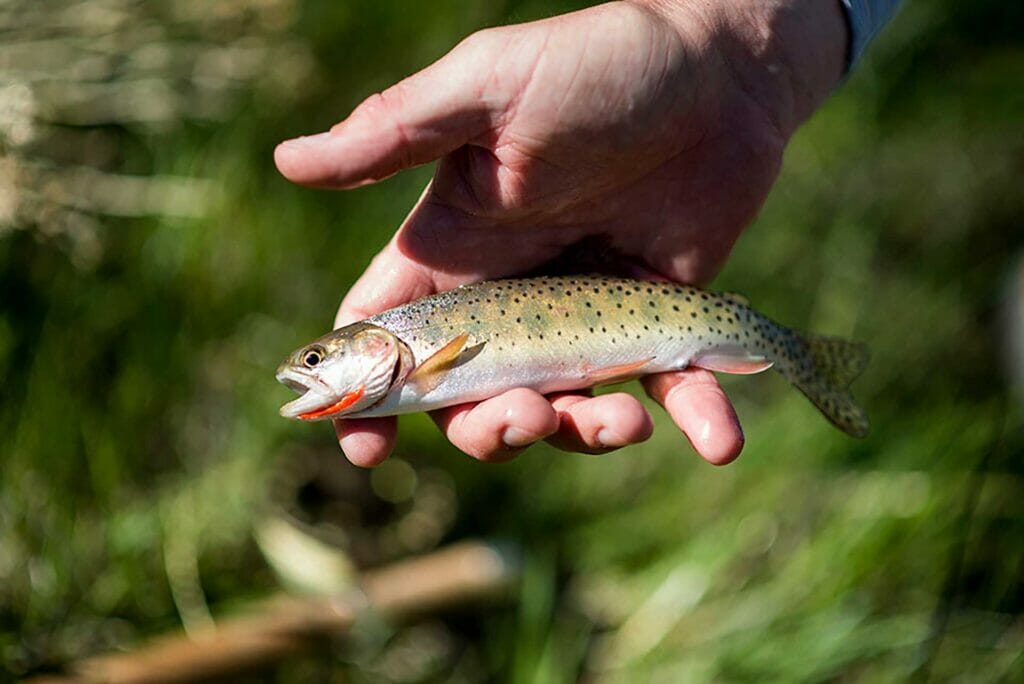 The Ramsay family that has been ranching in the Greater Little Mountain Area for generations recently worked with Nick Walrath (of TU's Western Water and Habitat Program) on a water diversion project that increased the Ramsays' irrigation efficiency and capacity while allowing more water to remain in a stream that's been restored to support and protect Colorado River cutthroat trout.
Steve Martin of Bowhunters of Wyoming proudly told stories of his daughter learning to drive on dirt and snowy roads (and on a few occasions how to get un-stuck) in the Greater Little Mountain Area.
Rock Springs BLM's Resource Management Plan revision will decide how this area is managed for the next decade or more
This visit was planned to show the governor and his staff specific areas that sporting and conservation organizations hope to have protected from development under a forthcoming BLM Resource Management Plan revision. The BLM's Rock Springs Field Office manages 3.6 million acres of surface land and 3.5 million acres of mineral estate. The Rock Springs planning area is currently managed under a 1997 resource management plan. The revision of this plan is a long time coming, and the community has been told that the draft revision will be released sometime this month.
A heartfelt 'thank you'
Thank you to the volunteers and community members who work hard to make this place a haven for fish and wildlife, and thank you to Gov. Gordon and his team for making time to visit this area that's so important to the community and to native Colorado River cutthroat trout.