By Toner Mitchell
For the past 10 springs, the New Mexico Department of Game and Fish has hosted a release of Rio Grande cutthroat trout fingerlings at the – as of 2014 – Rio Grande del Norte National Monument just west of the village of Questa. Initially the event drew decent crowds, 10 to 20 volunteers, who hauled sturdy plastic bags full of fingerlings and cold, hyper-oxygenated water down the steep trails of the Rio Grande gorge before releasing their precious cargo into the currents of the Rio. This event has grown in popularity, to the point where over 200 volunteers showed up in 2018.
A similar crowd of cutthroat fanatics attended this year, representing 32 New Mexico towns and the states of Florida, Texas, Colorado and Kansas. Our two senators provided statements, as did leaders from Questa and Taos Pueblo. We released around 10,000 fingerlings.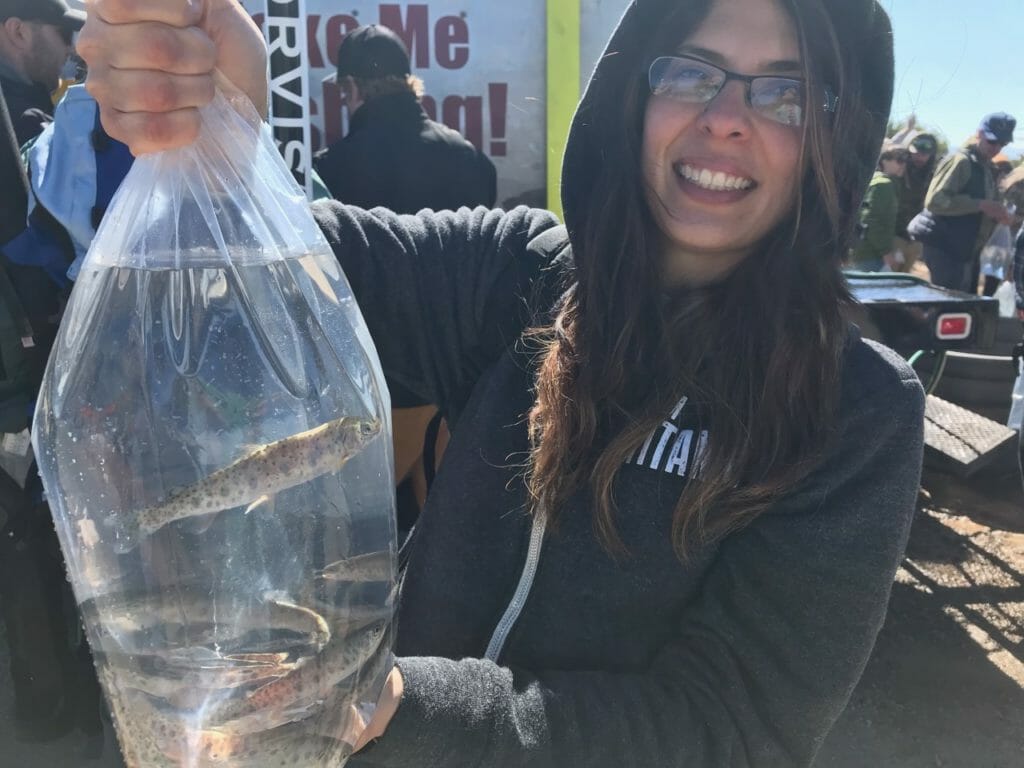 Two days later I visited the Pajarito Environmental Education Center (PEEC) in Los Alamos. The Center presents an enthralling crystallization of the high desert ecotype, including a 100-gallon fish tank containing specimens of Rio Grande cutthroat swimming among native suckers and chubs. When PEEC opened several years ago, New Mexico's TU chapters funded the fish exhibit. I was and still am proud of this, and I'm inspired by how much the cutthroats have grown, how beautiful and healthy they look.
One could certainly be forgiven for wondering what value these projects bring beyond putting smiles on people's faces. After leaving their plastic bag sanctuaries, it is assumed that cutthroat fingerlings will soon succumb to the laws of the Rio Grande's brown trout and northern pike jungle (although more adult cutthroats are being caught these days). The cutthroats we release are deemed "recreational"—a mix of Rio Grande, Pecos, and Canadian river genetics. They are at once pure and yet mongrels. In a similar vein, the cutthroats at the PEEC are just zoo animals.
So what's the big deal? It's all just a show.
If that's true, and no doubt it is, we should remember how long our sexier quarry have hogged the spotlight. In my old fishing books and magazines, I see black and whites of hip-booted men dangling brown trout by the gills, or holding sticks strung with rainbows as on the package of Eagle Claw bait hooks. Astride horses they wear fedoras, survey a high western lake, which the caption says is packed with "native" brookies.
Alas, if cutthroats could talk.
They might embrace a chance to be worshiped like their cousins, to be a prizefighter like a rainbow or to lurk like a brown. A cutthroat might even appreciate the ironic existence of a brook trout, forgotten at home but transplanted elsewhere to become a nuisance.
"Yeah, it's just a show," the cutthroat might want to say. "But I'm the leading act!"
I feel so fortunate to live in western North America. I like imagining that I was predestined to be here, to need mountains and rivers as much as food. Being so far removed from the scene of the crime, I know I'm not supposed to feel guilty about the toll my ancestors took on this land and its indigenous creatures. But I can't help myself, knowing, and not knowing, what was lost.
The Rio Grande cutthroat trout is but one example of the redemptive possibilities that are still out there if we are inclined to seek them. The fish is still a physical thing, but like all animals in its predicament, your average woman on the street doesn't know that without looking. Looking in the cutthroat's case means looking hard, backpacking or bushwhacking tiny streams, which very many people love to do. Others don't—to them, a rare trout is a concept.
Through restoration and public awareness, we must bring people to the fish and the fish to people. By whatever means, stocking truck fish fiestas included. The cutthroats in the Los Alamos nature center fish tank are seen by tens of thousands of people each year, most of them children. At this point in the Rio Grande cutthroat's recovery ordeal, exposure makes all the difference.
Toner Mitchell is Trout Unlimited's water and habitat coordinator for New Mexico. He lives and works in Santa Fe.