Pat Byorth has long been an advocate for anglers in Montana and with his recent appointment to Montana's Fish and Game Commission, he is continuing that tradition for the benefit of all Montanans.
As a long-time TU employee, he has worked to restore some of our most iconic rivers such as the Madison and the Yellowstone.
Add to that he also might be one of the nicest people West of the Mississippi and you'll understand why we are of the mindset that the commission scored a pretty fantastic representative.
Pat sat down and shared a little bit about his background and what he hopes to accomplish on the commission.
Tell us about how you got interested in fisheries and fisheries management?
Growing up in Montana, my family, friends, and I spent a lot of time fishing and hunting along Central Montana rivers like the Stillwater, Musselshell, and Yellowstone. I came of age in the early 1970's when the science of ecology was emerging along with a nascent environmental movement. I recall how polluted the Yellowstone River was near Billings, and how appalled I was at how abused and neglected the river was. My father taught me about conservation, and a resource or stewardship ethic, and I guess I was hooked early on. I always favored biology in school and pursued a biology degree at Carroll College, where my fire to become a field biologist was lit. When I was accepted into the Fish and Wildlife graduate program at MSU, I had an opportunity to study big game, but chose a fisheries project instead. Rather than follow my dreams of being Marlon Perkins' assistant on Mutual of Omaha, I chose fisheries because the aquatic world was more mysterious and meant a lot more time on rivers.
What brought you to TU?
After almost 17 years with Montana Fish, Wildlife and Parks, where I was privileged to work on the world's great fisheries like the Madison, Big Hole, Ruby, and Yellowstone, I came to realize that Montanans had gained so much in restoration of our fisheries, with so much to lose. I awoke to the importance of sound water policy in maintaining the fisheries I loved and worked for, and decided to go to law school to better understand water and natural resources law. Before I left FWP, I had worked briefly with Laura Ziemer, at the time TU's Director of the Montana Water Project, on a couple projects and saw the powerful influence Trout Unlimited had on our Montana fisheries. During law school, Laura hired me on as an intern, and I never really looked for another legal job. Trout Unlimited's focus on coldwater fisheries, on-the-ground restoration, and policy work were a perfect match for my skills and personal mission.
What are the major issues facing Montana fisheries?
The four horsemen of a potential Montana fisheries apocalypse are: complacency, increasing human population, changing climate, and invasive aquatic species. First, if Montanans become complacent about our fish and wildlife treasures, and take for granted the hard work over a century that rebuilt these treasures, we're likely to lose them. We Montanans have to be proactive and diligent, to ensure that we protect habitat and water quality and quantity, to promote sound policies that protect and maintain the ecological and economic engines of our fish and wildlife. Second, increasing human pressure on our river ratchets up housing developments, crowding on rivers and trails, and taxes our water supply. Third, evidence of a warming climate is already reflected in our fisheries and is altering precipitation patterns and amounts. We have to be innovative in building resiliency in our fisheries by restoring and enhancing healthy watersheds in ways that will perpetuate clean, cold water into the future. Finally, we've already seen the devastating impacts of whirling disease and proliferative kidney disease, both European parasites introduced into North America. Bucket biology is part of the problem, with folks spreading around their favorite warm water species. So many more aquatic organisms and terrestrial weeds are potential threats which Montanans have to be vigilant against. It took us about 100 years after Lewis and Clark to nearly destroy our fish and wildlife, and 100 years to restore them. It will take all Montanans to prevent another 100 year decline.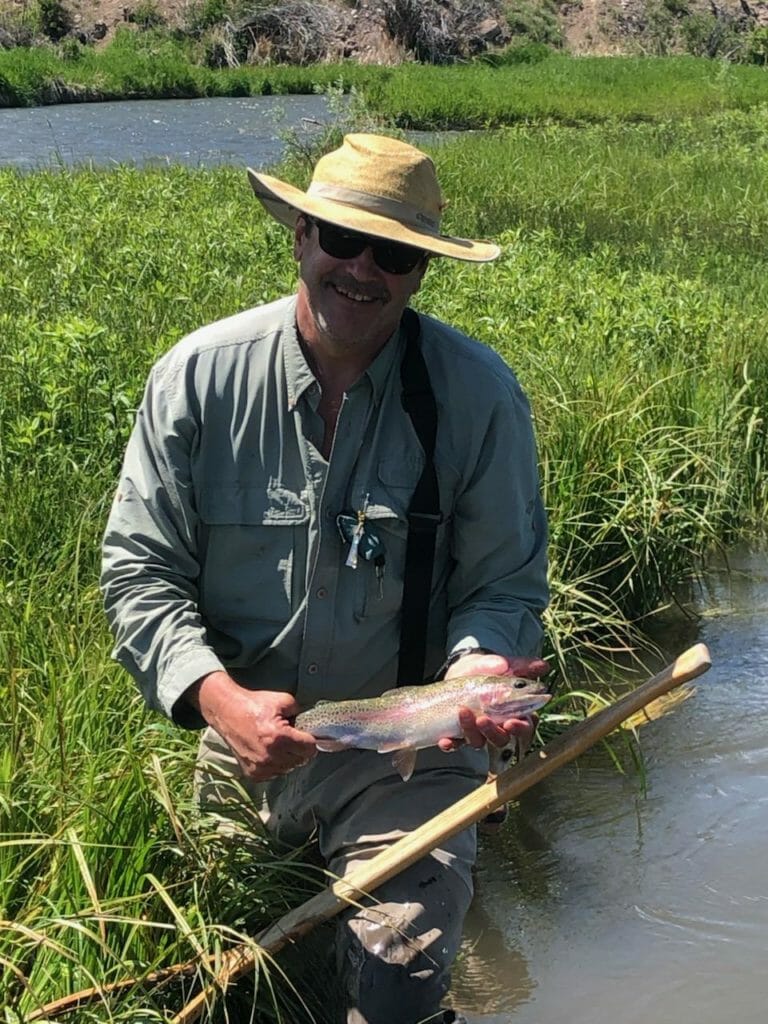 Talk about your appointment on the Montana Fish and Game Commission and what you hope to accomplish?
What a great honor to be appointed by Governor Bullock to the Commission! Montana Fish, Wildlife and Parks (and Fish and Game) has been a leader in science-based fish and wildlife conservation for nearly a century, restoring almost all our native wildlife and building the nation's greatest fisheries. As a Commissioner for Southwestern Montana, first and foremost, I hope to honor this legacy by ensuring the FWP Staff and Commission make decisions based on solid scientific data. When issues get tough, I'll listen to broad perspectives and make decisions based on maintaining healthy fish and wildlife populations to benefit the next generations of Montanans. In the end, I want Montanans to recognize how unique our fish and wildlife resources are among the United States and work hard together to preserve what we have. We have to be diligent not to cave into pressures to go the easy, non-controversial route, or the most lucrative route. My job on the Commission is to safeguard our fish and wildlife treasures to last for generations.
Do you have a favorite river or place to fish in MT?
It's difficult to choose among so many favorite places in Montana. I guess I'd have to pick the Yellowstone River, across its whole length. It's still a wild, and unpredictable river, transitioning from a mountain stream to a burly, prairie river, still supporting a fairly intact native fish assemblage alongside great game fishes. Where else could a person float for a week and catch Yellowstone cutthroat, rainbow and brown trout, shorthead redhorse, smallmouth bass, sauger, paddlefish, channel cats and sturgeon without pulling their boat out?