Biggest fish of the day, general trout season opener, Los Padres Reservoir, April 2019.
April is the cruellest [sic] month, breeding
Lilacs out of the dead land, mixing
Memory and desire, stirring
Dull roots with spring rain.
Thus begins The Waste Land, T.S. Elliot's most famous work and the defining poem of the Modernist era of English literature. In case you were not required to spend many hours in college trying to decipher this epic work, as I was, I'll give you the crib notes: while a guy does a little fishing in it, it's not about fishing.
But every year, as the winter steelhead season closes around here and the general trout season opener on the last weekend of the fourth month seems impossibly far away, that opening line echoes in my head. If you are one of those for whom not fishing for seven weeks is torture, April is indeed the cruelest month.
At this time of year, I usually salve my freshwater fishing deprivation by stalking the beaches for surf perch and striped bass. By the beginning of April, late winter storms have chiseled sand bars and channels into the shoreline, surf perch action is still good, and stripers start to come on strong.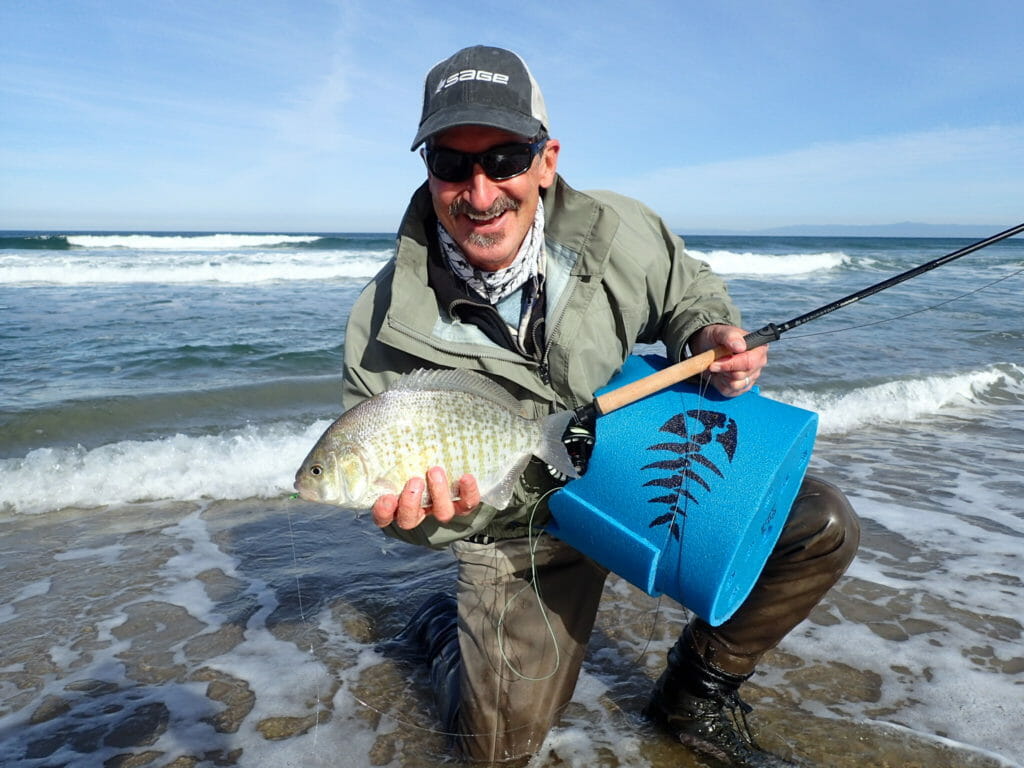 But this year April offered little of either species. Spending hours slogging along some of the loveliest beaches on this precious jewel of a planet, casting baitfish and sand crab patterns into the fringes of the mighty Pacific Ocean with only a grab or two to show for it, is hardly wasted time. Still, finding fish is, well, kinda the point.
I could feel myself becoming rank. You know you are in a bad way when you start to find fault with the habits of your faithful dog. My dog, a hyper-sensitive border collie, only laid her head down lugubriously, her eyes following me as I toted my bile from one room to the next.
What to do? Pyramid Lake was going off, churning out Lahontan cutthroat dinosaurs daily. But my disquiet was matched only by my laziness, and I couldn't pull off the long drive.
Our local TU chapter (Steinbeck Country) co-sponsors an annual Youth Fishing Derby at Fort Hunter Liggett. CDFW supports this event by putting trout in one of the quarry pits pockmarking that landscape that have become perennial bass ponds. Despite the ensuring onslaught of PowerBait, a few of the planted trout aren't yanked from the pond.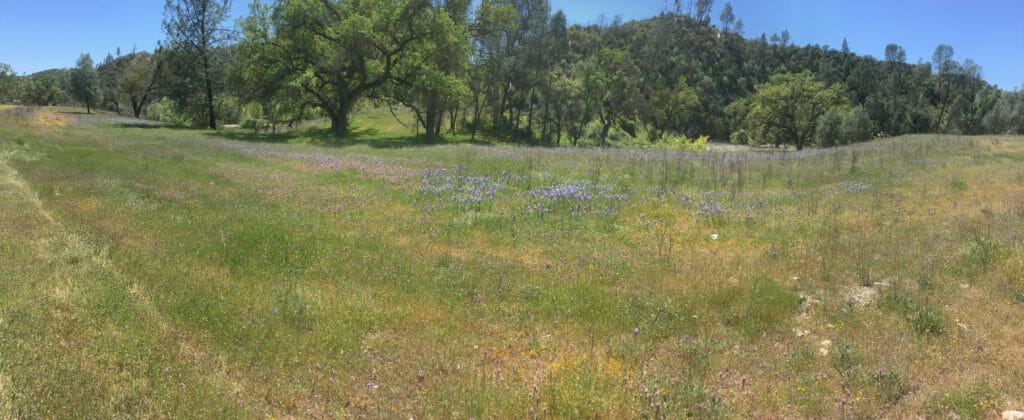 So I joined a few members of another local sportsmen's group, the Salinas Valley Fly Fishers, for a little mop-up fishing the day after the youth derby. I pulled out my float tube, wadered up, rigged my rod…and found I had forgotten my kick fins.
I submitted to the ignominy of being towed out into the middle of the three-acre pond by one of the SVFF guys. I caught two torpid trout in perhaps two hours and hand paddled my way back to the car. There were audible sniggers from around the pond.
April's reputation for meanness was intact.
But then, two things happened that got me to thinking April could be far more charitable than Elliot gave it credit for.
It was a good winter for rain and snowfall in California. By April—overnight it seemed—the ensuing display of wildflowers in these parts was amazing. Even the most cynical could not fail to be heartened by the explosion of purple, orange and yellow blossoms.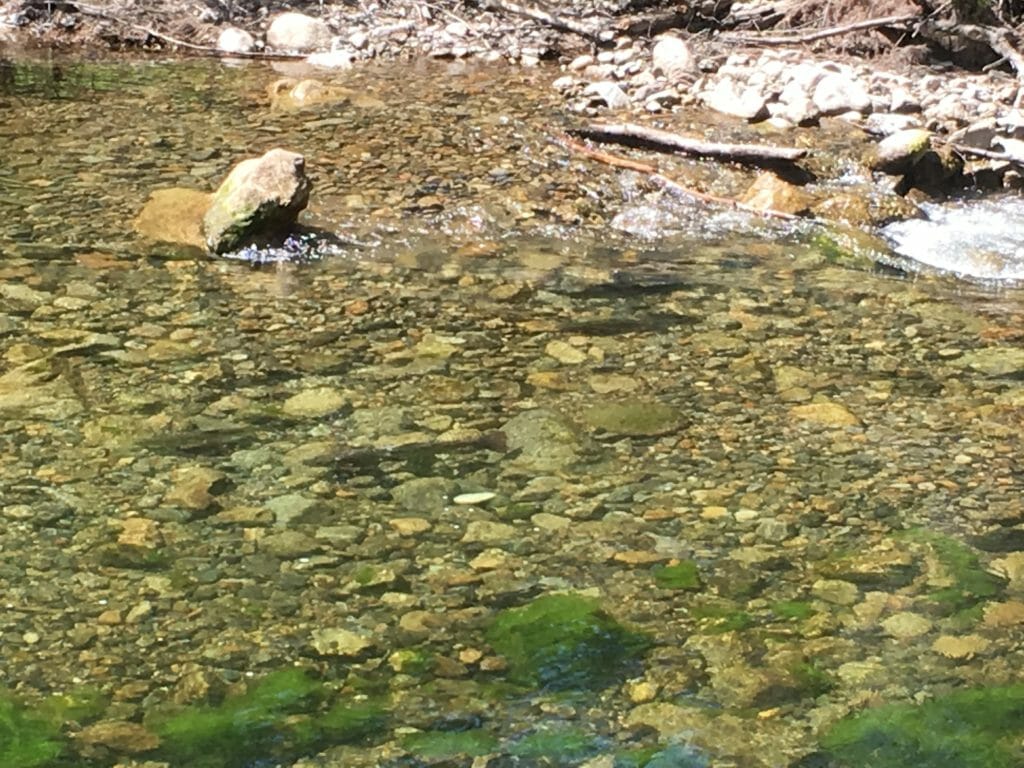 And April was the month of choice for steelhead in the Carmel River. Flows were perfect and water quality excellent. Steelhead made their way some 20 miles upstream, where they shimmied into tributaries you can jump across or loitered at the base of the one remaining dam in this watershed.
For most of the past three decades, this run has been paltry even when flow and habitat conditions have been good. But this year, ah.
More than 110 adult steelhead had been helped over the dam by the local water service provider as of the end of April. Dozens of others were observed in the tributaries.
These days, a run of perhaps 200 steelhead in the Carmel is encouraging. Years of work by Trout Unlimited, resource agencies and other stakeholders to remove San Clemente Dam and other fish passage barriers and restore habitat throughout the watershed can't be hurting.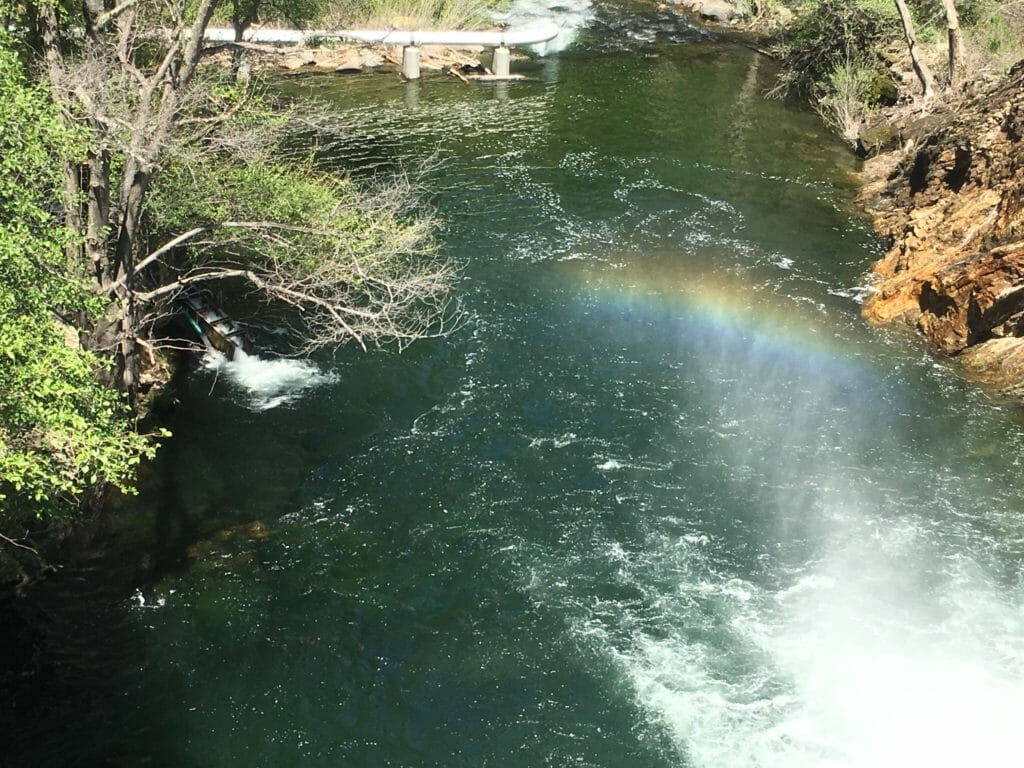 The Steelhead Whisperer and I spent a day with scientists from NOAA Fisheries and CDFW looking for steelhead at the dam and in the inlet to the reservoir behind it. NOAA's Southwest Science Center is pit tagging steelhead caught in the trap and monitoring their movements up and down river.
We saw no steelhead in the rotary screw trap roped into place at the inlet—only a few O. mykiss juveniles. But then we peered over the railing into the plunge pool below the dam.
We saw at least 60 adult steelhead holding in the plunge pool. It was the largest concentration of steelhead I have ever observed at one time in the Carmel—which I have been fishing since I was a kid.
Just seeing those fish was tremendously satisfying.
That experience floated me through the second half of the month, until at last the general season opener was upon us. The Steelhead Whisperer and I joined another TU member to fish the Los Padres Reservoir.
Fishing this water requires a float tube and sinking line. This time I remembered the kick fins. And a few vigorous trout obliged.
We had no close encounters with any of the steelhead that had gone over the dam. Pit tag arrays downstream confirmed that some of them had already concluded their business, taken the ride over the spillway and motored back toward salt water.
Those that remained declined to take the offerings at the ends of our lines. But it didn't matter. Numbers don't lie, and April was okay with me again.
Sam Davidson is communications director for TU in California and Oregon. He caught a Carmel River steelhead as a youth and has not been able to replicate the feat ever since.