The author's brother, gone over to the Dark Side.
Last week I went to what my brother and lifelong fishing partner calls "the Dark Side."
That would be fishing in warm, still water for largemouth bass and northern pike, mostly with conventional tackle.
We always get a laugh out of this, because neither of us subscribes to the notion that fly fishing is somehow a higher form of the piscatorial art and that flies are, in the end, any different than the worms, spoons and Roostertail lures we used so effectively on trout when we were growing up.
We do, however, feel that fly fishing is generally more active, interesting and challenging.
The water that supplies us the opportunity to cozy up to the Dark Side is a small lake in north-central Minnesota, where my late father and step-mother have a summer home.
While Minnesota is best known for its warm water fishing, this state also provides excellent trout fishing in the coldwater streams of the Driftless Area—go here to learn about how Trout Unlimited is working to make fishing better and conserve the trout waters in this unique region.
Most years, this lake is chock-a-block with burly bass and pike that emerge from the depths leering like gargoyles, torpedo bodies sometimes as long as your arm.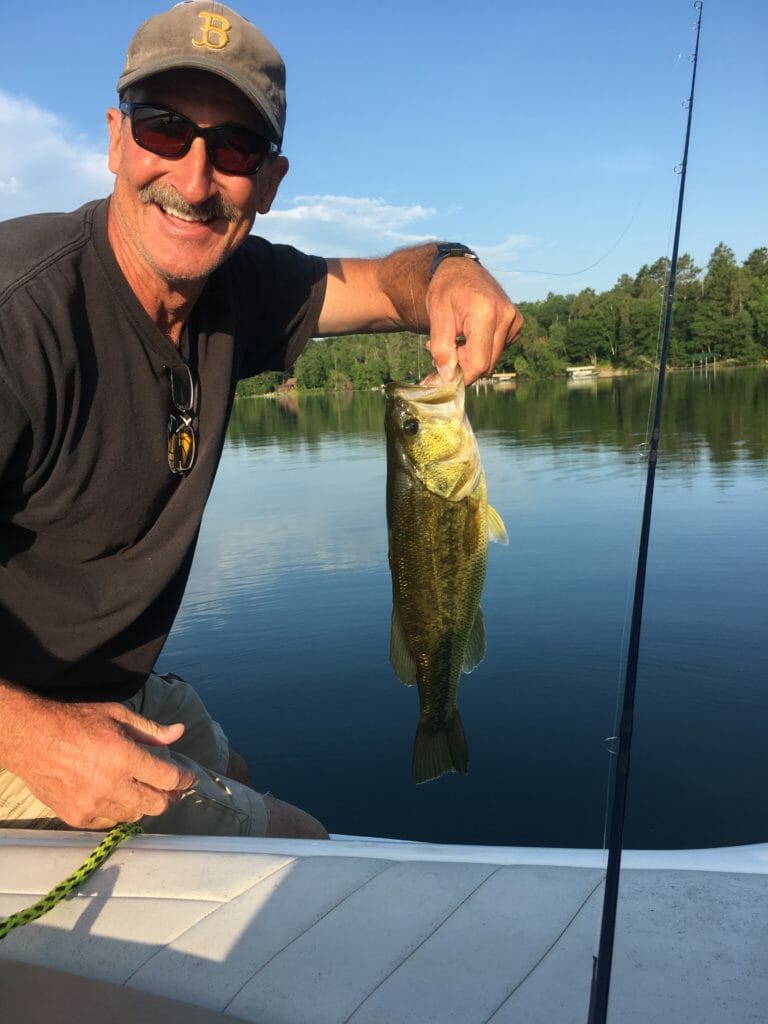 During our typical time here (early August) these predators will inhale live minnows, crankbaits, plastic worms suspended from spinnerbaits—actually, there is very little they won't grab. It's slow, relaxed, fun fishing from boat or dock.
It's also, well, a little boring. At least for me.
So some years back I began lugging a rod tube with me on the plane, and from time to time breaking out my 6-wt rod with an assortment of streamers and surface flies. I mostly fished with a floating line and chucked big foam-bodied bugs among lily pads. And every so often a hefty bucket-mouth would explode on such an offering and give me a minute or two of real bent-rod affirmation.
But this occasional fling with my fly rod was always sort of an add-on. This year, on the first morning as we left the bait shop with a dozen pike suckers, I abruptly decided to forego the spin set-up altogether and commit to fishing with fly gear.
I felt the more shadowy aspects of my angling character twinging and catcalling. But the Dark Side would have to wait.
I had brought a reel loaded with RIO InTouch full sink line and a box full of sinuous flies (some articulated) in mostly black and olive. We cruised across the lake, skeins of steam still rising from its glassy surface, to the spot where we always start fishing.
We don't know, exactly, what quirk of structure makes this spot so productive. Nothing really stands out in terms of lake bottom topography. But over the years, through much trial and error, we have learned that this location produces when the rest of the lake reeks of skunk.
We set up in the boat about 60 feet off shore. My brother and son baited their jig hooks and tossed their pike suckers into the drink. As we flatten the barbs of all our hooks, inevitably one of the bait fishes flips vigorously enough to earn his freedom during the cast, and those whose bait stayed on watch in glee as the unlucky party's offering plops into the water several feet from his jig.
This time was no exception. My son reeled in his line wearing the chuckles of his compatriots, and recruited a second pike sucker for another fling.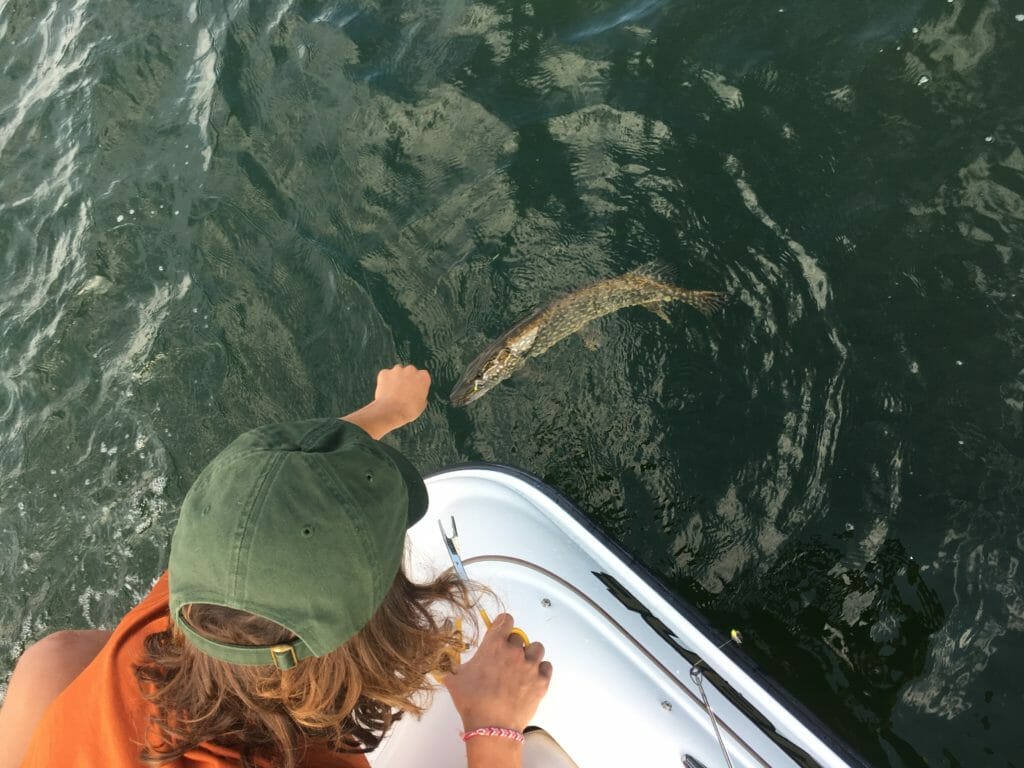 I stood in the bow and prepared to cast the 6-wt. I aimed at a pod of water lilies perhaps 40 feet away. But I had no sooner uncorked a few false casts than my failure to conjure up some sort of stripping basket exerted its mischievous influence on the proceedings.
While my brother and son cast and retrieved several times, I unwound fly line from every bit of boat surface within a three-foot radius that protruded even a quarter-inch.
Some minutes later I started casting again. The line mischief continued. And the Dark Side beckoned.
At length I managed actually to deliver the fly to the water, a not-too-embarrassing distance from my target. I took in slack, waited ten seconds, and began to strip.
About midway through the retrieve the line jolted. I strip-set and the fish—a small bass—was on. I brought him in and unstuck the fly from his jaw, admiring his cool green and black coloration and feeling pretty satisfied.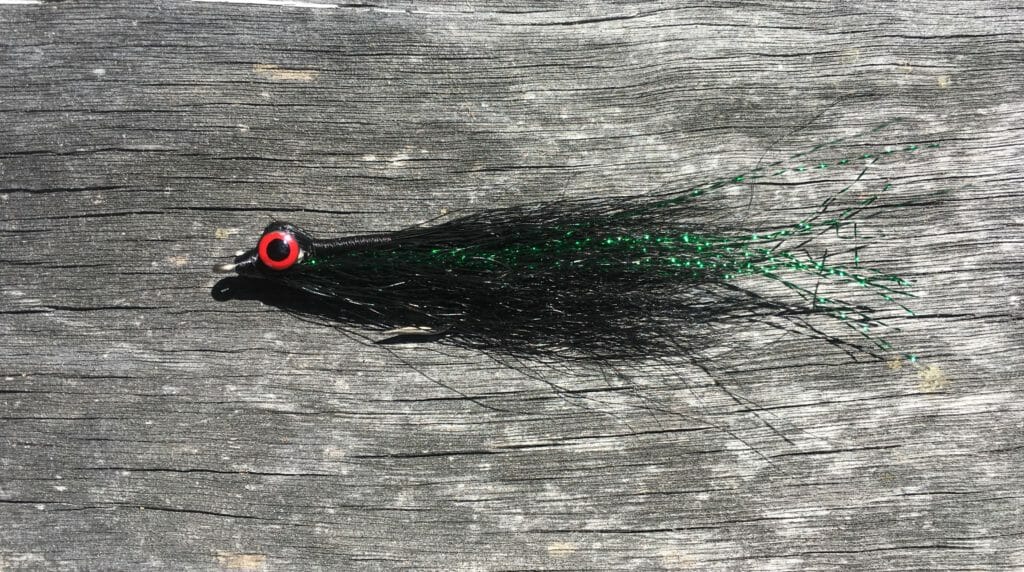 I turned around, expecting to hear congratulations from by companions. We all root for each other while fishing and celebrate our respective successes, even if wallowing in deprivation ourselves.
But my partners almost yawned. "Good one," said my brother. "Did you see the three I landed already?"
I redoubled my efforts to put the fly in the water and keep the line from playing Twister with the boat.
A few casts later there was another jolt, and another bass, a little bigger this time, came to hand. Then another. After a while there were grudging expressions of approval from the stern.
I decided not to crow about the feeling of getting a grab on a stripped fly. When using bait in this lake, most takes—even by large fish—are subtle. You might feel gentle pressure on the line, and it might be weeds. But if you raise your rod tip slowly and the pressure remains or increase and the line begins to move, you rear back and set the hook.
On a submerged, stripped fly, boy, there was no subtlety in the grab. The siren call of the Dark Side faded away.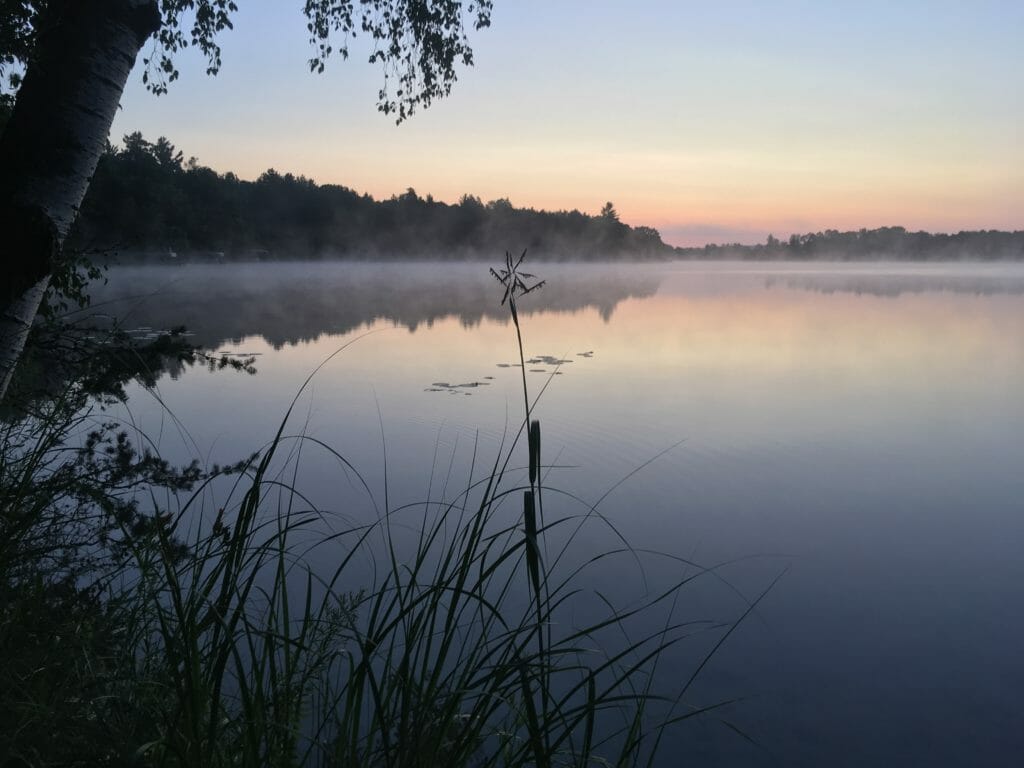 For the rest of our visit, we fished every morning, and a pattern established itself. I caught on the fly as many fish as my brother and son did on gear, and while they caught more pike—several of wall-mount proportions—I enjoyed a frequent dance with a "mossback" up to 2 pounds.
In the final analysis, of course, the only Dark Side to recreational fishing is a matter of ethics. Who cares what tackle you use? For me, I care only that you treat the natural resource with proper respect and stewardship—and express a little merriment at the mishaps of your partners.
Sam Davidson is the communications director for TU's California Program.