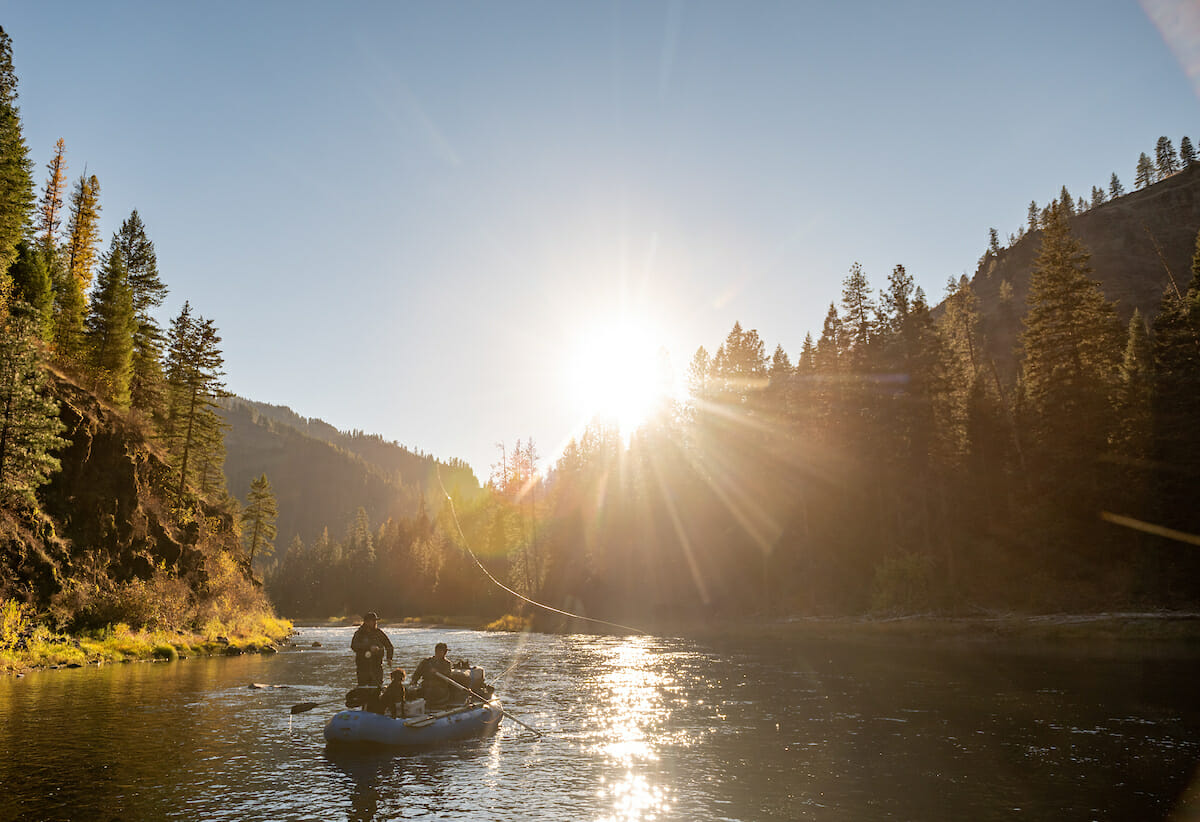 Inflation Reduction Act lowers carbon emissions, reforms oil and gas leasing on public lands, and invests in climate resiliency projects
Contacts:
Chris Wood, President and CEO, Trout Unlimited, chris.wood@tu.org
Steve Moyer, Vice President for Government Affairs, Trout Unlimited, steve.moyer@tu.org
Corey Fisher, Public Lands Policy Director, Trout Unlimited, corey.fisher@tu.org
Tasha Sorensen, Western Energy Lead, Trout Unlimited, tasha.sorensen@tu.org
ARLINGTON, Va.—The Inflation Reduction Act signed into law this afternoon delivers major wins for public lands, native and wild trout and salmon fisheries, and communities already facing the impacts of a changing climate.
Combined with last year's Bipartisan Infrastructure Law, this landmark law advances multiple significant Trout Unlimited priorities.
"These historic investments will make our waters cleaner and our fisheries and communities healthier," said Chris Wood, president and CEO of Trout Unlimited. "At the same time, they will create family-wage jobs as we take on the critical work of transitioning to a clean energy future. We know what we need to do to make our communities and rivers more resilient to the effects of climate change. The time for action is now. We thank the administration and Congress for their leadership."
The law invests $369 million into programs that will address climate change, make lands and waters more resilient to changing conditions, and restore rivers, streams, and fish and wildlife habitat. It also makes much-needed reforms to oil and gas leasing policies on federal lands.
Driving lower carbon emissions
TU has long supported policies that reduce the nation's carbon footprint, conserve land and water to promote natural storage of carbon, and invest in climate adaptation to help fisheries and communities survive a hotter, more turbulent future.
Projected to reduce U.S. emissions by roughly 40 percent below 2005 levels by 2030, the IRA represents the most significant legislative action in the nation's history to combat climate change.
The new law will invest billions of dollars in tax credits, federal grants, and other voluntary incentives that will encourage clean energy development and energy efficiency and touch every sector of the economy. By lowering the cost of clean energy and accelerating the electrification of key economic sectors, the law will usher in a new era of industrial innovation and American job security.
The law also directs billions of dollars to promote environmental justice in disadvantaged communities that face disproportionate impacts from climate change.
Investing in climate resiliency
The new law provides billions of dollars in additional funding in support of climate resiliency projects, including:
Nearly $5 billion to support healthy forests on National Forests and private lands, including investments to reduce wildfire risk and mitigate climate impacts.
$500 million for conservation, protection and ecosystem restoration on National Parks and Bureau of Land Management lands.
$125 million for the U.S. Fish and Wildlife Service to implement recovery plans for threatened and endangered species, such as threatened and endangered trout and salmon; and $121 million to help rebuild the National Wildlife Refuge System, including addressing invasive species, increasing resiliency to climate-induced weather events, and reducing damage caused by those events.
$20 billion over four years to support climate-smart agricultural and conservation practices, nearly doubling Farm Bill investments to these programs.
$2.6 billion for conservation, restoration, and protection of coastal and marine habitats and fisheries to prepare for climate impacts.
$4 billion for drought response in the West, particularly in the Colorado River Basin. This adds to $8 billion in drought funding included in the BIL.
"With $4 billion in funding for Western drought response, the Inflation Reduction Act recognizes the urgent need to conserve water, invest in system conservation, and restore watershed health," said Sara Porterfield, Western water policy advisor at TU. "The law provides significant opportunities for the Colorado River community to jump-start actions that build resilience to drought and the hotter, drier future that is expected as a result of climate change."
Reforming oil and gas leasing on federal lands
For decades, TU has advocated for changes to oil and gas policies on public lands. The new law delivers a number of these reforms. It sets the criteria for responsible oil and gas leasing and development by eliminating non-competitive leasing, curtailing speculative leasing, increasing rental fees, royalty rates and minimum bids, and establishing a new lease nomination fee.
Taken together, these provisions will curtail speculation, reduce conflicts on public lands, and ensure that agencies have the resources necessary to responsibly steward our public lands.
"From 2012 to 2020, the Bureau of Land Management leased five million acres—roughly twice the size of Yellowstone and Grand Teton National Parks combined—that had little potential for energy development but overlapped valuable fish and wildlife habitat," said Tasha Sorensen, Western energy lead for TU.
"The Inflation Reduction Act includes common-sense reforms that will limit speculative leasing and help usher in a new era of responsible energy development, reducing impacts to fish and wildlife, protecting water resources, and affirming our country's commitment to balanced multiple use public lands management."
###
Trout Unlimited is the nation's oldest and largest coldwater fisheries conservation organization dedicated to caring for and recovering America's rivers and streams so our children can experience the joy of wild and native trout and salmon. Across the country, TU brings to bear local, regional and national grassroots organizing, durable partnerships, science-backed policy muscle, and legal firepower on behalf of trout and salmon fisheries, healthy waters and vibrant communities.