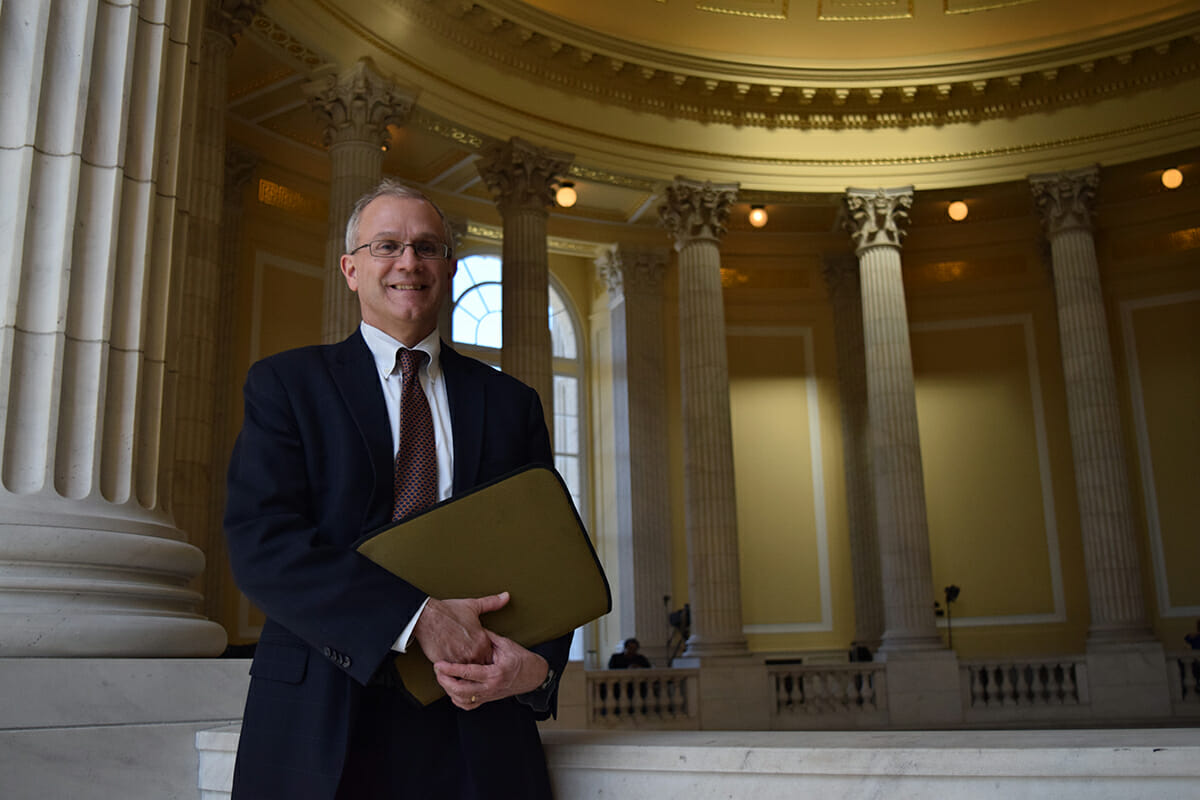 Mr. Moyer goes to Washington
For more than 30 years, TU's Steve Moyer has been fighting for coldwater conservation in the nation's capitol
WASHINGTON, DC. — Growing up outside Philadelphia, Steve Moyer enjoyed the proverbial best of both worlds.
The big city was just 20 miles away from Hatfield, Pa., but Moyer's home had a creek running through the back yard. His mom's family farm, in State College, had a creek, too.
"Going to the farm was always a thrill," remembers Moyer, Trout Unlimited's vice president for government affairs. "Between time spent on those creeks and my dad taking me and my brother fishing, my love affair with fisheries habitat conservation started."
It hasn't stopped.
Moyer has worked in Washington DC since 1985, when he started as a fisheries policy intern with the Sport Fishing Institute after earning a wildlife management degree from the University of Maine (1980) and a master's degree in fisheries science from Virginia Tech in 1984.
"It wasn't what I planned, but it's been great," says Moyer, who lives with wife Michelle in Reston, Va., fittingly on the shore of a small neighborhood lake that he sometimes cruises around on his pontoon boat, Floatin' Hokie.
Moyer joined the TU staff in 1992, as the director of government affairs, after spending two years at the Sport Fishing Institute and another five as a fish and wildlife lobbyist with the National Wildlife Federation. Those early jobs formed the foundation he has been building on since, as he continues to learn the workings of the DC world.
It hasn't been all politics for Moyer. He spent a few years in the 1990s as TU's VP for conservation. He also was VP for volunteer operations for four years in the 2000s, a job he held concurrently with the top government affairs position. He's been solely in the latter position since 2009.
"It's really the same thing I've done since I came to DC," says Moyer, who has two adult daughters. "Only with a more amazing organization, grassroots and staff."
Moyer is proud of the efforts of the TU team.
"The combined strength of and dedication of staff and volunteers is absolutely splendid," he gushes. "Serving them is why I face the long commute every day."
Moyer and his staff often spend time on Capitol Hill with volunteers who come to the city to meet with legislators and staff.
"We have built relationships between volunteers and their legislators at the state and federal level that are strong and effective," he says. "When TU volunteers come to speak to members of Congress, members of Congress listen because our volunteers have such great reputations for getting good work done on the ground at home."
In recent years, major efforts have been focused on issues such as protecting Alaska's Bristol Bay, opening up 1,000 miles of habitat on Maine's Penobscot system and strengthening fish habitat programs of the Farm Bill.
Moyer has also worked hard defending the Clean Water Act, a mission that connects him to his youth.
And so Moyer makes that long commute. Often, his stop at TU's headquarters office in the Rosslyn area or Arlington is only a brief break on his way across the Potomac to Capitol Hill.
Such was the case on a frigid day in early March 2016 when Moyer was on tap to testify in a Senate committee hearing on the benefits of legislation that would provide certain protections to good Samaritans such as TU in working on abandoned mines.
It's a day that starts early and ends late, the norm for Moyer as he leads TU's government affairs efforts.
7:15 a.m. Moyer's chair in TU's headquarters office is empty, prompting surprise from Kate Miller, TU's director of government affairs. "Is he not here yet?" she wonders. But then she sees his briefcase and overcoat, resting next his desk. And then the door office opens. "I had to get an egg sandwich," Moyer says, holding up a brown paper sack. He sits down at his computer, munching his breakfast as he scans through the dozens of emails that have landed in his inbox over the past 12 hours.
7:45 a.m. Breakfast done and emails read, Moyer heads out the door for the Rosslyn Metro station. Miller and Lauren Wittorp, TU's advocacy manager at the time, hustle alongside, the trio picking their way through the hordes of morning commuters. It's standing-room-only on the subway, workers hanging on to overhead bars with generally glum, headed-to-work expressions. Moyer seems to have a subtle grin on his face, like he is headed somewhere fun.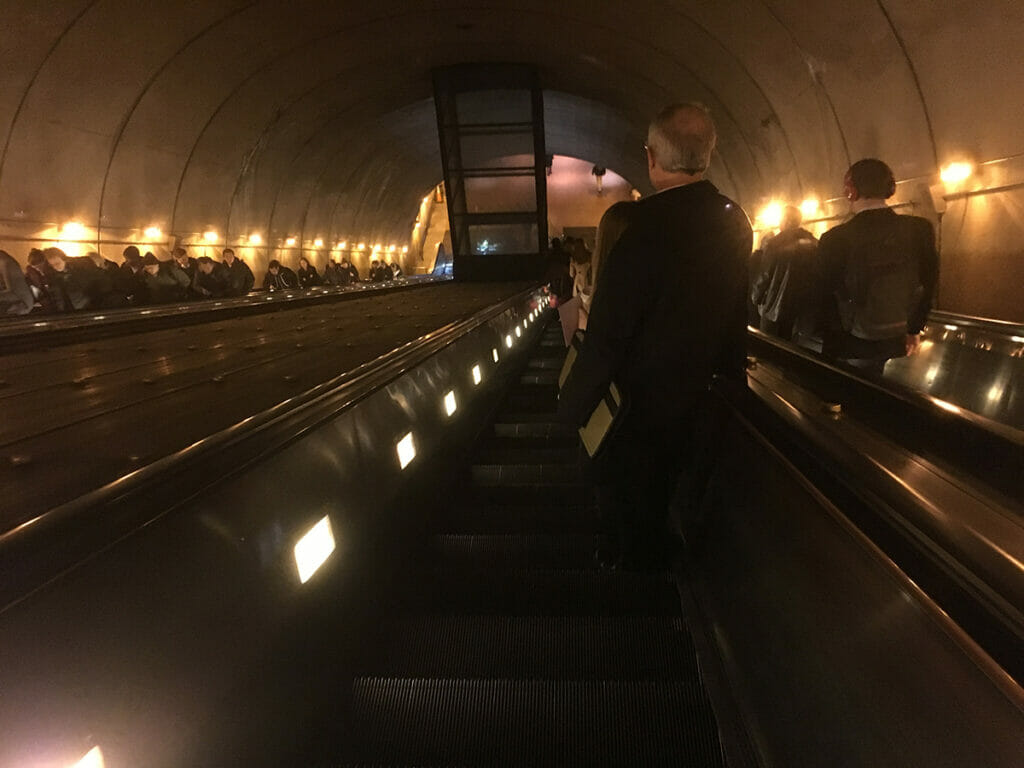 8:30 a.m. It's unseasonably cold for early March, the temperature just above freezing and a biting wind blowing from the north as the team emerges from underground and make their way to the Hill, as the capitol complex is often called. Minutes later he's back indoors, passing through a security checkpoint heading for the day's first meeting.
8:45 a.m. The first meeting is a casual one: an open coffee with Sen. Cory Gardner (R-Colo.). Earlier this winter Gardner was part of a bipartisan group to introduce draft legislation to ease liability concerns of good Samaritans such as Trout Unlimited in cleaning up abandoned mine damage. The legislation will be up for discussion at a Senate committee hearing later in the morning. Moyer will be testifying in support of the legislation, and the team wants a chance to thank Gardner and his staffers for their work on the bill. Moyer chats with Jennifer Lorraine, the Gardner aide who helped craft the legislation, while Gardner works the room, chatting with small groups of visiting constituents. He sees Moyer and approaches with a smile. They shake hands and chat like old friends. "We are really happy to see this day arrive, Senator Gardner," Moyer says. "A bipartisan Good Sam bill, a hearing and a chance to make our case. Thanks so much for all of your work to make it happen."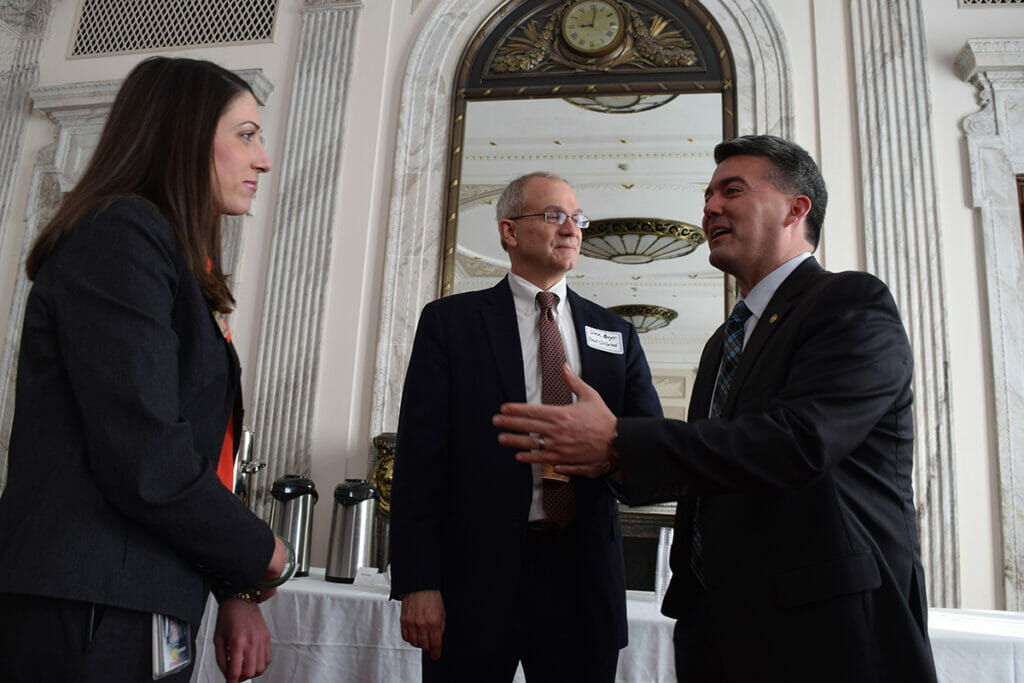 9:30 a.m. The Senate Committee on the Environment and Public Works is packed, at least in the gallery. Just a handful of the committee members are here, headed by chair Sen. Jim Inhofe (R-Okla.) and ranking member Sen. Barbara Boxer (D-Calif.). The Good Samaritan legislation is one of three pieces of legislation on the docket, the others a coal ash-related bill and a bill related to brownfields.
10:24 a.m. After opening statements from Inhofe and Boxer, the witnesses each have five minutes for their remarks. Senators Gardner and Michael Bennet (D-Colo.), the bill's co-sponsor, appear as witnesses in support of the bill, and both laud TU in their statements for TU's help on drafting the bill and for doing strong abandoned mine cleanup work across the nation.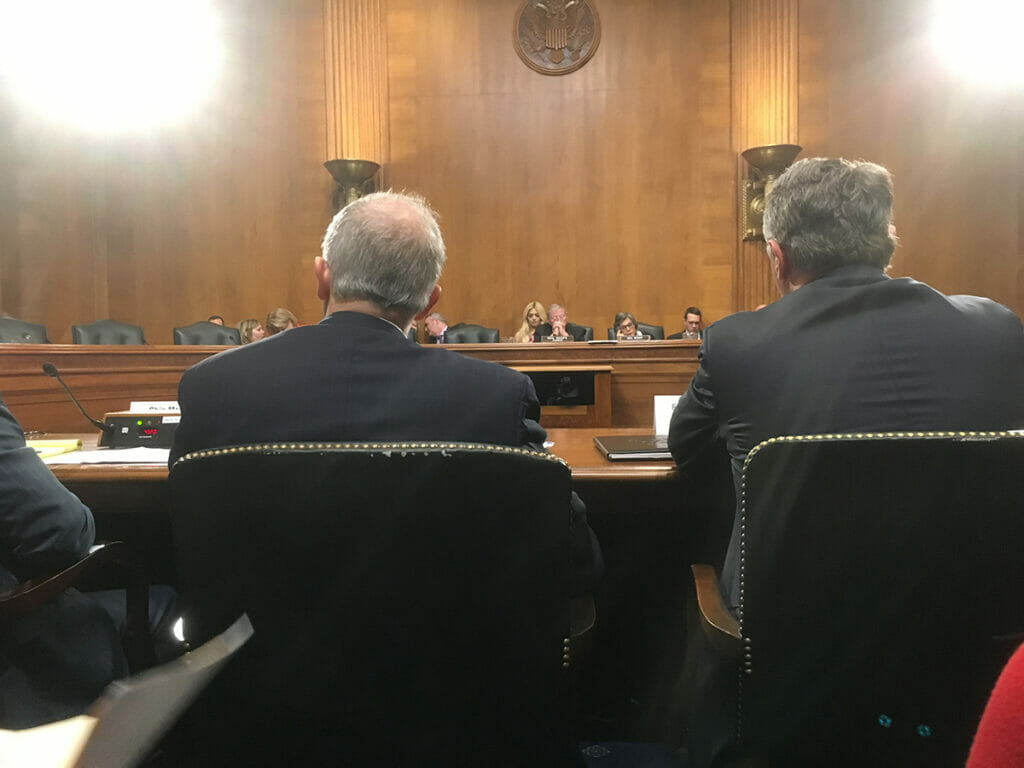 Following the senators, the regular witnesses get their turns. Moyer finishes with a few seconds to spare. Afterward, the committee members pepper witnesses with questions. Sometimes this can get stressful, when committee members are strongly opposed to the witnesses' position. But in this case, Moyer doesn't get a single question, indicative of the non-controversial nature of the bipartisan "Good Sam" bill.
11:30 a.m. The hearing concludes, and Moyer spends a few minutes shaking hands. Then it's off to the cafeteria for a quick lunch. Moyer quickly downs a small salad and slice of cheese pizza. "Want to try some of this chicken?" Miller asks, pointing to the too-massive-for-her-to-finish pile of barbecue chicken on her plate. "Sure," Moyer says, reaching over with a plastic fork and taking a stab at the pile.
1:00 p.m. It's time to go back outside, for the cold walk to the Rayburn Building. Moyer is hoping to catch TU staffer Sammy Vest, who is on the Hill today for meetings related to the Chesapeake Bay. But by the time the team reaches the luncheon room Vest's lunch meeting is over and he has moved on to another meeting.
2:00 p.m. Moyer heads off to meet Senator Bennet. After just a short wait, Bennet's door opens and he warmly greets the TU team. Following his statement at the hearing, Bennet had to leave and did not see the hearing, but heard it went well. Bennet is up for a re-election in the fall, always a stressful time for a member of Congress. "I know this is not a great year for you to be running tough bills," Moyer tells him. "So TU especially appreciates your good work on the Good Sam bill." Following the meeting, Moyer talks with Bennet staffer Laura Sherman, who along with Gardner's senior energy advisor, Jennifer Loraine, have been the driving forces behind drafting the bill.
2:15: It's back to the cafeteria for coffee. Instead of getting buffeted by the cold wind on another walk across the Capitol, the three score passes to ride the underground railway that connects the Senate offices to the Capitol. The ancient but well-maintained trains provide an open top and short but enjoyable ride. Miller gets excited, raises her arms – rollercoaster style — and says "Weeeeeeee!" Yes, it's possible to have fun on Capitol Hill.
2:30 p.m. The final stop of the afternoon is to thank Rep. Scott Tipton (R-Colo.), another of the Good Samaritan legislation's backers. Moyer and Tipton shared a laugh over the good fortune at the hearing. "I was stunned that I didn't get a single tough question," Moyer says, adding with a smirk. "Maybe we messed up didn't put enough 'good stuff' into the bill." After the quick stop, Moyer faces a dilemma. He wants to attend a happy hour event with the Chesapeake Bay backers later in the afternoon, but has two hours to kill. "Let's go back to the office," he suggests. So it's back to Rosslyn on the much-less-crowded Metro.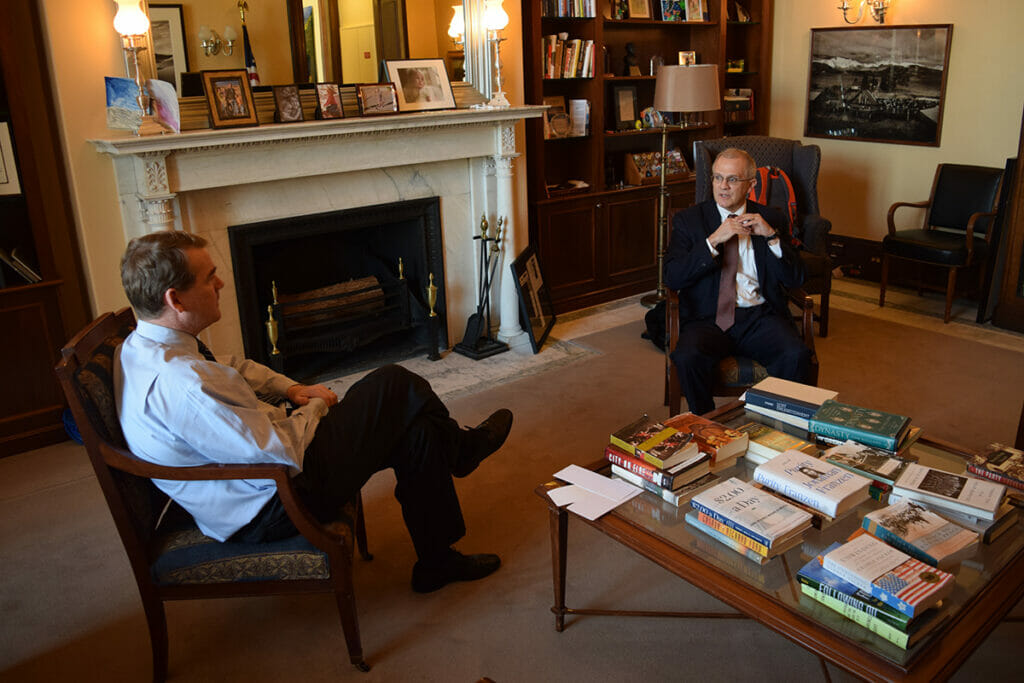 3 p.m. Moyer has been keeping an eye on emails throughout the day on his smartphone, but back at his computer he finally has time to take care of pressing responses. He powers through the inbox for almost two hours. "Let's use Uber to get back over there," he tells Miller and Wittorp. A few minutes later a black Mitsubishi pulls up in front of the office. It's dinged and ratty looking. "It looks illegal," Miller whispers, laughing. But the driver is good and the team is back at the capital area just 15 minutes later.
5:15 p.m. Its walls adorned by thousands of police uniform patches and hundreds of unique, unopened beer bottles, Kelly's Irish Times is a popular watering hole for Hill staffers due to its proximity to the capital. The Chesapeake team has taken over a corner and Vest rises to greet Moyer and fill him on the day's long agenda of meetings with legislative staffers. Beers arrive and the team members clink glasses. Another day of the hustle of the nation's capital is in the books. It won't be a late night, because another busy day looms, barely 12 hours from now.