Noah Parker and his son Shane Parker-Kast. Really good guys, and really great guides. If you don't know them, you should. You should fish New Mexico with them.
Coming from three generations of fly fishermen, Shane Parker-Kast was probably destined to be a fishing guide. He first went out on his father's lobster boat when he was only two weeks old. Shane's dad, Noah Parker, is himself a product of a lifelong love affair with fishing. Learning to fly fish on the classic trout streams of the Catskills and in New England with his father and grandfather, Noah was also inspired by his own mentors and family fishing friends Ernie Schwiebert and Arnold Gingrich. In his early twenties, Noah's love of the water and all things involving fishing led him to a career as a commercial fisherman. He spent over two decades on the ocean fishing for bluefin tuna, cod and lobster off the coast of New England.
Shane and Noah left Maine in 2004 and moved to northern New Mexico, where they started Land of Enchantment Guides in Velarde, N.M. They knew that this was the right place where a father and son could continue to learn and teach others, together.
Fast forward to 2022, and they are still guiding and fishing the great waters of northern New Mexico and southern Colorado—the San Juan, the Rio Grande, the Chama, the Brazos and the Conejos, to name a few. Shane, Noah and the guides that now work with them all share a gift for teaching the skills necessary to become a fly angler and the joy of showing people the wild areas and great fishing in their part of the West. They all have an easy-going nature and believe that fishing ought to be fun and relaxing. More importantly, they feel that both new and experienced fly fishers alike are the lifeblood for protecting the future of the coldwater resources of the world.
Now, they've got a new venture. Land of Enchantment Guides has opened a fly shop called the Fly Fishing Outpost in Santa Fe. They've pulled from their 15 years of guiding experience to create a fly shop with the best gear for fishing in northern New Mexico and southern Colorado. Land of Enchantment Guides have been pushing fly fishing equipment to the limit for decades and they only carry products that they rely on themselves to perform day in and day out.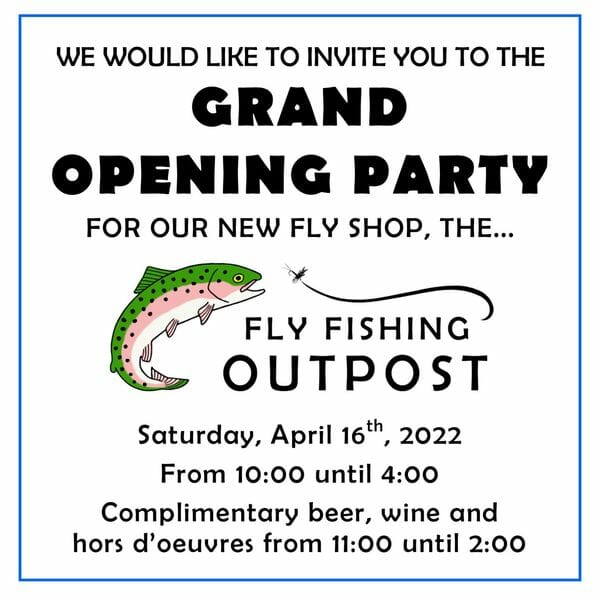 The new store is located on the grounds of historic Bishop's Lodge overlooking a 1,700-foot stretch of stream and a pond. It is the only fly shop in New Mexico where you can walk out the door and try a fly rod on both a pond and moving water. All Fly Fishing Outpost flies are proven patterns for northern New Mexico. Many are custom designs perfected by their guides and tied "in house."
The grand opening party is on Saturday, April 16 from 10 a.m. to 4 p.m. There will be food, beer and wine catered by Bishop's Lodge's Michelin-starred chef from 11 a.m. to 2 p.m. Noah and Shane are excited for EVERYONE in the area to check out the new shop! They'll will be raffling off a Thomas & Thomas, 9-foot 5-weight Aeros fly rod. It's free to enter and the drawing will be held at 4 p.m.
See you there!