We care about clean water, healthy fisheries and vibrant communities. We roll up our sleeves to volunteer, we sit on our boards, and we strategize as members and leaders of staff. We want you to join us.  For a discounted first-time membership, click here: https://gifts.tu.org/we-are-tu
The aim of this blog series is to highlight our friends, in hopes of making many new friends of broad stripes. In this series you'll meet people of diverse communities – our good ideas, what we have in common, and where we differ. Know someone we should feature? Nominate them here.
Since it's not possible to sit down and have coffee or spend an afternoon on the river to show you what we're up to, a blog post will have to do. As you read, we hope you'll consider joining us. We need your ideas to help make a bigger impact.  
Together, we'll help protect the special places we love.  
Eric works for the Alaska program of Trout Unlimited and is active in his local chapter. He's someone who doesn't complain, is quick to find the bright side, and is the first to brainstorm ways to make activities more inclusive to new groups. He does it all with a smile, and usually an extra brew in his backpack or fly in his hat to share.
In keeping with our ongoing equity practice, the "We are TU" series is focusing more directly on the need to foster a more equitable, diverse and inclusive fishing and conservation community. We have updated the questions as such. If we are to protect, conserve and restore our rivers and streams, we will need all voices at the table and all hands on deck.
Introducing Eric Booton: (Instagram: @Ebootman or email.
Unwavering optimism and not b*tching.

Eric Booton, on his "secret skills"
Hometown/current town Littleton, Colo. / Anchorage, Alaska
What's your history with conservation? I was introduced to the basics of conservation in my youth during Boy Scouts. My conservation ethic was reinforced as I strengthened my personal relationship with the natural world, and further fostered during my undergraduate as an environmental studies major at Western State Colorado University. It continues to develop today after a nearly eight years working professionally in fish habitat conservation in Alaska.
What is your history with fishing? Fishing has always been a part of my life, starting with bait casters and Powerbait on family camping trips. I got my first fly rod around the age of 13 and only managed to master wind knots. Near the tail end of college, I re-found fly fishing when it became clear I needed a lower-impact passion to pursue. The hook was set before I made the move to Alaska. Fly fishing has morphed into a primary identity for me. Each year my fly fishing knowledge and skill progresses, and I love it even more.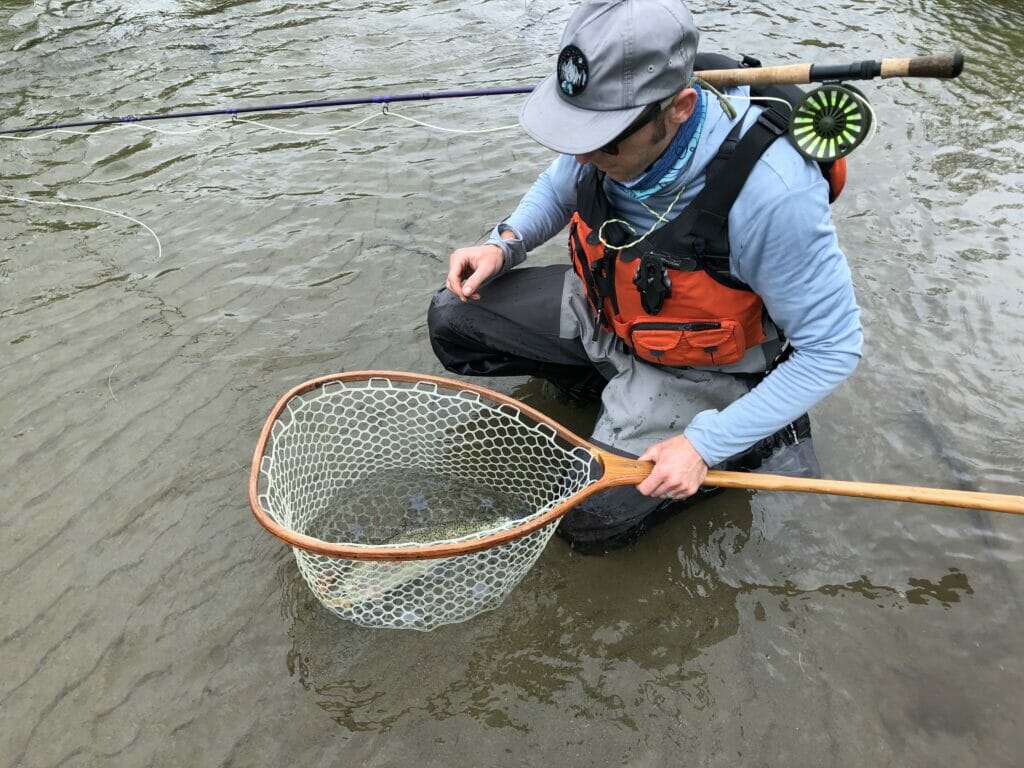 Our membership and representation aren't reflective of the diversity in the fishing and river-loving communities. How has the lack of diversity in fishing and conservation impacted your enjoyment of those activities? As a white male, my personal enjoyment of the sport and engagement in the conservation community has not been impacted by the lack of diversity and it pains me to know others haven't been able to enjoy the same places I find reprieve simply because they do not look like me. This is something I am encouraging my outdoor friends and local TU community to recognize while they enjoy these spaces, and address while sharing these important spaces with others.
What does 'giving back' mean to you? At the most basic level, to me 'giving back' means investing your personal resources — time, sweat and money — into the places you care about. On a deeper level, we 'give back' to the places we value by building a relationship with them — learning their histories and sharing their stories, facilitating sustainable enjoyment by others and ensuring a bright future.
Describe a perfect day. Cool mornings in sleeping bags. Camp coffee on the bank of the river. Salmon spawning under the canopy of autumn colors. Tubed meat, cheddar cheese and a cold beer. Bonus: bringing one or more finned friends to hand.
What are your secret skills? Unwavering optimism and not b*tching.
When was the last time you thought, "Dang, I'm pretty awesome"? Probably the last time I was in the Lower 48. People are enamored by Alaska and its pleasant reminder that I'm fortunate enough to live people's dreams.
Are you willing to share ideas for ways your average TU member can show up as an ally to communities that are traditionally underrepresented in the fishing and conservation world? I would just like to quickly remind my fellow white, male anglers to start by listening. Just because you may not be able to personally relate, or haven't had the same experiences as others, doesn't mean a problem does not exist. There are other people in our communities who lived experiences and have stories that are not like yours. Start by stopping and listening.
I would just like to quickly remind my fellow white, male anglers to start by listening.

Eric Booton
What is an example of something awesome you've seen that helps make conservation or fishing more inclusive to new groups of people? I love the in-person events that TU hosts throughout Alaska — whether they be the Bristol Bay Fly Fishing and Guide Academy, Armed Forces Appreciation Fishing Trip, or just chapter outings to enjoy local waters together. During a time of COVID, I have very much missed these opportunities to introduce others to the joy of fly fishing or my favorite creeks. I am excited to return to helping host and support these introductory fishing opportunities with a refreshed focus on including new people. There is a lot to improve upon, and I know it will make these activities all the more rewarding for participants.
Name a person you admire. Why do you admire them? Fly fishing personality, Pig Farm Ink catalyst, and all-around top-notch homie, Jay Johnson. I admire how Jay has used his opportunity in fly fishing, one that he very much created himself, to build community through PFI and help others worldwide through initiatives like IndiFly. I've only spent a small amount of time with Jay, but between collaborating on an IronFly fly tying event early in my career with TU and sharing a day on the water, I witnessed a fresh approach to sharing our passion with others in a real and inclusive manner.
Why Trout Unlimited? More and more, one of the tenets of TU that I value most is bipartisanship. We are better when we are together and right now it's what the fish, the people and our country need. That's my belief at least, and I'll put my shoulder behind that approach in advocating for the wild places that have become part of my being. It's not the easy way, but it's the lasting way.
If you want to join Eric and grow the community and work of Trout Unlimited, we encourage you to join us! For a discounted first-time membership, click here: https://gifts.tu.org/we-are-tu