We care about clean water, healthy fisheries and vibrant communities. We roll up our sleeves to volunteer, we sit on our boards, and we strategize as members and leaders of staff. We want you to join us.  For a discounted first-time membership, click here: https://gifts.tu.org/we-are-tu
Pauline Ellis' nomination said that she'd recently picked up fly fishing and had already dived in to help and add to the community, joining the 5 Rivers Chapter board. Her giving and joyful spirit shows through in her answers to these questions, which you should enjoy reading as much as we did.
In keeping with our ongoing equity practice, the "We are TU" series is focusing more directly on the need to foster a more equitable, diverse and inclusive fishing and conservation community. We have updated the questions as such. If we are to protect, conserve and restore our rivers and streams, we will need all voices at the table and all hands on deck.
Introducing Pauline Ellis (Instagram @smokeysfishpal)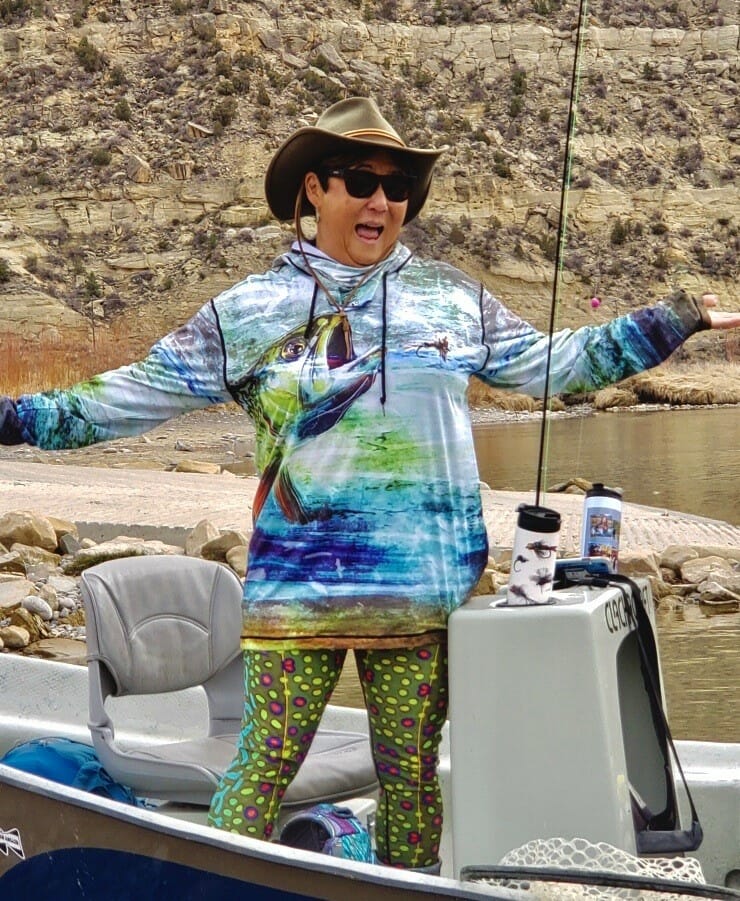 Lives in: Durango, Colo.
What's your history with conservation? I spent 37 years with the U.S. Forest Service, working throughout the U.S., "caring for the land and serving people." I worked in civil/geotechnical engineering, in management and in partnerships, grants and agreements. One career highlight was being part of an effort that allowed the San Juan National Forest to acquire a key piece of private land within the East Hermosa Creek landscape, making it possible for restoration efforts of the native Colorado River cutthroat trout to broadly expand.
What is your history with fishing? After retiring three years ago, I became totally obsessed with all things fly fishing. That. Is. All.
I believe that many of life's greatest accomplishments begin one-on-one, one relationship at a time.

Pauline Ellis
Our membership and representation aren't reflective of the diversity in the fishing and river-loving communities. How has the lack of diversity in fishing and conservation impacted your enjoyment of those activities? Occasionally there is the dwebe you find on the river that parks in your hole and casts on top of your line, leaving you to wonder if they did it on purpose because you are an old, squatty, Asian fish mom. Heck, I'm not going to let him ruin my day! I truly believe that most folks will treat you well if you treat them right. I am lucky to be surrounded by fly shops, guides and anglers, many of whom accept and embrace diversity. Regardless, I will do what I love, and I am not going to let anyone permanently steal my opportunity to experience that joy.
What does 'giving back' mean to you? None of our actions occur without impact. I think of 'giving back' in terms of mitigating my impact and others' impact to the natural environment. Examples would be cleaning our water of others' disgusting trash, volunteering on habitat improvement projects, and educating youth so the next generation will rid of "the sins of today," and be prepared to carry on a legacy of clean water and healthy landscapes for all.
What are your secret skills? I can sew your name, in cursive, on the back of a pair of Mickey Mouse ears with the single stroke of a special machine by just making circles.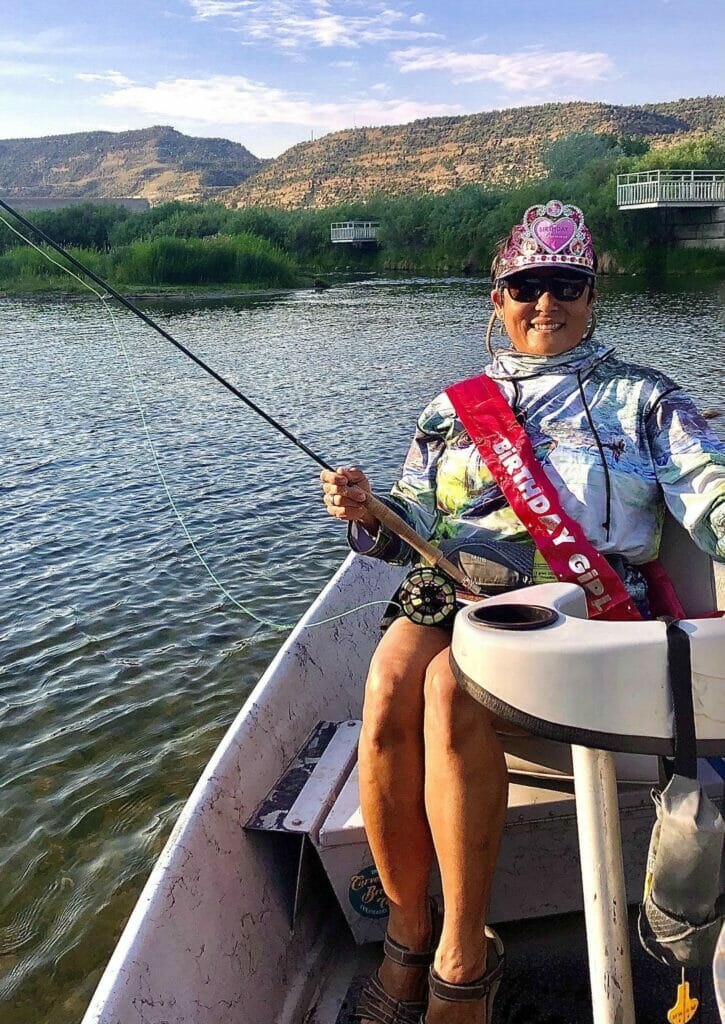 If you could give advice to your younger self, what advice would you give? In the long run, no one will give a rip if you get "exceeds" on your performance appraisal. Go live. Go love. Go fish.
How can the average TU member can show up as an ally to communities that are traditionally underrepresented in the fishing and conservation world? I believe that many of life's greatest accomplishments begin one-on-one, one relationship at a time. It can feel difficult, scary, or risky to reach out to someone, especially if it is someone who is "not like me." Here are examples of folks who have reached out to me at exactly the right time in my fly fishing journey:
A past resident of our local TU chapter offered to take me to the San Juan Quality Waters. I was not in TU at the time and we were total strangers. So much learned, and so many fish touched that it gave me hope and a glimpse of what kind of angler I could possibly aspire to be.
A guide I floated with once on a group trip later reached out to me because "he needed a guinea pig" (although I know he was actually being kind). Through observation and osmosis, and subjecting him to unending questions while he was stuck in a boat with me, not only did I grow my angling skills, but I also discovered a love and appreciation for just being: Just being in a beautiful moment, on beautiful water, with beautiful people. I discovered this part of fly fishing that I truly covet, the part that has little to do with fish in the net. It all leads me back to the water over and over and over again.
If any of these key one-on-one encounters had not occurred, it is very possible I would have thrown in the towel and would never have discovered my love for the fly. I don't believe that any of us are "average TU members." Each of us have much to offer. Take a chance. Reach out. Share your passion. You may just be surprised by how much your have in common with folks that seem so different from you. And you just might end up making best fish friends!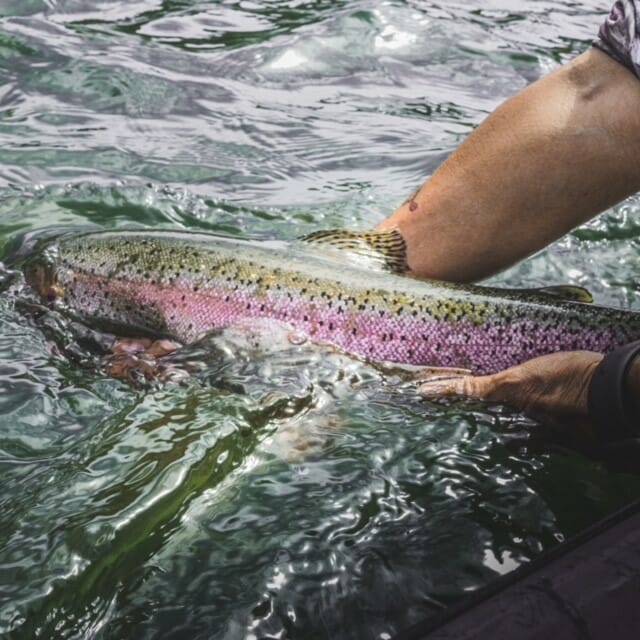 What is an example of something awesome you've seen that helps make conservation or fishing more inclusive to new groups of people? I'll use my own story. I'd wanted to fly fish forever. I took classes. I bought equipment. For years, I was totally intimidated to get on the water until a local women's fly fishing group was formed. Through that group, I was able to meet other women who fished, go on group floats and wade trips, and find others (men and women) who were willing to share their love of the fly with an oddball beginner like me. I now fish with friends, fish alone, at times still intimidated, not always catching, but I'm out there, on the water, doing what I love and mostly feeling like I belong. And the greatest thing is that it is no longer unusual on my home water to see gaggles of women anglers fishing and catching, together or alone. Belonging.
Name a person you admire. Why do you admire them?  Mirna Valerio, "The Mirnavator." Look her up and you will know why.
Why Trout Unlimited? Conserve. Protect. Restore. Amen!
If you want to join Pauline and grow the community and work of Trout Unlimited, we encourage you to join us! For a discounted first-time membership, click here: https://gifts.tu.org/we-are-tu