Hunter Klobucar holds up a "trophy" piece of trash collected during a fishing trip in Pennsylvania. Courtesy of Hunter Klobucar,
Founders were inspired to create 'Clean Earth Bag' after witnessing litter issues on too many fishing trips
By Cliff Watson
What started with the simple act of picking up a flyer at a fishing show evolved into the formation of a Trout Unlimited Costa 5 Rivers club and the creation of a company focused on cleaning up the environment.
Hunter Klobucar was at an outdoor expo before he started school at Edinboro University in Pennsylvania and had been handed a flyer about the 5 Rivers program at a Trout Unlimited booth. Once at Edinboro, Klobucar soon became friends with Tyler Waltenbaugh and they wondered why there wasn't a fishing club at their school.
Klobucar dug up the flyer and, with strong support from the school and 5 Rivers staff, it wasn't long before the two started the Edinboro 5 Rivers Club. The club is part of Trout Unlimited's Headwaters youth initiative program and was created to teach college students leadership skills, promote conservation and build community through the sport of fly fishing.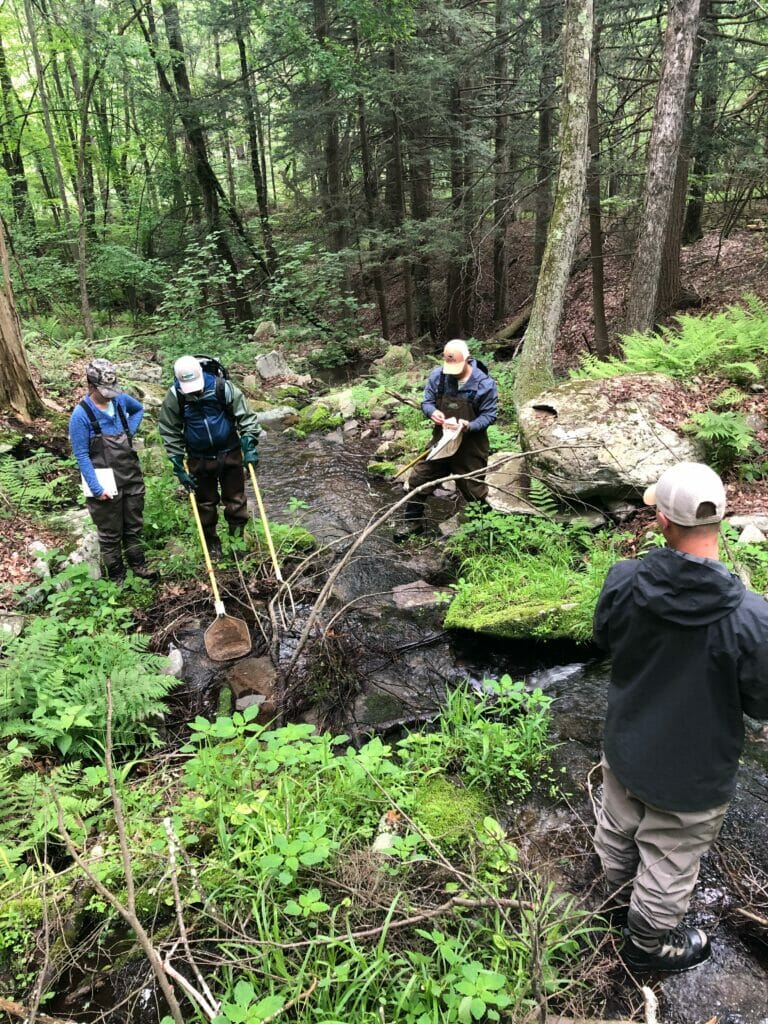 By the end of its first year, the Edinboro club had more than 80 members. It was during a trip the two made through the club in 2018 that started the idea to start a company. The Pennsylvania Brook Trout Odyssey was a three-week journey across the state to try and better understand the story behind native brook trout from the perspective of anglers, scientists and conservationists.
During the trip, the group was dismayed by the amount of trash left by people, even in the most remote locations.
Klobucar and Waltenbaugh talked about the issue and realized there wasn't an easy way to haul out the trash. The Clean Earth Bag is the result of those conversations. Furthermore, they noticed there wasn't a voice in the industry advocating for the removal of plastic in freshwater resources, so they launched the idea of Fish Gods.
"A lot of anglers use the phrase 'Pray to the Fish Gods' for a good catch or fortune. We thought it was a perfect fit for our company," Klobucar told EdinboroNow. "If you clean up your waters, protect your waters, they'll bless you with a good catch. We want to be the voice that unifies companies in society to make a change. We want to be that company that makes a change."
Waltenbaugh added a little perspective to the bold name in the EdinboroNow story.
"The name comes from ancient ties to Hawaiian culture. It has been adapted down through the generations," he said.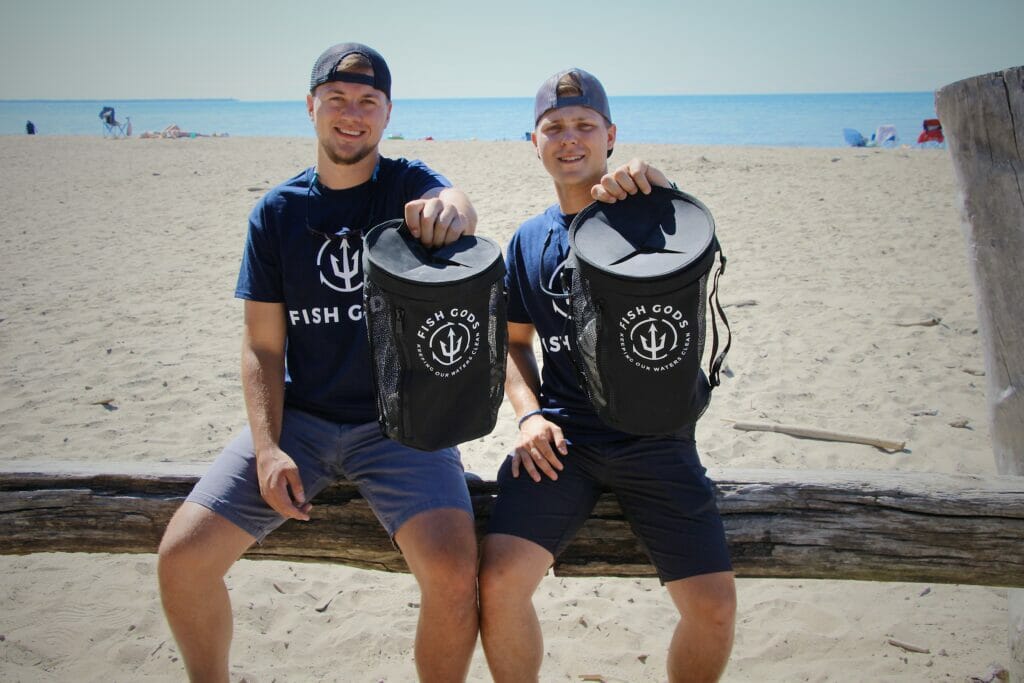 The Clean Earth Bag is a durable and reusable bag for outdoor enthusiasts who want to help clean the planet. A big boost in the Fish God efforts came when they submitted their idea as part of an application to a 10-week business start-up competition through Ben Franklin Technology Partners. They were accepted and won first place and $5,000.
After that Fish Gods went from an idea on paper into an actual working company. Now, having completed a successful Kickstarter campaign, selling nearly 700 bags in 50 states and 17 countries, they are excited to start shipping bags this summer.
These guys provide a great 5 Rivers success story and they have some advice for students in clubs across the country.
"Take your club as seriously as possible and beyond fly fishing. If Tyler and I hadn't devoted the time we did to building our club we wouldn't have had some of the best experiences imaginable in college," Klobucar said. "It goes beyond building a fly-fishing club. You have to open it up to all demographics – you have to get women and beginners in your club. Ensure students know they don't have to have knowledge about the sport of fly fishing to get involved. Extending the club to everyone if critical."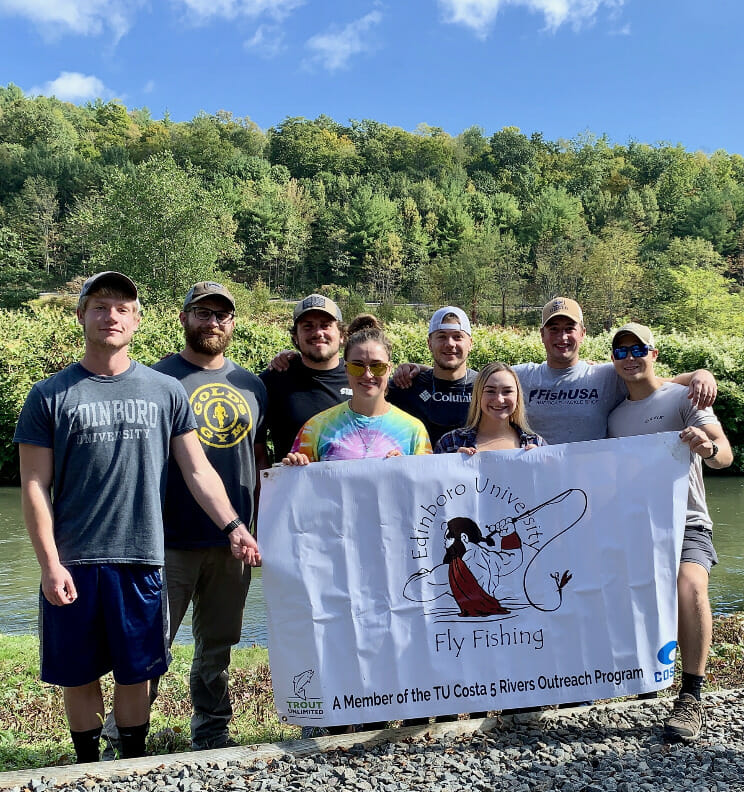 The Edinboro club continues to teach the basics of fly fishing, hosts kids fishing days in the community, plans conservation events and organizes trips for members. Klobucar and Waltenbaugh are a little busy starting a company, but the new club president, Jesse Doubet, is keeping the Edinboro 5 Rivers club focused on the original goals. Doubet is also serving as a Fish Gods intern.
The Fish Gods story is of two students who took what they learned starting a 5 Rivers club and then used that knowledge to launch a company of their own. The example of these students should put a fire in the belly of 5 Rivers club members across the country. Thank you Hunter, Tyler and Jesse for creating positive change not only for the world, but for all the rivers and streams we share.
Cliff Watson is a senior at the University of Colorado – Boulder and is working as the current TU Costa 5 Rivers intern. He's off to guide at Angler's Alibi in Bristol Bay this summer but will be back to the position in the fall.