Fall colors and plump berries are here. As we adjust to new school routines and chillier weather, we still want to prioritize time outside before the snow flies. While you and your family think through fall outings, we would like to encourage you to take a trip to the Eklutna River valley – a prime spot for blueberries and all the autumnal hues, as well as the location of a salmon renaissance in the making.
Click here to view and download a family field trip for the Eklutna River watershed put together by Trout Unlimited so that your family can learn while exploring the area.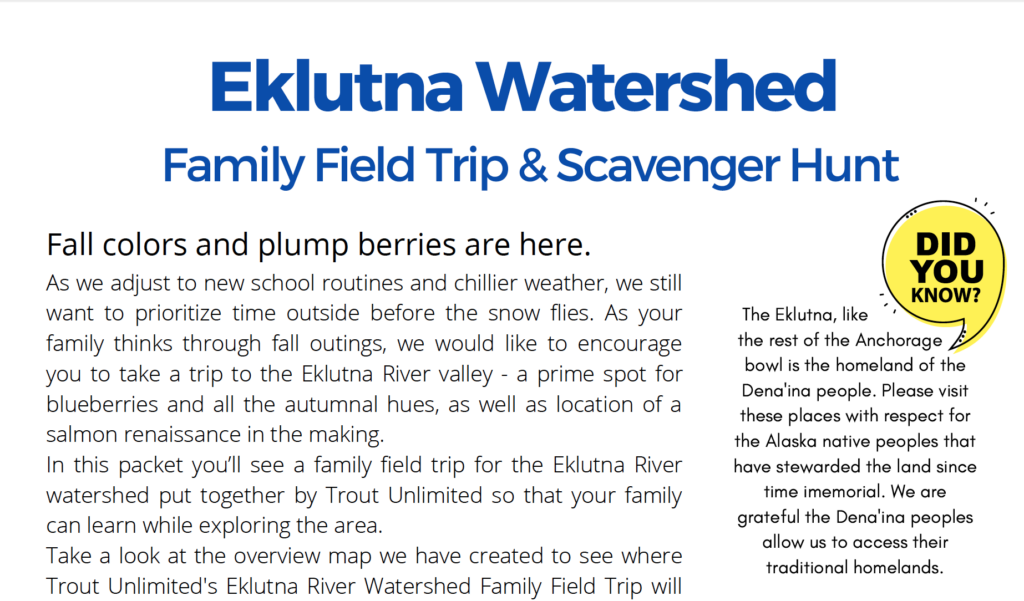 Take a look at the overview map we have created to see where TU's Eklutna River Watershed Family Field Trip will take you here. Then put on your outside shoes and a hoodie, grab the dog and some snacks, and head toward Eklutna!
As you move through the day, you'll learn the rich history of the area, how the water is used and experience one of Chugach State Park's gems. For more about the restoration of the Eklutna River visit our website here.
Share your photos with us!
The Eklutna River valley is Alaska and we want to share it, and the opportunity to return salmon to it, with residents of Southcentral. Help us spread the word by sharing your favorite photo from your Eklutna adventure in our photo contest! We love to see photos of Alaskans exploring the Eklutna area and love to share your photo with others. Please forward photos to Ebooton@tu.org or tag @troutunlimitedalaska on Instagram.
Enjoy your Eklutna outing! We look forward to seeing your photos.
Download Trout Unlimited's Eklutna Watershed Family Field Trip & Scavenger Hunt here.