By Matt Green
People sometimes have a hard time understanding how planting willows along a creek 800 river miles inland helps fish that live in the ocean.
It is all about the spawning, and eventual rearing habitat, as a dozen Leadore High School students and two teachers learned while volunteering their efforts on a restoration project not far from their school in northeastern Idaho. The public will also get a chance to learn about the project from a new set of interpretative signs at the sight.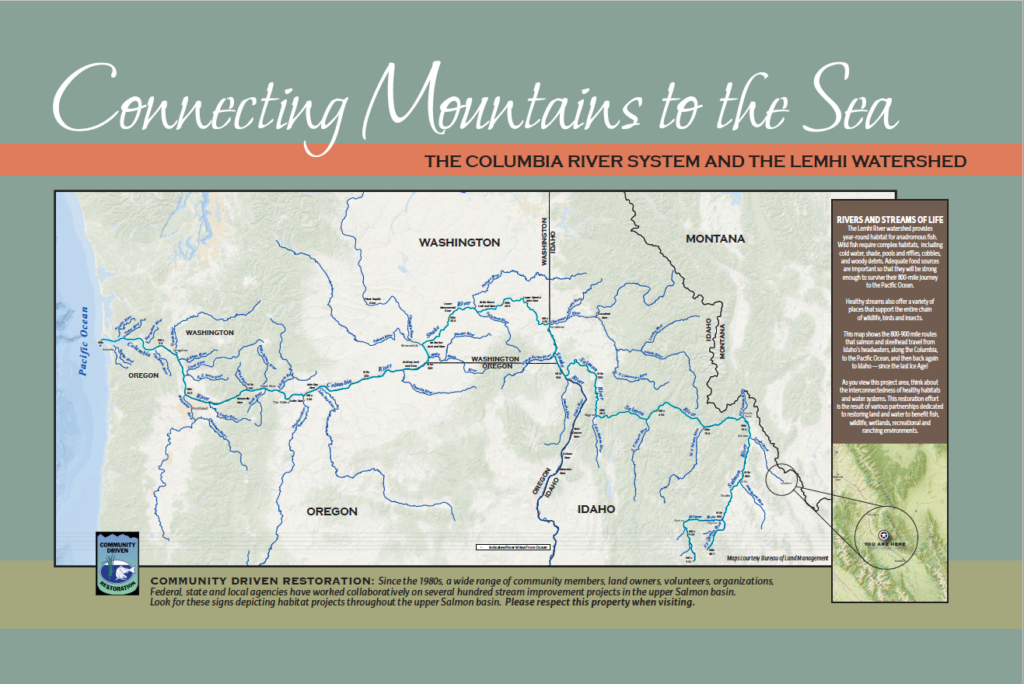 The students braved cool early November temperatures in 2018 to help plant native seed on five acres along newly created stream channel.
Trout Unlimited — along with landowners, Upper Salmon Basin Watershed Program, Idaho Department of Fish and Game, Natural Resources Conservation Services and Lemhi Soil and Water Conservation District — had, a month earlier, carved a natural channel from the origins of Indian Springs to nearby Sawmill Creek and then improved a portion of the down-stream channel. Special thanks to Finnian McConnaghy, a student at the high school, for helping organize the effort.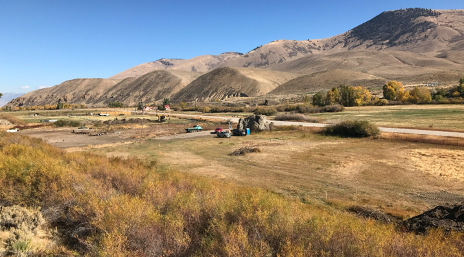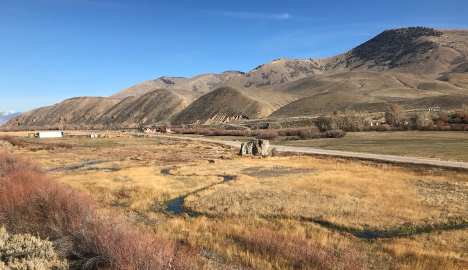 Sawmill Creek is a tributary to the Lemhi River. The Lemhi River watershed is one of the highest elevation and farthest inland reaches for fish migration in the world, as the new signs point out. The watershed is also one of the most important spawning and rearing habitat areas for salmon and steelhead in the Columbia Basin.
The native seeds and willow cuttings the students planted will create good habitat for a variety of fish. Juvenile steelhead and chinook salmon will use the new area, along with mountain whitefish, bull trout and rainbow trout.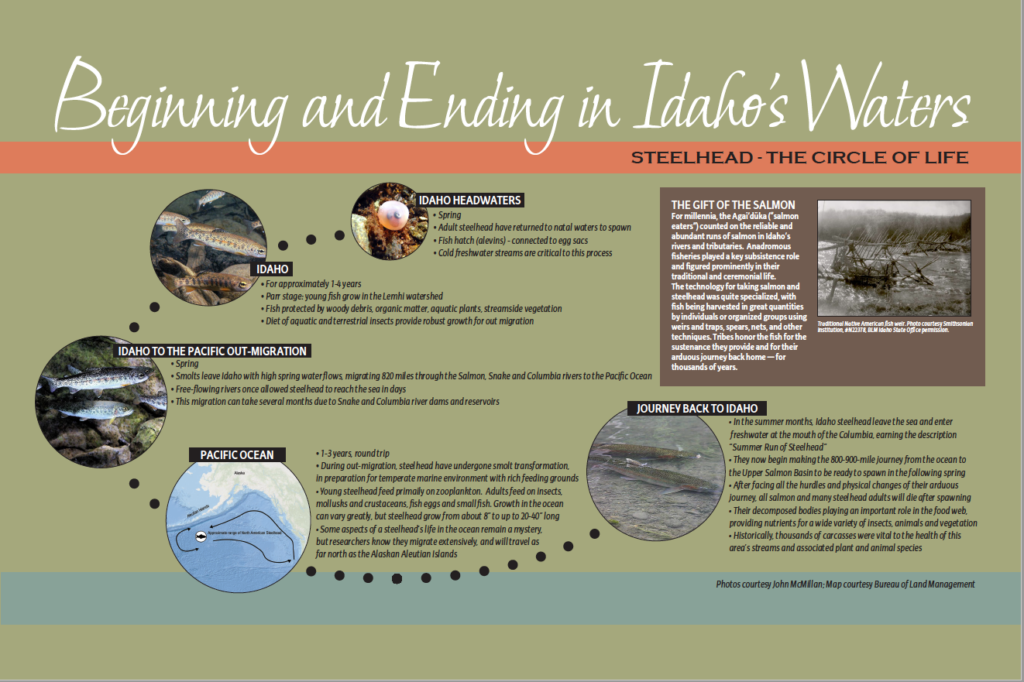 Information kiosks about the work and the story of the fish that will benefit from the improvements are being hung this month at the site. Funding for the interpretive signs was paid for by The River of No Return Trout Unlimited Chapter, the Bureau of Reclamation and Lemhi Regional Land Trust.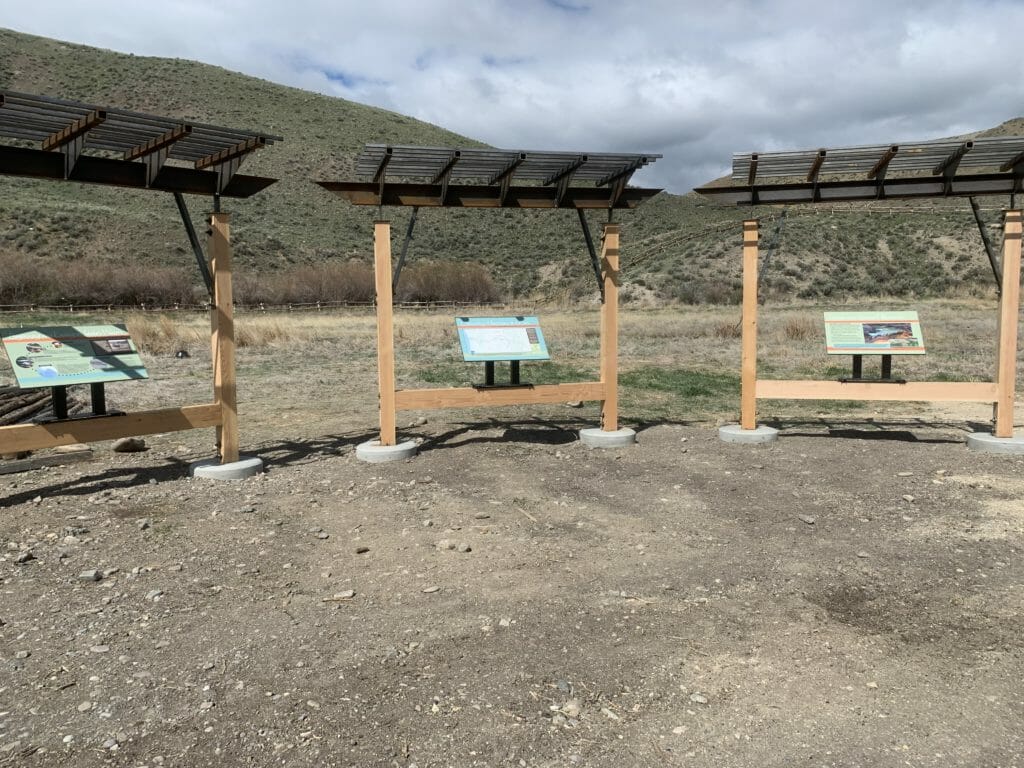 This restoration site was on a stream segment in the Salmon area and one of the many that TU and local ranchers have worked on together to benefit salmon and steelhead," said Terry Myers, president of TU's River of No Return chapter. "So many folks drive this highway and never even realize that Idaho's amazing salmon and steelhead migrate to these waters. The Embrace a Stream grant was a great way to assist with the actual restoration work and to help publicize the positive relationship TU continues to have in our local community."
Money for the overall project came from Natural Resources Conservation Services, Bonneville Power Administration and Pacific Coast Salmon Recovery funds.
Matt Green is the Idaho Water and Habitat Program Upper Salmon Project Manager for Trout Unlimited. He is based out of Salmon.