Many of us know that like painting, fishing is an incredible art that has the power to tell stories of ecosystems, landscapes and cultures. In Alaska, we are lucky to have partners who are passionate about both.
Spelman Evans Downer, a Cooper Landing-based artist and former fly fishing guide, has been working on a set of paintings that reflect the Bristol Bay landscape, and how the proposed Pebble Mine threatens this incredible network of land, water, people and fish.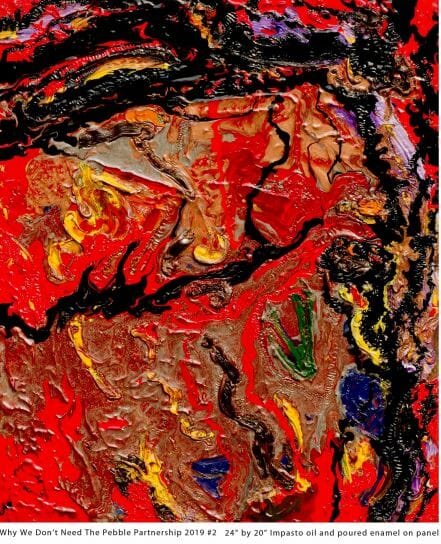 Downer is hosting gallery opening and closing events in Cooper Landing on Saturday, Oct. 5, and Sunday, Oct. 13 from 2 to 6 pm at Gallery Turquoise, North (Mile 49.5 of the Sterling Hwy) to showcase his work. Trout Unlimited Alaska program staff will be in attendance to provide an update on the Pebble proposal and how TU is leading efforts to stop Pebble from advancing.
Curated by William L Fox, Director of the Center for Art and Environment at the Nevada Museum of Art, 25% of sales will be donated to Trout Unlimited's Save Bristol Bay campaign to assist with efforts to stop Pebble.
Spelman Evans Downer is a former fishing guide on the Kenai River, and has lived in Cooper Landing for nearly 30 years. A fine art painter and photographer, Downer's paintings come from aerial photographs, satellite images, maps and site visits. To learn more about Downer's work and history in Alaska, visit https://www.spelmanevansdowner.net/.
Additional viewings of the gallery can be arranged through Downer at 760-401-9018.