I would generally advise not spending the day before you head to Canada for a week long fishing trip with your 13-year-old son, and other TU supporters, in another state. But that is what I did the week before last.
If you worry for the future of our country, attend next year's Pennsylvania Rivers Conservation and Fly Fishing Camp, or any other TU conservation camp, for that matter. It will restore your hope. I asked the 30 or so teenagers at the Pennsylvania camp, "How many of you plan to become involved in conservation?" Every kid raised their hand. They were smart, articulate, and most important, passionate and clear-eyed about the role they need, and want, to play in helping to protect the lands and waters our great nation depends on.
This year's Pennsylvania camp was particularly special as Adam Beede, who started a TU Costa Five Rivers program at Western State Colorado University, and who directs this year's Colorado TU youth camp, won the prestigious Dr. Robert Behnke award. The award is given by the Pennsylvania council to a graduate of a TU youth camp that has done the most to further the cause of conservation. This was particularly poignant for me as I recall Adam's words from six years ago when he attended his first Colorado TU camp, and later wrote, "One organization, and one special group of people provided me with a feeling I hadn't felt in an awfully long time; happiness. Because of TU Summer Camp, I found my lost life, and unraveled a lifetime of memories."
Feeling charged up, but nervously thinking about my unfinished packing for Canada, I headed from the Pennsylvania camp to Tower City, Pennsylvania to meet John Shollenberger. John is the finest fly-tier in America that you have never heard of. The reason for his anonymity is that of the tens of thousands of flies he's tied since he returned from the Korean War and took up tying, he has never sold a single fly in 60 years. That is not to say his work is not valued: a dozen of his size 32 gnats sold at a charity auction for over $500; a single praying mantis for $600; a collection of 20 for over $2,000. You get the idea. John is immensely gifted, and even more modest.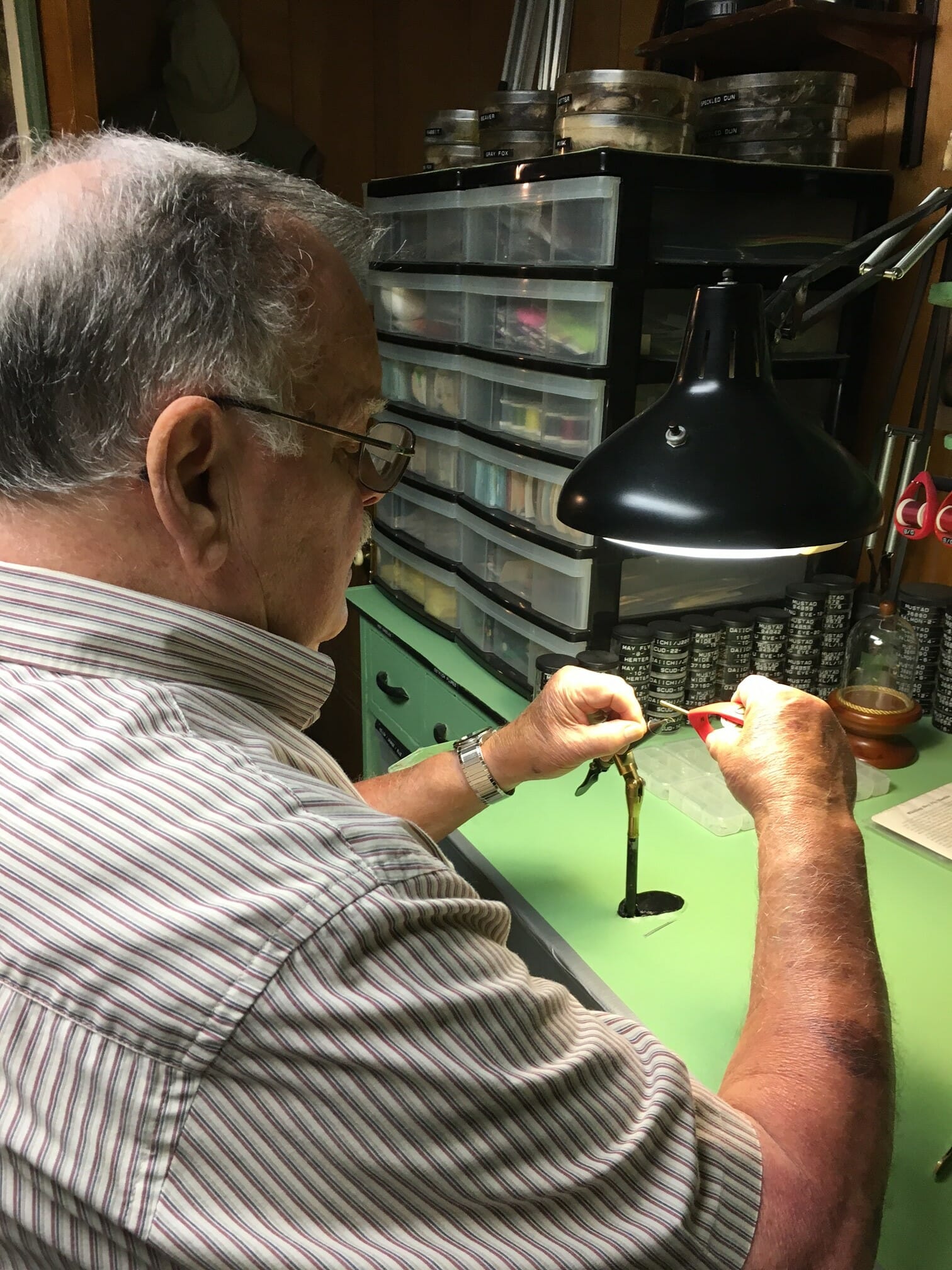 John gave me a few of his size 32 hooks in a glass vile. When I showed them to Wylie, the night before our trip to Canada, he asked, "Where are the hooks, Dad?." John won the Buz Buszek Memorial Fly Tying award from Fly Fishers International in 1976. Other winners include fly-fishing luminaries such as George Grant, Dave Whitlock, Helen Shaw Kessler, and Art Flick.
I went to see John, after his spouse, Joanne, without John's knowledge, wrote me upon receiving a TU life member appeal addressed to John. Joanne explained how John had donated tens of thousands of dollars worth of flies to TU and FFF chapters, veteran's organizations, and many others. Lefty Kreh said of John, "I've never known Johnny to take money for a fly, I've known him for years, and as far as I know, he's given away every fly he ever tied."
After hand delivering a Life Membership to Trout Unlimited to John, and a wonderful dinner by Joanne, I got back on the road, and reflected on the day. I sometimes worry about our nation's collective sense of forgetfulness. The passion of the kids and the TU volunteers at the Pennsylvania conservation camp such as Rod Cross and Mike Klimkos, and the generosity and good-will of John and Joanne are a tonic for the soul, and a reminder of what truly makes America great.
And yes, we caught many walleye and pike in Canada!