Photo by Eric Crawford.
TU has worked for years to restore salmon and steelhead, and a dam-removal proposal is in the works
American Rivers today named the Snake River America's No. 1 Most Endangered River of 2021, pointing to perilously low returns of Snake River salmon and steelhead, and the urgent need for lawmakers and communities to come together to develop a comprehensive economic revitalization plan. The plan, according to AR, should not only invest in salmon recovery and honor national obligations to Native American tribes, but also invest in clean energy, agriculture, technology, and tourism.
"The America's Most Endangered Rivers report is a call to save rivers in need of urgent action," said Tom Kiernan, president of American Rivers. "We're facing a critical choice on the Snake River. We can either stay with the status quo, which means failing salmon runs, more costly litigation, increasing energy insecurity and broken promises to tribes. Or we can choose to invest in salmon recovery and infrastructure solutions that create a future of abundance and prosperity for the region. We think the choice is clear, and we're calling on the Northwest congressional delegation to take action now."
Once the largest salmon producer in the Columbia River Basin, today Snake River salmon and steelhead runs are at the brink of extinction. The loss of salmon is a crisis for the entire web of life, from black bears to southern resident killer whales. It is also an existential threat to Northwest tribes who depend on the fish for their cultures and identities.
"Salmon are critical to the cultural lifeways of Columbia-Snake River Basin tribes, like my own people of the Confederated Tribes of Warm Springs, Oregon, and are integral to regional identity, economies, and even the orcas and the Puget Sound," said Alyssa Macy, CEO of Washington Environmental Council / Washington Conservation Voters. "Removal of the four dams is a once-in-a-lifetime opportunity for salmon restoration that will benefit Tribal Nations, local economies, environmental ecosystems, and the Southern Resident Orca population for generations to come."
Scientists say that removing four dams on the lower Snake River in eastern Washington must be part of a Snake basin salmon recovery plan. It is estimated that by 2080 the Snake River Basin will provide two-thirds of the coldest, most climate resilient stream habitats for salmon and steelhead in the contiguous United States. U.S. Rep. Mike Simpson (R-ID) has proposed a $33.5 billion framework to remove the dams, recover salmon and steelhead and revitalize the region's infrastructure and economy.
American Rivers and Washington Environmental Council called on the Northwest congressional delegation to build on Rep. Simpson's proposal and advance a comprehensive salmon recovery solution that includes lower Snake River dam removal, as well as robust job-creating investments to replace the dams' energy, transportation and irrigation services. This critically important legislation must be included in President Biden's national infrastructure package.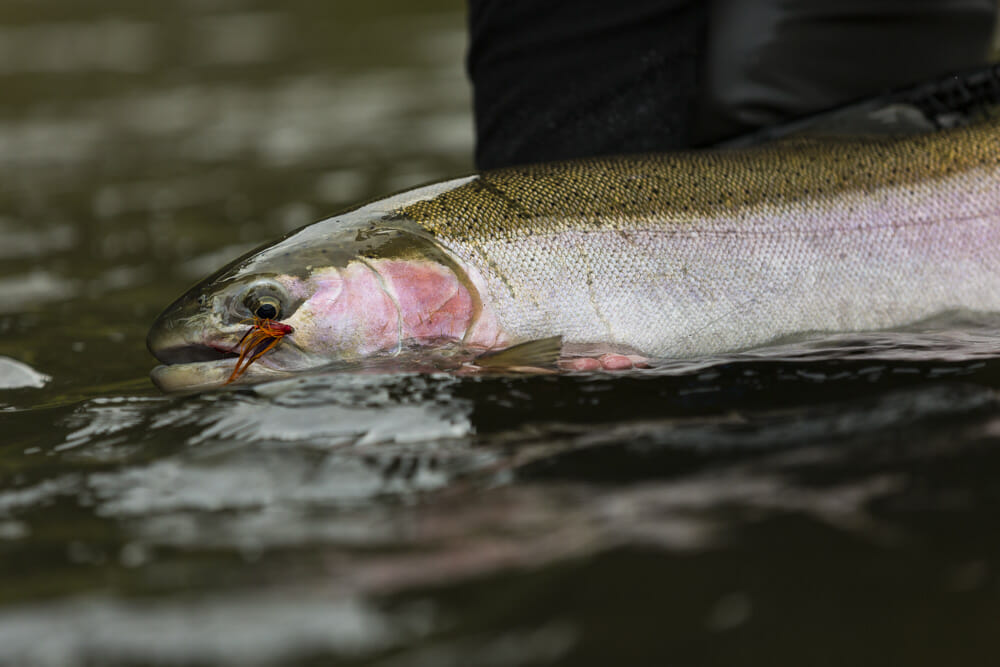 "Snake River salmon and steelhead are on the brink of extinction, with barely 20 years left," said Greg McReynolds, the Northwest region director for Trout Unlimited. "The good news is, we know how to fix this, and we have a bold proposal to do just that from Congressman Simpson. We can rebuild our northwest economy, lift all boats and save Snake River salmon and steelhead by investing in a free flowing river."
Trout Unlimited has been working for collaborative solutions for Snake River salmon and steelhead recovery for decades, including participating the ongoing working group created by Gov. Brad Little.
"Over the last 40 years, we have tried every other solution, including spill, hatcheries, barging and predator control," McReynolds said. "Despite all this, our salmon and steelhead numbers continue to fall. The science clearly shows that it's time for the aging, fishing-killing, lower four dams to come down."
The Snake River is the largest tributary of the Columbia River, flowing more than 1,000 miles from its headwaters in Wyoming to the confluence with the Columbia at the Tri-Cities in Washington. The Snake Basin is home to 50 percent of the current cold-water habitat for Pacific salmon in all of the lower 48, and once produced 40 percent of the prized chinook salmon and over half of the steelhead in the Columbia River Basin. Now, salmon and steelhead runs returning to Idaho, above the four dams on the lower Snake River, aren't strong enough to sustain their dwindling populations. Time is short.
The lower four Snake River dams do not provide any flood control and they generate only 1,000 megawatts of electricity per year, mostly during spring runoff when the power is not needed. Removing the dams and replacing the limited benefits they offer with solid investments in the Northwest power grid and transportation infrastructure ensures salmon and steelhead will always be a part of the region's cultural and economic tapestry.