By Mark Taylor

During her hundreds of days wearing an electrofishing backpack in Pennsylvania, Kathleen Lavelle has searched for trout in just about every kind of stream, from tiny trickles to plunging, boisterous mountain rivers.
But on a day in August 2019, she experienced something new.
Lavelle and her crew were shocking fish in a road.
To be clear, it was a road that had become a stream when the original creek blew out of its banks and followed the proverbial path of least resistance.
On that warm summer day in 2019, a TU construction team was preparing to re-route the flow back to where it belonged and didn't want to leave any fish high-and-dry.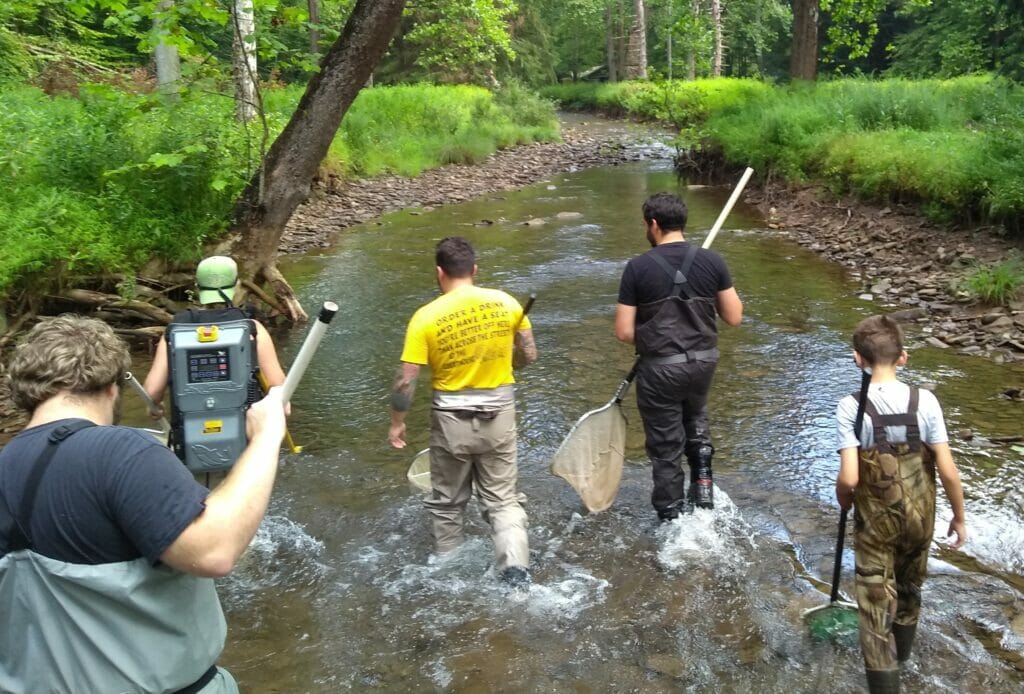 The fish rescuers were busy.
"I think we moved at least 1,000 fish," Lavelle said.

Hammersley Fork is a tributary to Kettle Creek, one of the Keystone State's outdoor gems. It's a designated Class A trout stream with a mix of wild brook trout and brown trout and attracts good numbers of hardy, skilled anglers from near and far.
The stream is within the Hammersley Wild Area, a 30,253-acre wild area in the Susquehannock State Forest in Potter and Clinton counties. The area actually once had a small logging community, and then in the 1930s was home to a Civilian Conservation Corps camp.
"The anglers, hikers, hunters and outdoor enthusiasts who have visited or studied maps of Kettle Creek notice the Hammersley Wild Area looming large, public and roadless," Lavelle said. "To the ones who know Hammersley more personally, well, they probably won't tell you anything.
"One thing that has been evident over the last few decades, is the lower portion of Hammersley was in need of help."
Jake Tomlinson, TU's Pennsylvania Habitat Program manager, said heavy rains contributed to the stream's re-routing.
"In the 90s and early 2000s, some big tropical storms and hurricane remnants came through the area and started wiping out a bend near the Beech Bottom Trail," Tomlinson said. "It started to engage the road that was in place to access the old CCC camps. 
"Over time, the road became the main channel."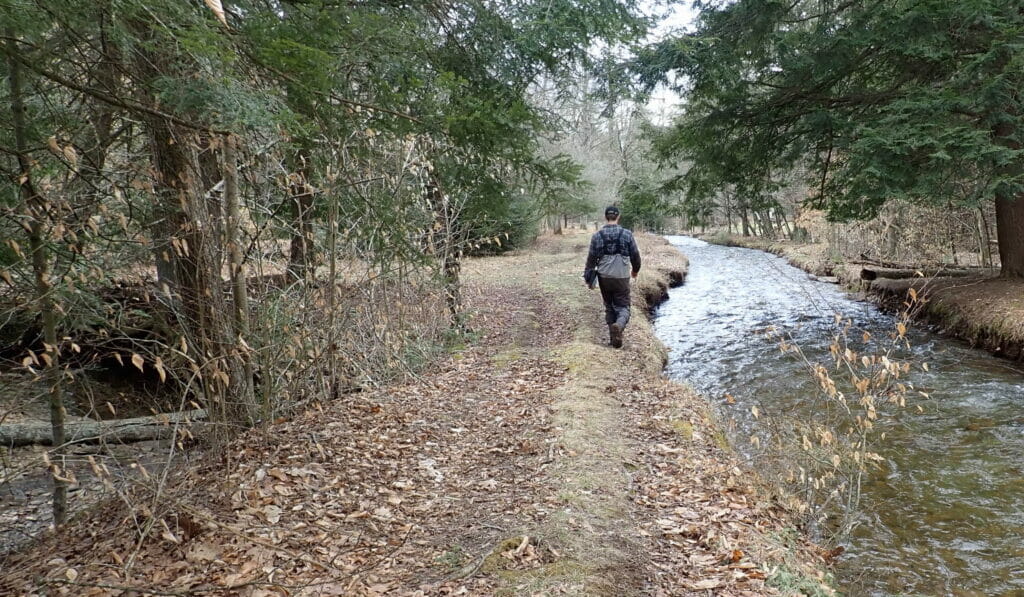 Fixing the damage had long been a priority for TU and other groups, including the DCNR Susquehannock Forest District, Pennsylvania Fish and Boat Commission and the Kettle Creek Watershed Association. However, legal debates over land ownership between the state and private individuals delayed the project and, because there was not a gate on the "road," individuals were still using it to access the area.
"Because access to the area was not limited, folks were able to continue driving jeeps, trucks, and off-road vehicles deep into the wild area," Tomlinson said.  "Over time the rutting caused by this was easily eroded during storm events, continually making things worse"
TU stream restoration specialist Phil Thomas designed the project in partnership with the Kettle Creek Watershed Association. 
"We completed the design and permitting in 2016," Thomas said.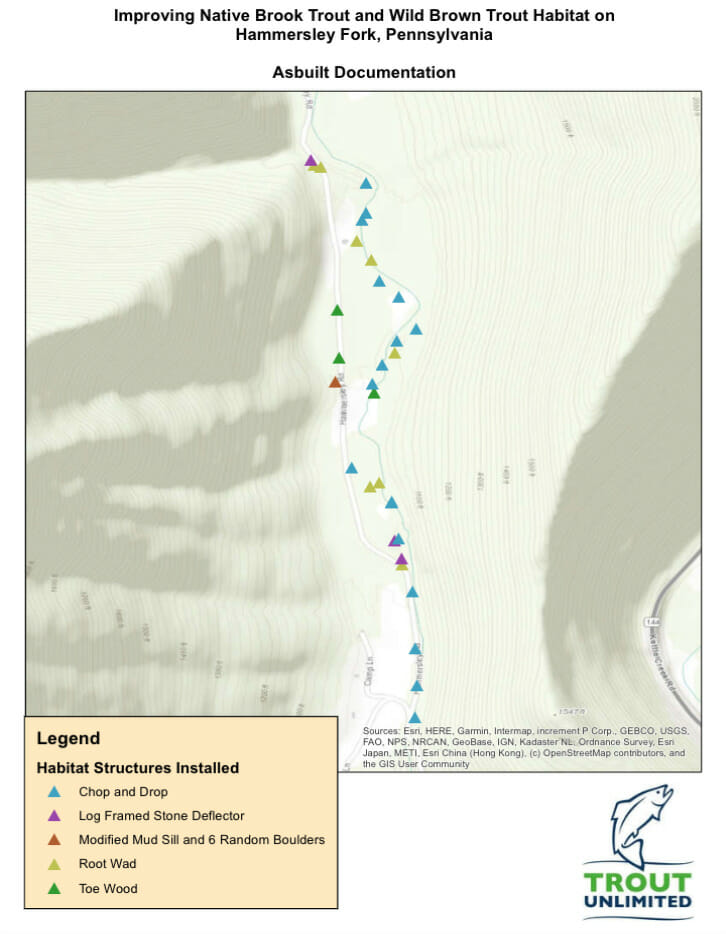 By 2018 the state had made advances in resolving the land ownership dispute and TU went to work finding funding to complete the project. 
"It was happenstance that we were able to design other projects in the watershed under budget and then worked with our partners to divert funding to this project," Tomlinson said. "After years of looking at this issue and not being able to do anything about it, the green light came in 2019."
The key was to re-establish the blown-out stream bend and to divert flow back to the original channel.
As large equipment hummed while Thomas and TU technician Danny Brumbaugh worked to build the channel block, the road began to become de-watered. As the original channel filled with water, revealing fish habitat that was long dry, TU field crew members and volunteers ran with buckets of fish from the road to their new home.
"I think we got 15 different species and more than 1,000 total fish," Lavelle said.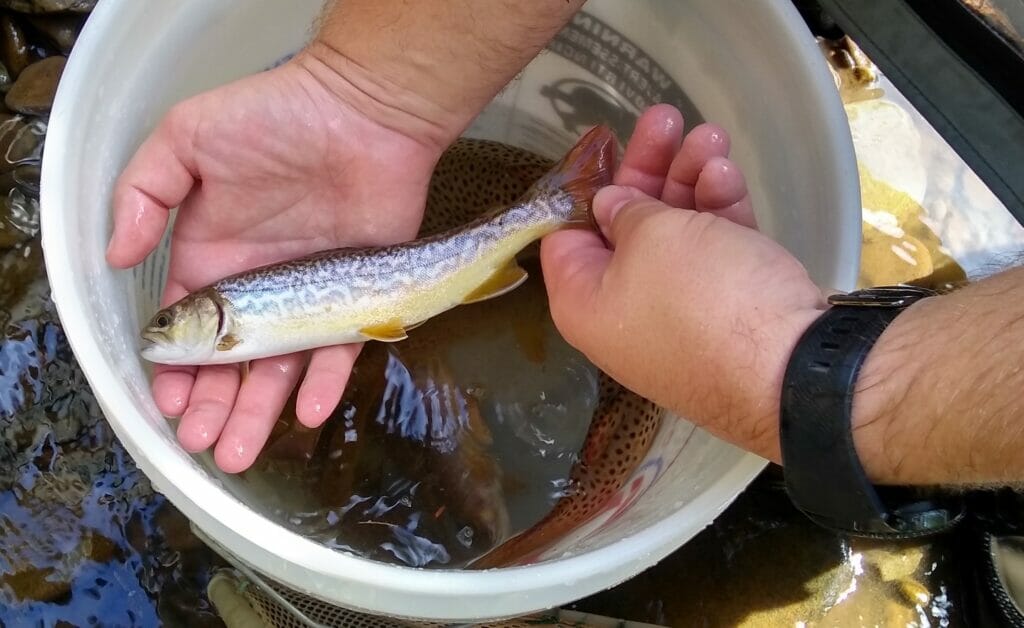 Brook trout were the dominant salmonid, but there were also some nice browns. One of them taped out at 23 inches.
In addition to the diversion, Thomas and his team stabilized eroding banks and enhanced habitat in over a mile of the creek.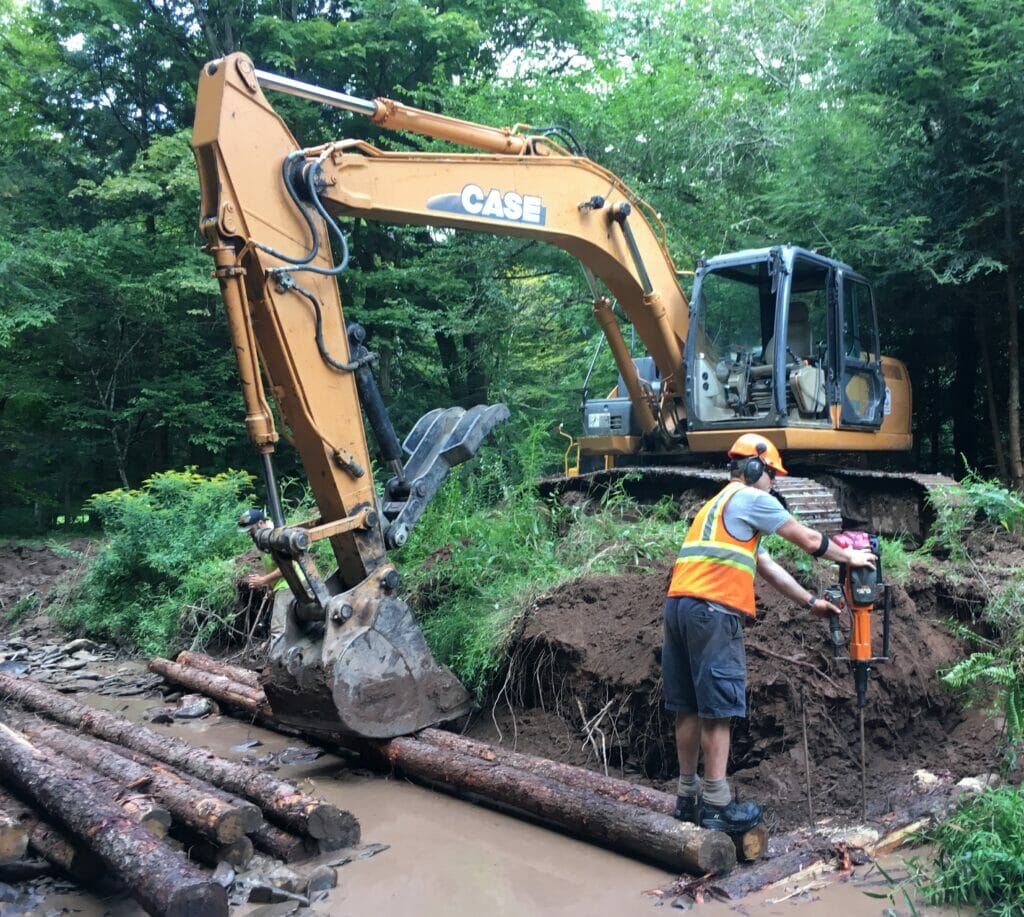 TU used a combination of constructed permanent structures like root wad revetments and the commonly used chop-and-drop technique, which entails cutting trees that fall into the stream. The 33 structures added will not only improve habitat but will reduce erosion, reducing sedimentation by an estimated 20,000 pounds annually.
TU hosted two site tours in the months immediately after the project to show off the work and to thank their partners. 
 
Lavelle recently returned to the project site, a year after the work was completed. 
Because of groundwater influences, the road channel remains a bit damp in some places, but the stream itself is now back where it belongs.

The flowing section is again filled with trout and other fish, which are back where they belong, too.