Our good friend Geoff Mueller who's an author, editor and migratory gear geek is spending the summer living in Dutch John, Utah, perched in his camper above the A section of the Green River. He and his wife Kat who manages Western Rivers Flyfisher and Guide Service are as hardcore as it gets on the fishing and boating front and know a thing or two about gear, so I trust trust them implicitly. When they rave about gear, they know what's what. Check out Geoff's thoughts below on Yeti's "tackle box upgrade" for his boat and their water cooler of choice when living in the desert on one of the most famous trout rivers in the U.S.
---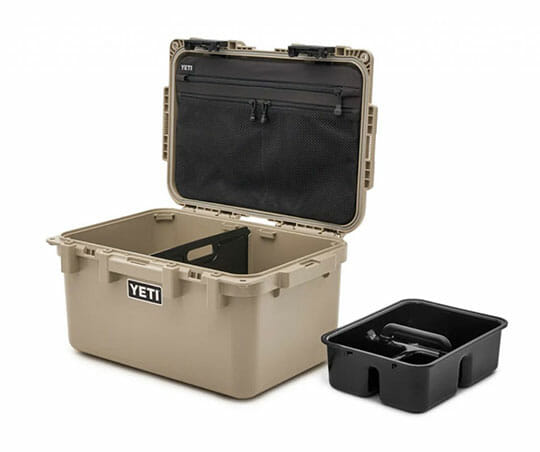 YETI LoadOut GoBox
Every fishing endeavor comes with its own set of limits that determines what gear goes and what gets sidelined. There's the stuff we need to survive — like food, water and shelter. And because there's fish to be caught, there's a whole other spectrum of mandatories to solve before boats get launched and rods get bent. Yeti's LoadOut GoBox makes sense of the mess, giving anglers a medium-size dose of smart organization that fits neatly into almost any adventure.
It isn't a tackle box — specifically. But it meets all the criteria in a big way. Inside my raft, which holds barely two humans and a dog, it functions as a deft dry box (bonus, it floats), with a removable caddy inside for stashing floatant, hemos, leaders, tippet and other fishing requisites. The middle divider forms a good-size berth for a lightweight shell and gloves on one side; while the other houses spare reels, fly boxes and an extra pair of shades. Inside the lid, a zippered mesh sleeve carries fly lines, licenses, snacks and all the "essential" tech I conveniently keep on mute while fishing. The whole enchilada can get heavy at full capacity, but that's my doing, and the ergonomic side handles make it convenient to handle, no matter what ingredients I stuff inside.
Bottom line, if you're looking for a hard-working carryall for protecting precious cargo while in the water or en route to it, the Yeti LoadOut GoBox is a tackle box upgrade that's hard to kill and well worth the price of entry.
---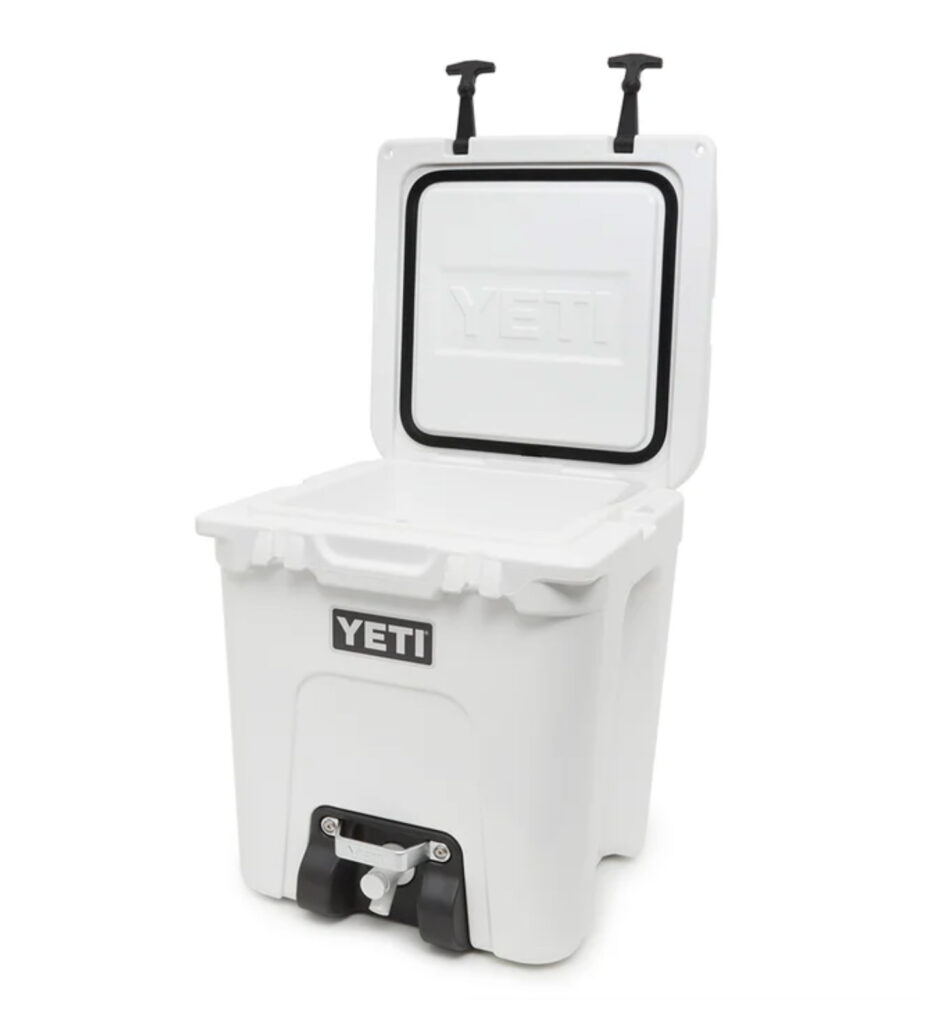 YETI Silo 6G
Water may not be your drink of choice for the post-fishing campfire sesh, but we know from experience it does a body good the next morning. The burly, voluminous YETI Silo 6G has your regularly scheduled intake covered. Like the company's over-engineered coolers this tank is built to go to battle. Ample roto-molded insulation keeps your supply cold in the blistering heat, the push-button spigot provides a quick pour in a pinch, and the hardworking, heavy duty design means it goes the distance — no matter where you go.
For our semi-permanent camp at 6,500 feet, it's a clutch ally for a pack of thirsty humans. But if your summer plans include going ultralight, the fully loaded Silo will have you wishing you had a forklift. When it's time to lace up the boots and ramp up the mileage, fill up a Rambler. Silo 6G is happy to stay behind and chill.
---