Editor's note: In 2016, Danielle Arceneaux quit her job in Brooklyn and moved full-time to Asheville, N.C., in part to pursue fly fishing. This is the second installment in a series of blog posts that will describe Danielle's experience on the water in Asheville. You can read the first installment here.
By Danielle Arceneaux
I was a long way from Brooklyn, but I couldn't have told you exactly where. Fly anglers are full of secrets, and professional guides have more secrets than the CIA.
Richard promised to take me one of his most top-secret spots, but only under certain conditions. I could not reveal its location to others, and while I was free to post pictures on social media, I was forbidden from revealing its location or adding any geo tags. I was even banned from revealing mile-marker information along the Blue Ridge Parkway where we had stopped. I agreed to his strict non-disclosure agreement, and we were off.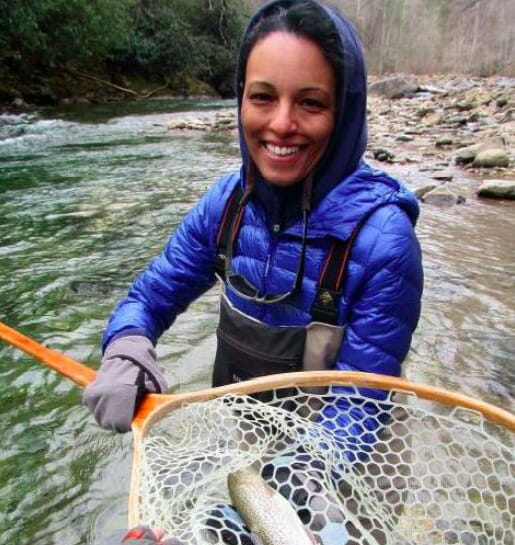 After an hour of hiking, Richard decided it was time to fish. I still don't know how he came to these conclusions. How does a cat know when to stop licking its fur? It just does. And with the declaration that "This looks about right," I adjusted my backpack and got to fishing.
A tower of stone stood before us, the rock staggered upwards like a staircase. Within this collection of boulders, there were little mezzanines where water gathered. The stream cascaded down the rocks like glossy ribbon, sometimes from the left, sometimes from the right. Until now we had fished quiet, flowing rivers. But this spot was loud, the water tinkling, splashing and spattering.
"OK," he said, "I want you to cast straight into that pool in front of you. Try to hit the rock on the right." I complied, and with a quiet sneakiness that startled me, a trout grabbed the fly. My rod tilted downward. The sensation of panic, tinged with delicious excitement, flooded my brain.
"Strike!" Richard yelled. Unlike the larger fish I had wrestled in other local rivers, there was no need to play the fish to tire them or keep them from breaking off.  Southern Appalachian brook trout average about five or six inches long, but what they lack in size they made up for in stunning beauty.
I elevated the rod tip and with it emerged a small trout, shimmering like a bar of gold. I swung the line toward me for a closer look. In my cusped hands dripped a lustrous jewel.  Its belly was streaked pink, and the rest of its body speckled in luminescent hues of amber and bronze.  The overall effect was that of a fine watercolor, hand-painted by a master. It was a gem of a fish.
"That's a beauty," confirmed Richard.  "Let's take a picture." I cradled the small fish in the palm of my hand, hook still in its mouth.  It seemed to glow from within as the soft, filtered light illuminated its scales. 
After a brief moment of admiration, we began our traditional release ceremony.  Richard demonstrated how to unhook these delicate fish. It didn't take much. By simply turning the hook upside down, these fish, with their thin skin, wiggled themselves free.  We watched as it fell back into the water and skirted away. Richard pointed to the next pool.
In my cusped hands dripped a lustrous jewel.  Its belly was streaked pink, and the rest of its body speckled in luminescent hues of amber and bronze.  The overall effect was that of a fine watercolor, hand-painted by a master. It was a gem of a fish.
"Where do you want to cast?" 
 I looked around, then spotted a small opening between two rocks, where a trickle of water gushed through.  
"Sounds good," he affirmed. "That means you're going to climb up this way, as he pointed to the opposite end of the stream. I climbed up, bracing myself with one hand and holding my rod in the other. I cast, and the trout hit my fly immediately.
I yanked my rod toward the sky and once again was dazzled by this little fish. Despite their diminutive size, catching them was a thrill. That the smallest fish provide an exceedingly fun fight seems counterintuitive but is also true. I could feel my arm jerking forward as it tried to swim away with my rod and me in tow. 
I fished dozens of plunge pools that day and caught dozens of phosphorescent fish.  After I fished the entirety of one small stream, we decided to hike to another. On the way, we stumbled upon another small stream, inaccessible from the trail as it was set a ways back and shrouded in the front with trees and rocks, cave like.
"You think there's fish in there?" asked Richard. Whatever the answer, he already knew.
"No?"
 "Let me show you a bow-and-arrow cast," he said.
Richard stood behind me and did what he did best — teach. I held the rod straight in front of me with my right hand, but moved it over the left side of my body. I grabbed the sharp, pointed hook in my left hand, careful to point the hook faced outward. Then, like Robin Hood, I pulled the hook back, behind my ear. When the rod was bent and taut with tension, I let go. Like an arrow, my fly pierced the air, falling downwards toward the water. Instantly, my rod tugged downward. Another fish.
Richard offered to put out a blanket for lunch, but I was catching too many fish to fuss with a picnic. We leaned against some of the larger rocks, inhaled our sandwiches and fished as many pools as we could. For the first time in ages, I was in the middle of a hot streak. With my rod as my sword, I swashbuckled my way through the woods, scrambling over rocks, nabbing one fish after another. I could barely identify the feeling. It felt like success.