A fairly average-looking run on a stream. Or is it?
I'd been fishing a small native cutthroat trout stream in eastern Idaho, and came upon what, at first blush, looked to be a fairly featureless stretch of stream.
But, as I got closer, I noticed a few things.
The long "slick," as I've taken to calling it, actually boasts some pretty impressive trout habitat, and after fishing my way through it from top to bottom, I'm glad I didn't just get out walk around it.
From the foot of the run, the stream kind of spills off of a complex of much more appealing pocket water higher up. But after fishing both stretches (the benign-looking slick and the stretch of pocket water at the top—see photo below), I actually hooked and landed more fish (and more bigger fish) in the stretch I was initially less-than-excited to try.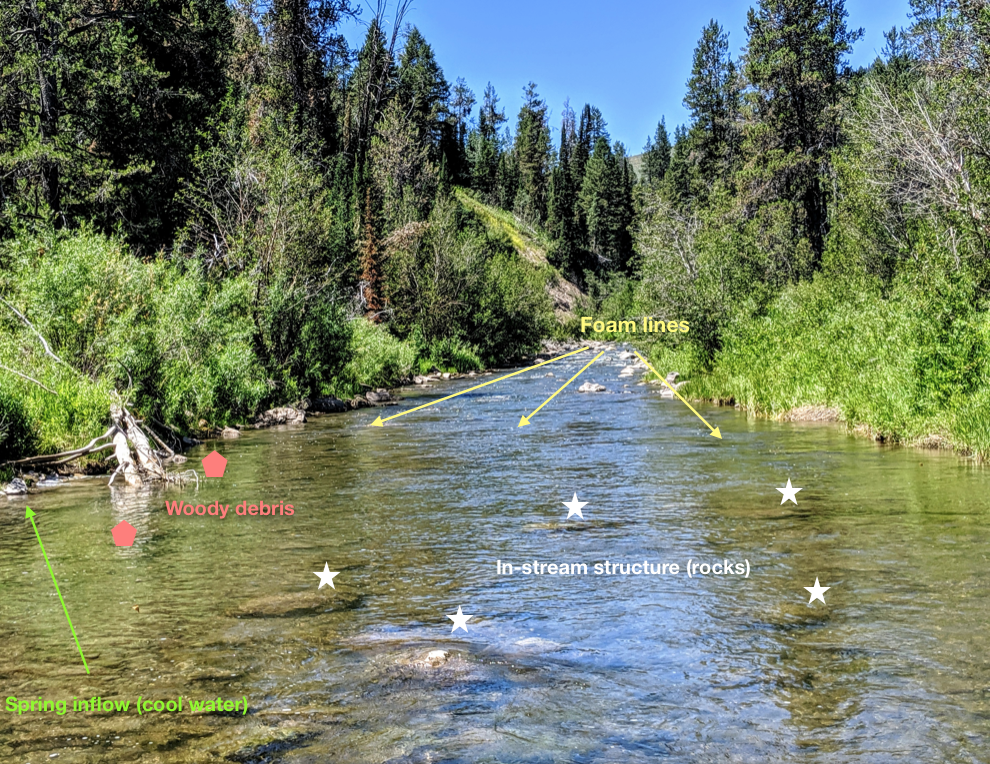 First, as you'll see labeled in the photo above, there is a small spring that enters the larger creek, just below some fallen timber on the left. I took a sizable trout right in front of the timber, and just above the cold-water inflow. I took a second, even bigger cutthroat from behind the timber.
This stream gets a run of lake-dwelling cutthroat trout, some of which stretch the tape to 18 inches or so, and tend to hang out in the cooler waters of the high country rather than go back to the lake, where they'll have to swim deep to find water cool enough for their liking. And, like most cutthroats, they tend to look up. Dry flies are all I used this day.
I plucked smaller trout—about 10 to 12 inches each—from behind or in front of the in-stream rocks. It may not look it, but the creek boasts some depth. The rocks in the distance sit a good two feet under water.
Lastly, I made sure to drop several casts atop the foam lines that run the length of the slick, and I was rewarded with several cutthroats that were using the foam lines for overhead cover as they waited for food to drift down from the faster, oxygenated water upstream.
Just because a stretch of water doesn't boast obvious structure doesn't mean it's not worth a look. Look for more subtle habitat, like submerged rocks, downed timber that may stretch a few feet into the creek. And don't forget the foam lines.
If you can identify the structure, and strategize a plan of attack, a run like this can be very productive.