Back in 2019, I had a holiday party at my home where I introduced my friend, Jim Greene, the founder of Water Wisp Flies to Mason and Palmer of Flies by Two Brothers.
Jim died from COVID-19 in the fall. The spring before he passed, we met to fish the Potomac shad run. As fate would have it, rolling sheets of rain kept us from getting on the water, and instead of fishing, we took one of the guys at the boathouse out for breakfast.
Jim was a true mensch—a talented basketball player at Duke University, journalist, professor and public servant. He took over the Maryland Trout in the Classroom program when it had three schools. When he stepped down, over 100 schools were involved.  
Jim was, and Palmer and Mason are, innovators. Jim created a company that tied flies upside down and backwards. Palmer and Mason, as pre-teens, came up with a fly-tying business whose formula for success was "Flies=MC*2 (money for college for 2 brothers)."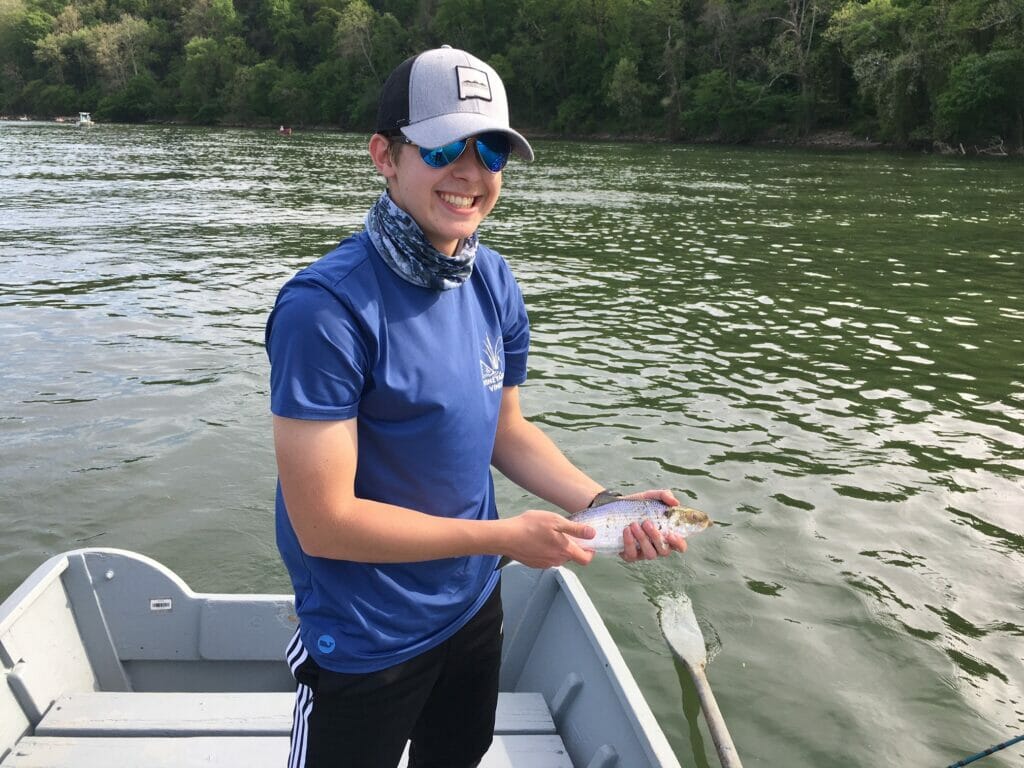 Mason is now in college in New Mexico, and Palmer will join him next year. The other day, six months after Jim's passing, I took Palmer out for his first shad outing on the Potomac. Palmer and Mason have already given so much back to Trout Unlimited. They both, for example, have served as volunteer instructors for the Tri-State Youth Camp, and Palmer mentored my son, Casey there a few years ago.
Palmer is an earnest, fun and smart young man. He out-fished me on the Potomac. I asked him why he and his brother were so active in Trout Unlimited. We chatted for a while about his fishing with his brother and Dad, and then grew quiet throwing weighted fly line with double shad flies. After a bit, he said, "You know, we just want to give back."
We just want to give back.
The next morning, I took a friend of Jim Greene, Chuck Dinkel, out for a few hours of early morning shad fishing. Many years ago, Jim got Chuck involved in Trout Unlimited, and especially Trout in the Classroom. Chuck became so immersed in the program that he wrote, Mac the Macroinvertebrate, and has another forthcoming Trout in the Classroom-related book in the works. Chuck wrote me and described how Jim used to take him out for shad every year, so I called Chuck, and asked if he'd like to fish with me.
As soon as we were strung up, he asked me, "How do you tell a boy ant from a girl ant?"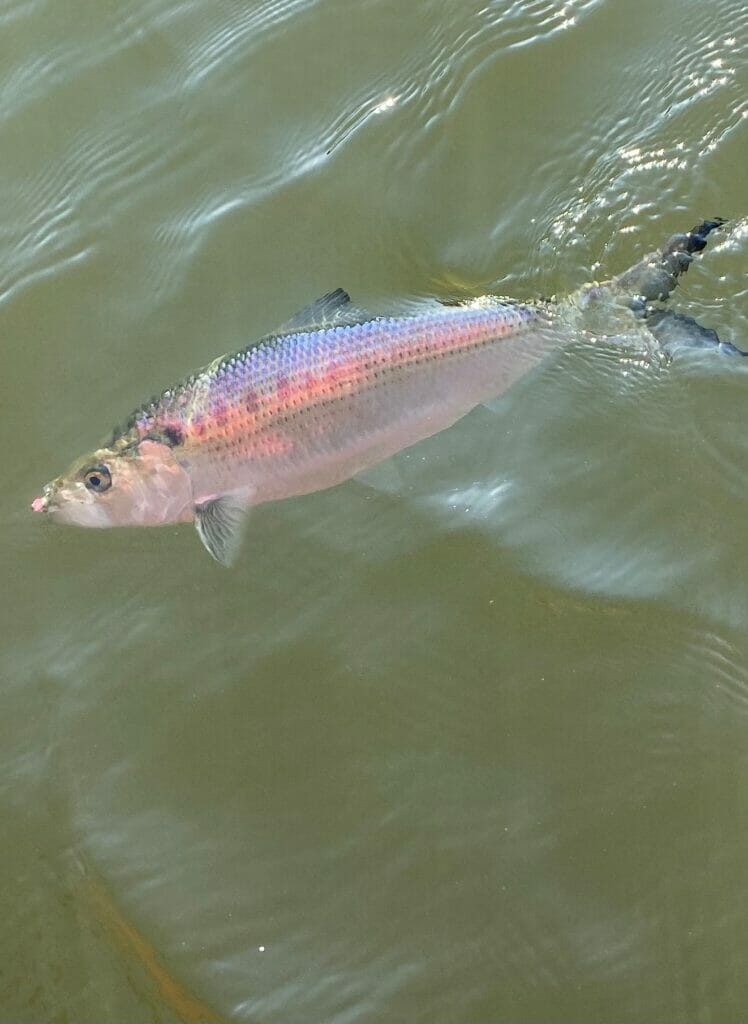 I shrugged.
He said, "Put them in a glass of water. The girl ant sinks. The boy ant is a-buoyant." 
It took me a second, too. But that tells you something about Chuck's good-natured and smile inducing personality.
We fished and caught a few hickories, and a random American shad or two, but I had to get to work, so I left Chuck at 9:30 a.m. Later that evening, I got an e-mail from him. "Twelve American shad, 15 plus hickories. I finally called it a day at 1:30 p.m. when my hand began to cramp from pulling in fish." 
The next day, another note from Chuck followed:
"Tomorrow is my first trout release for this spring. For the next month, my wife will tell me the back of the van looks a mess; complete with a large, aerated cooler, nets, buckets … you get the picture. After tomorrow I have six other Frederick County schools I'll be helping release their fish. As long as TU holds up their end of the bargain and doubles my salary every year, I'll be back."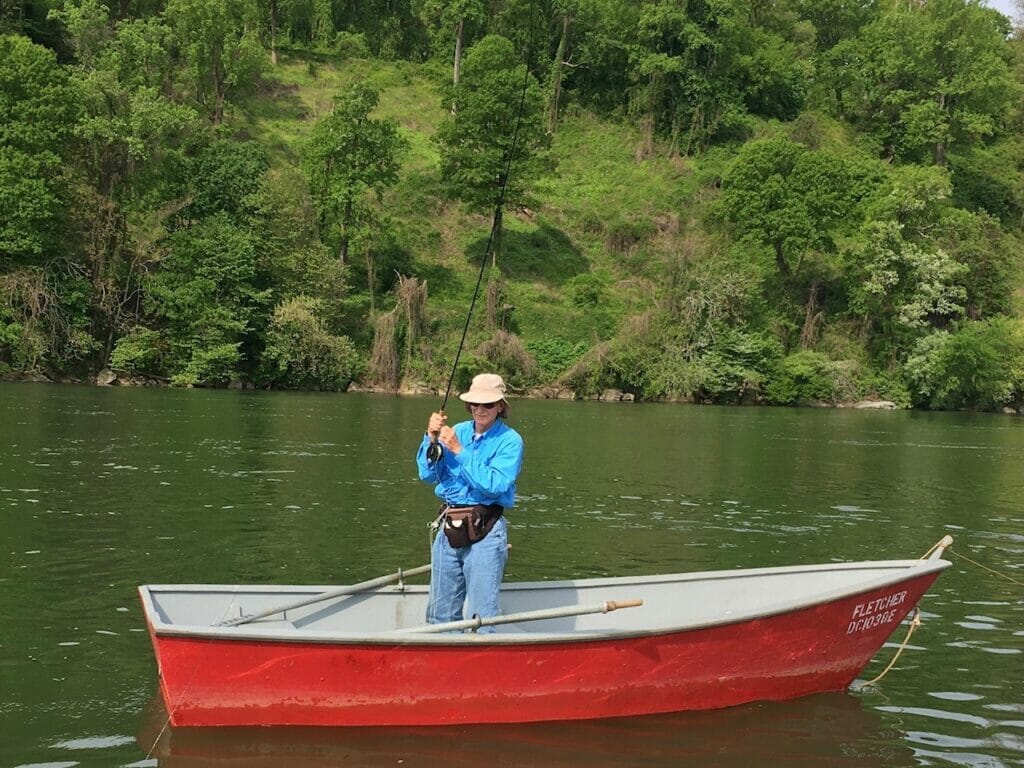 For the record, Chuck is a volunteer.
We rightly make a big deal about the need to engage and make TU more inclusive to younger people such as Palmer, women and people of color. This is vital to the efficacy of our mission work, and survival as an organization. As we work toward becoming more diverse and inclusive, and celebrate the future of conservation through Palmer and Mason, we should never forget that we stand on the shoulders of giants such as Chuck and Jim, and countless other volunteer leaders who "just want to give back."
I would wager that Jim Greene is smiling from above.
Chris Wood is the president and CEO of Trout Unlimited.