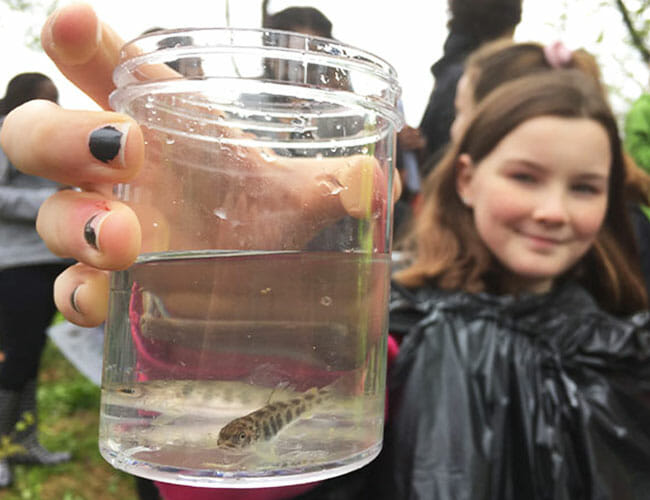 What is Trout in the Classroom?
Trout (or Salmon) in the Classroom (TIC or SIC) offers students of all ages a chance to raise Salmonids in a classroom setting and then release them into a nearby stream or river. Caring for the fish fosters a conservation ethic in the students, and the act of walking to a streambank and directly releasing the fingerlings into the water makes a concrete connection between caring for the fish and caring for the water.
Trout Unlimited is just one of many organizations facilitating this program across the country. A mix of NGO and government agency support brings this environmental education program into schools in around 35 states. Over 5,000 classrooms participate annually.
Visit www.troutintheclassroom.org for more information.
TIC is for Students of All Ages
Any teacher in any classroom can make TIC or SIC relevant to his or her classroom curriculum.  In kindergarten, the focus can be on caring, growth, understanding life cycles, and the seasons.  A high school program might explore water chemistry, the nitrogen cycle, natural resource management, and watershed geology and ecology.  For this reason, TU offers an ever-growing online lesson plan library.  Teachers across the country share their tried-and-true activity ideas, which are arranged by subject.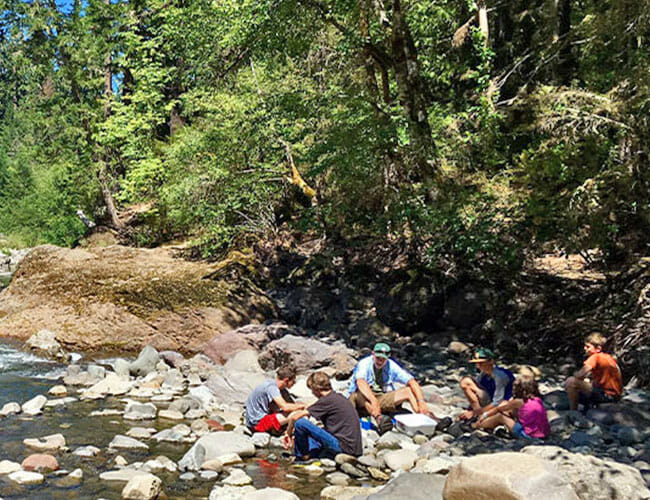 Why do TIC?
Because TIC brings nature into the classroom, it allows students to develop a personal bond and sense of conservation ethics that are at the core of TU's mission.   Young anglers better understand the value of their local fisheries when they have seen the trout life cycle up close and personal in this way.  For this reason, TU staff and volunteers in 35 states are involved in more than 1,500 TIC and SIC projects, which is a large fraction of the 4,000+ TIC and SIC projects in the United States.
TIC Across the Country
TIC volunteers, teachers, and students across the U. S. share resources and learn from one another.  One popular project is the annual trout and salmon quilt square exchange.  Participating classes create and mail out a few dozen quilt squares to fellow TIC classrooms.  In return, they receive letters and squares describing the variety of fish and streams found across this nation's diverse and expansive geography. To get started, contact your TU chapter president.  If your chapter is not active in TIC or SIC, contact your state council leadership.  There is a good chance someone in your state is doing the program already, and you can help expand their efforts.  If you'd like, feel free to use our web form, and our staff will help you.  Be sure to explore www.troutintheclassroom.org to learn more. For the few states in which TIC and SIC are not allowed, TU works with an alternate program, Adopt-a-Trout, which has also been very successful. For more information, contact tic@tu.org.